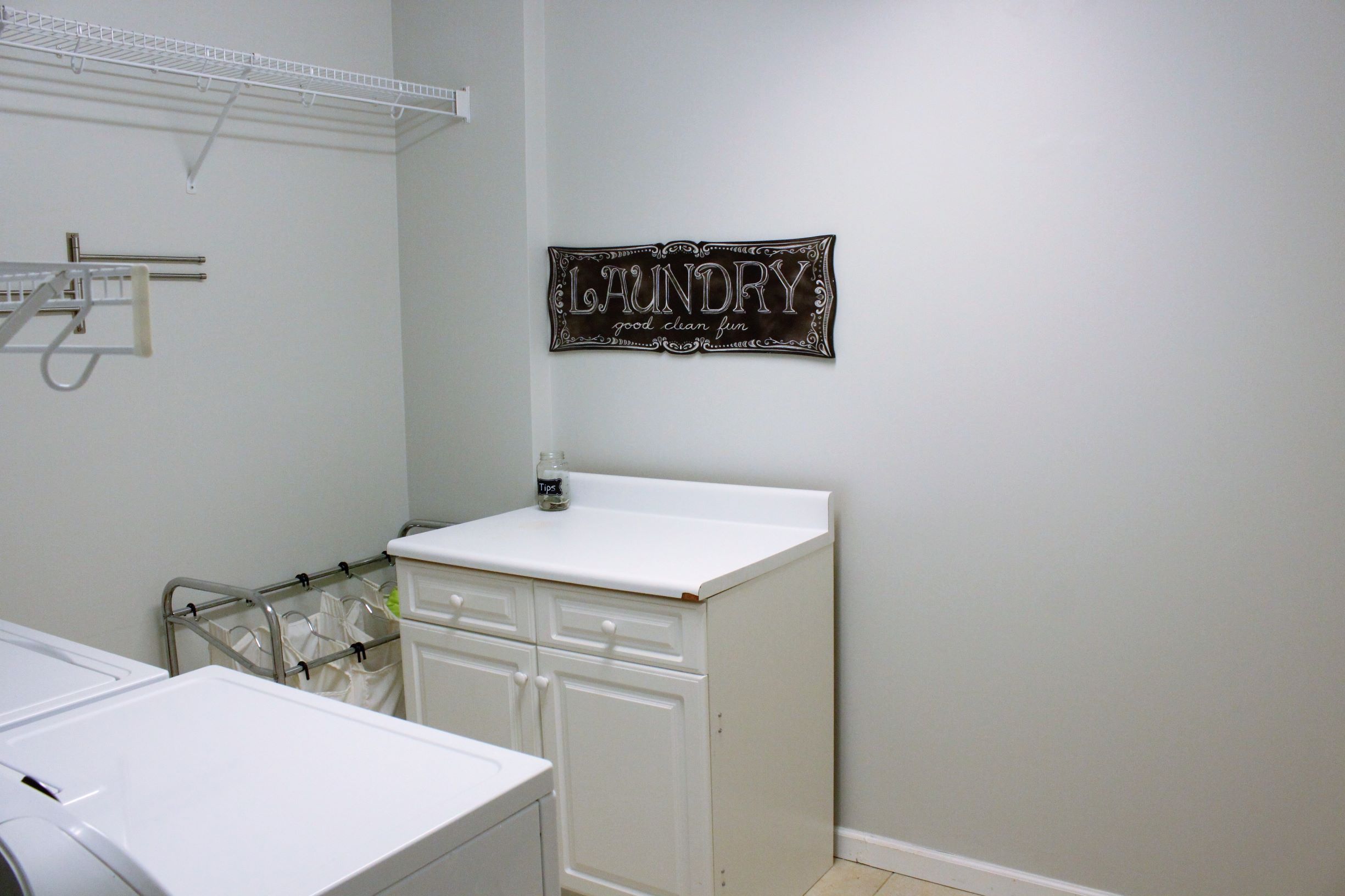 Laundry Room Makeover
As a family of five, our laundry room is one of the most used rooms in our home! When we moved into our home seven years ago, I appreciated the space in this room. There was a free-standing cabinet and shelving to work with. And the closet was a super bonus!
As we have slowly renovated our home over the course of time, the laundry room was one of the last on the list of priorities. Yes, I wanted it to look pretty since I have to look at it A LOT. But also, the functionality needed improvement. As you can see below, it was a clutter zone: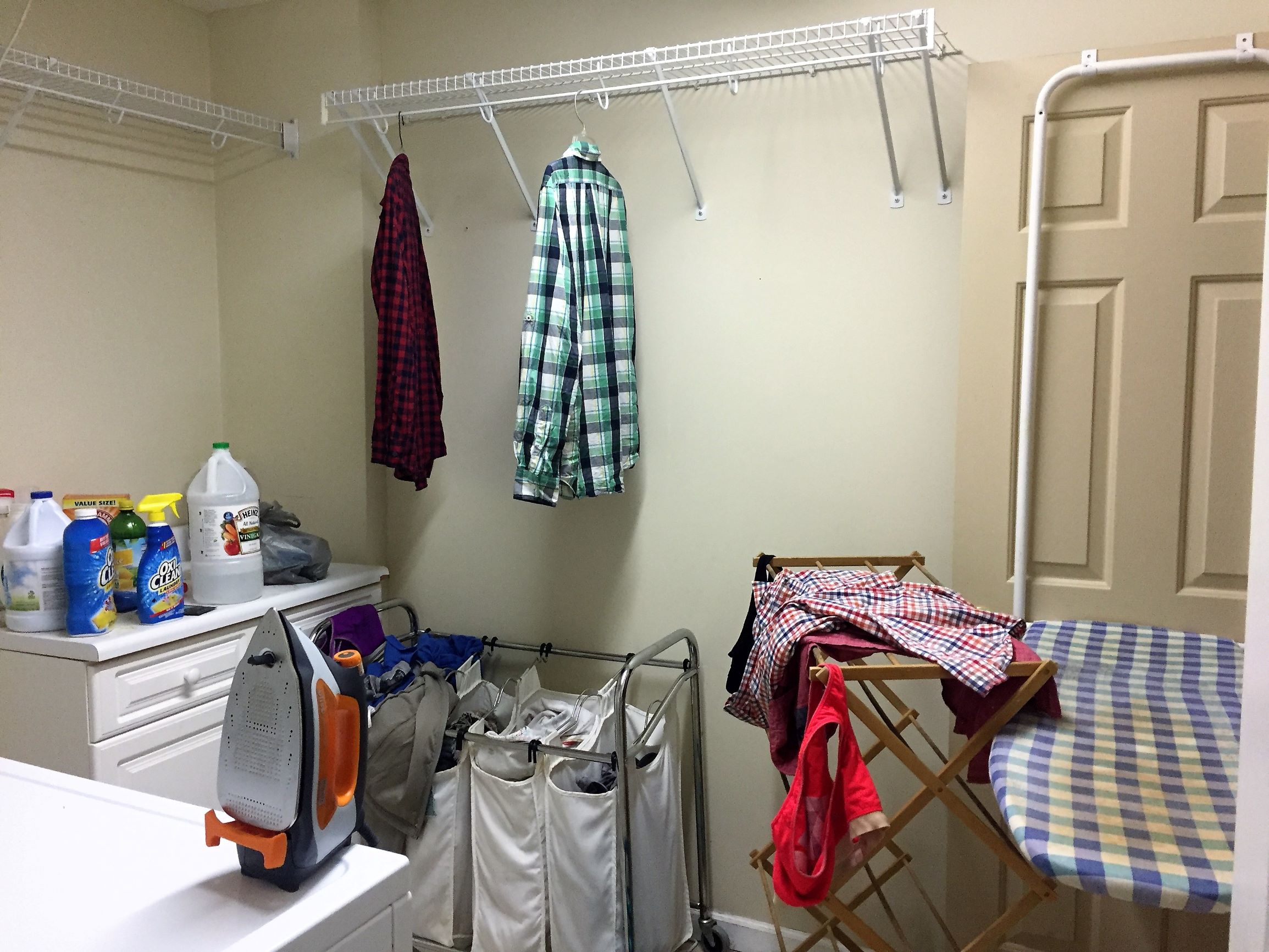 Notice that the cabinet has supplies on top and not underneath where there was plenty of room? Well that's because I couldn't fully open the cabinet due to the sorter sitting in front of it. Sometimes the sorter was moved down when the drying rack was put away and ironing board lifted with closet closed. But most days, it looked like this!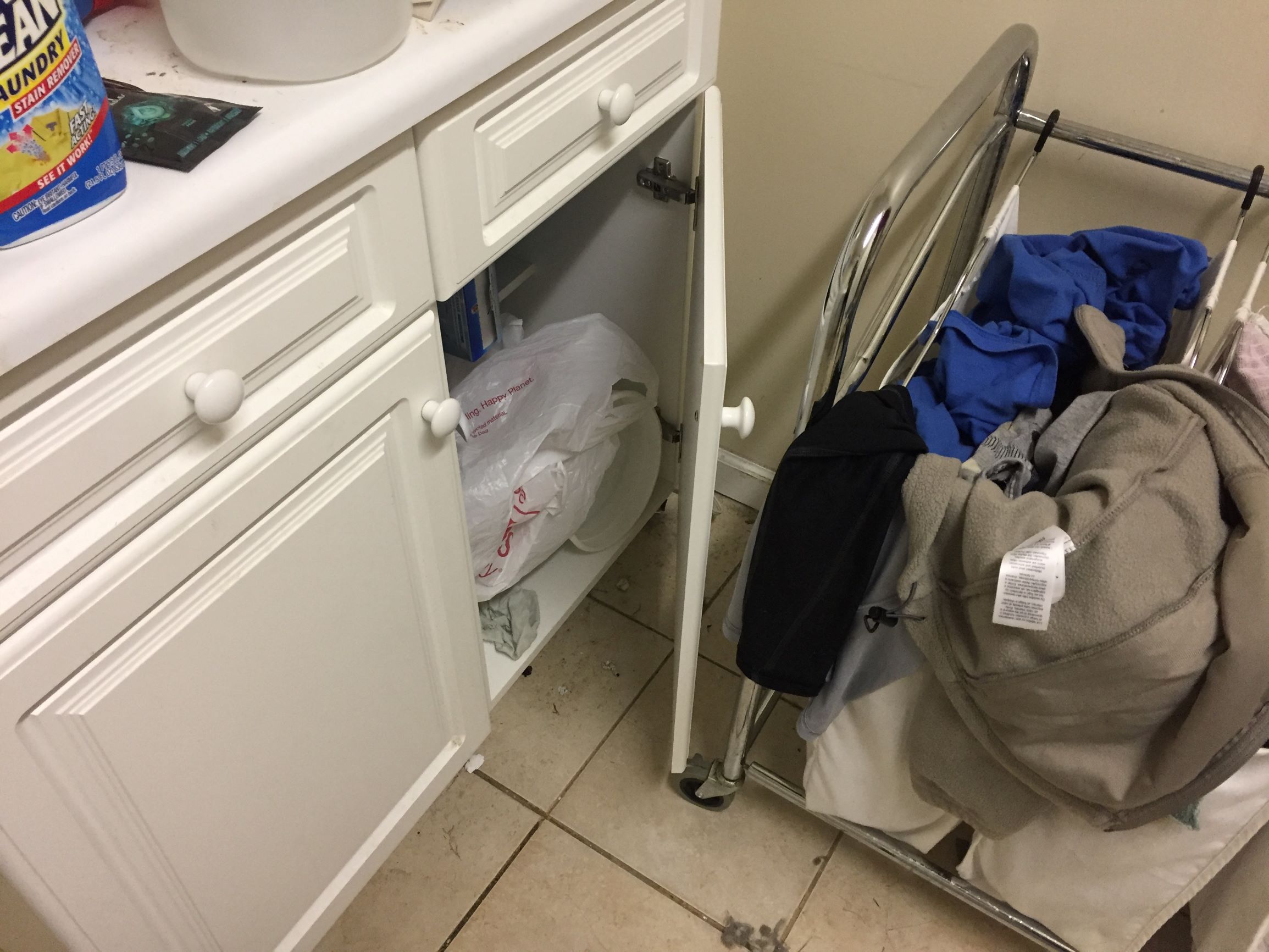 The makeover was not difficult or costly. I just did a few things that made a HUGE difference. First, I painted. I opted for my current favorite gray (that has since become the color in all the common areas of my home – Horizon by Benjamin Moore. We also decided to remove the shelf on the back wall. It was unnecessary as we preferred to place clothes on the drying rack instead of hanging them.
Something we added to the room are these nifty wall racks. My husband and I are both very active and exercise every morning. Well it's no secret that exercising produces sweaty clothing.  If said clothing is not going to be washed right away, it needs to dry before throwing into a hamper. We used to run out of space in our bathroom (hanging items over door knobs and wherever we could find a place). Plus, well the bathroom always looked like a drop zone too! Enter, sweat racks. Clothing that is wet and dirty goes here. This especially come in handy in the summer with the kids wet bathing suits (well any time of year with kids as they always find a way to get muddy it seems.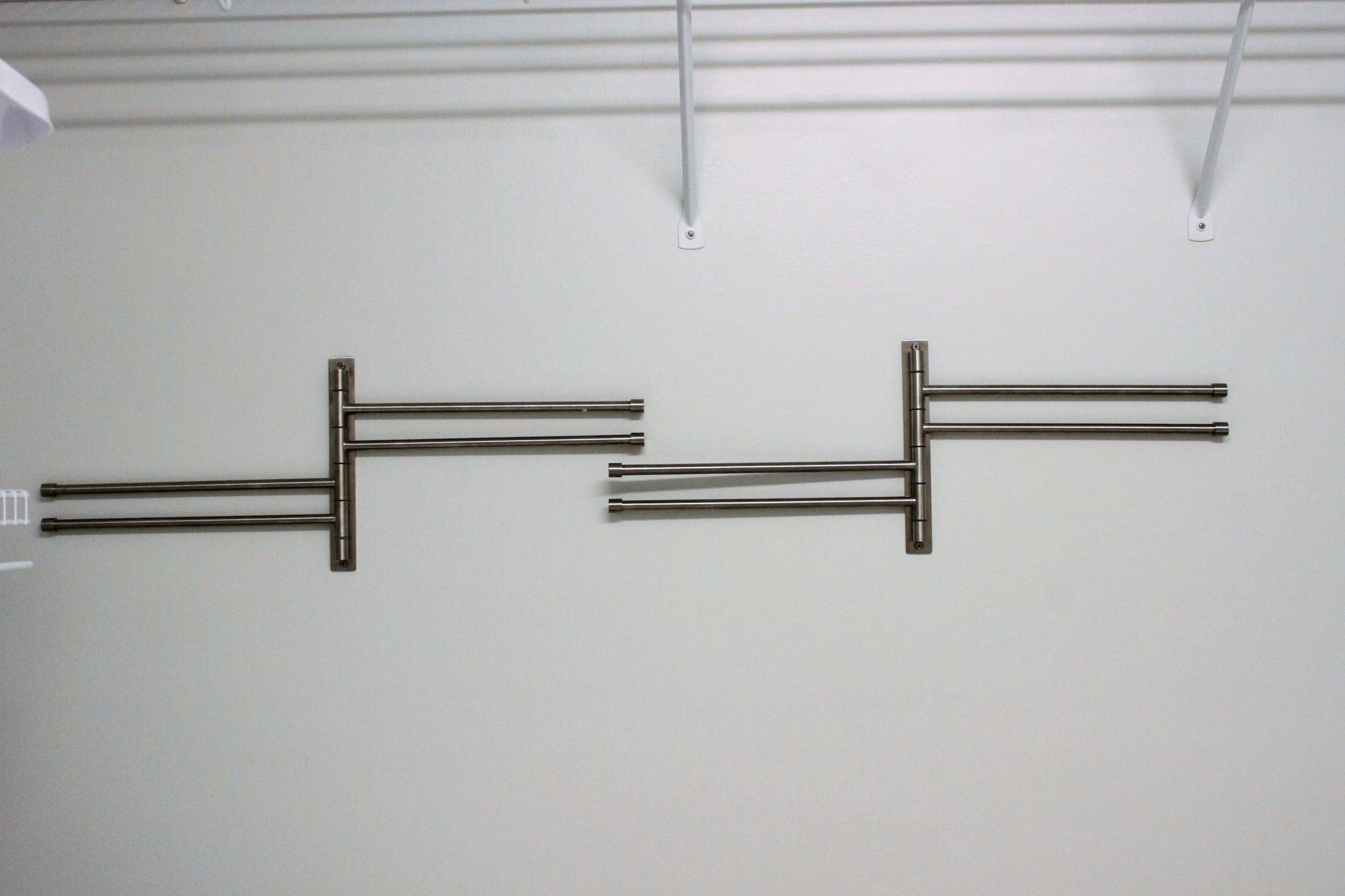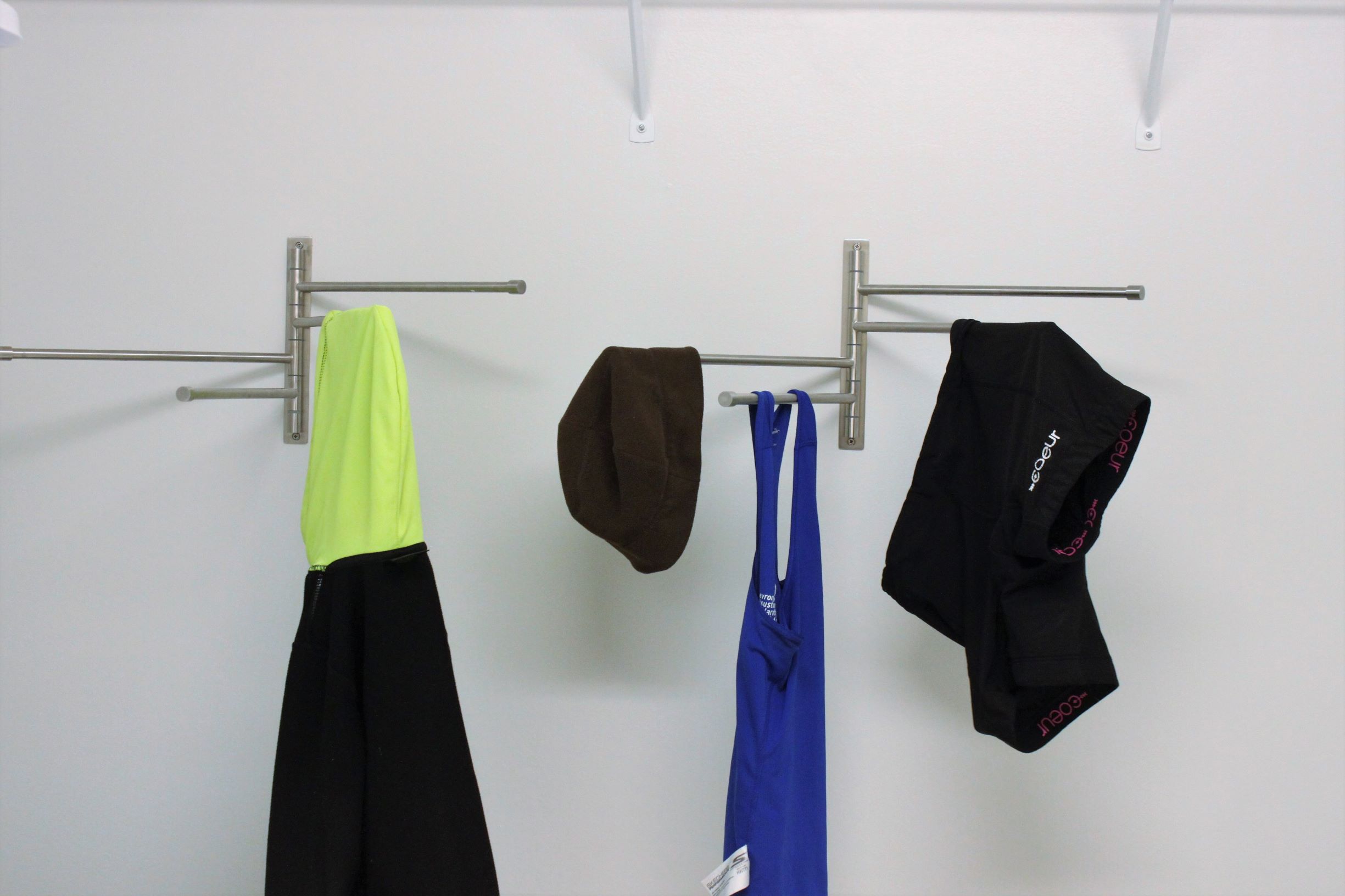 Lastly, I moved things around. I switched the placement of the cabinet and the laundry sorter, which made me wonder why I haven't thought of that before! End result? Here you go!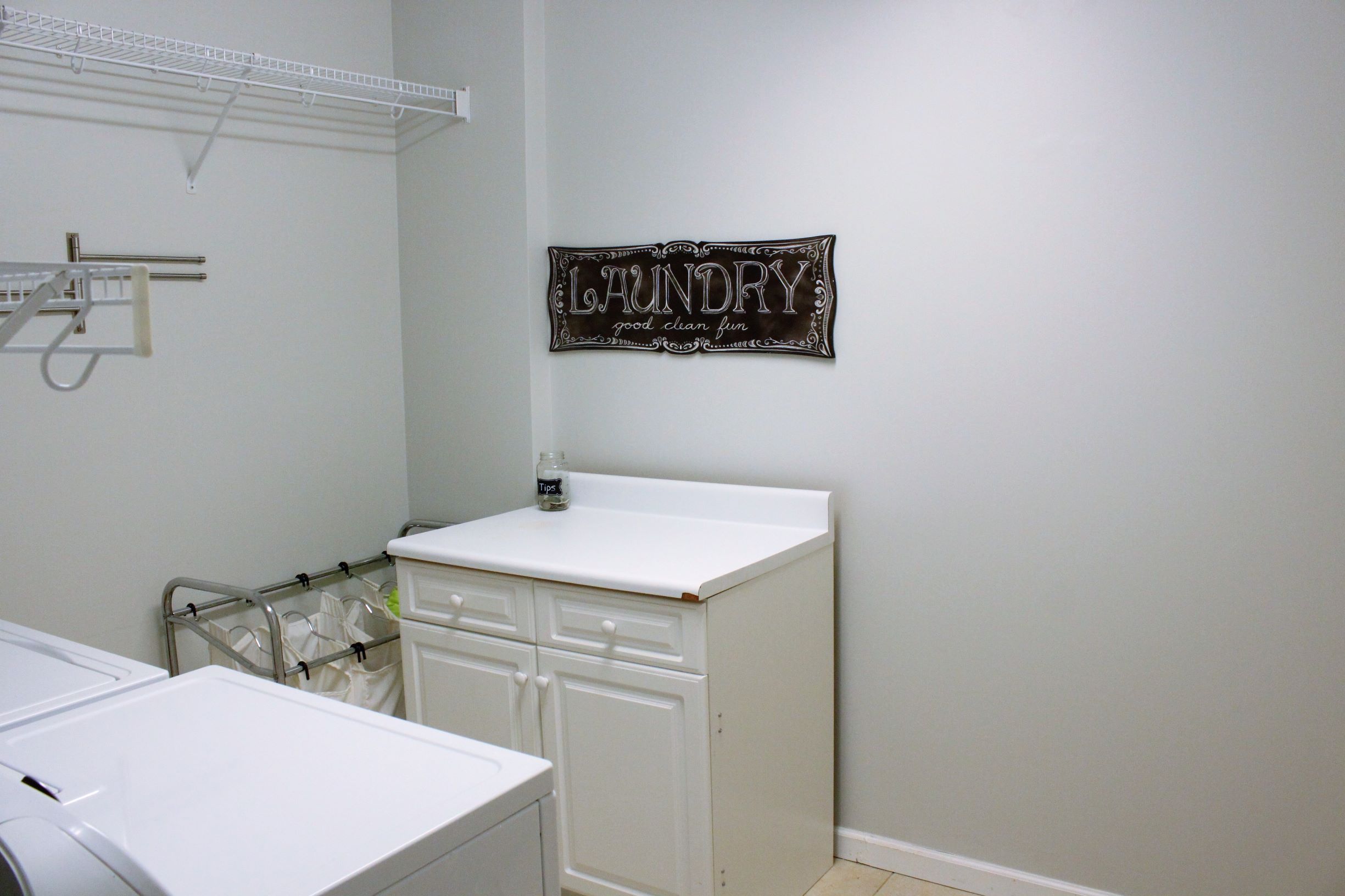 The laundry sorter stays tucked beside the cabinet, and is positioned right behind the washing machine to make for superior functionality.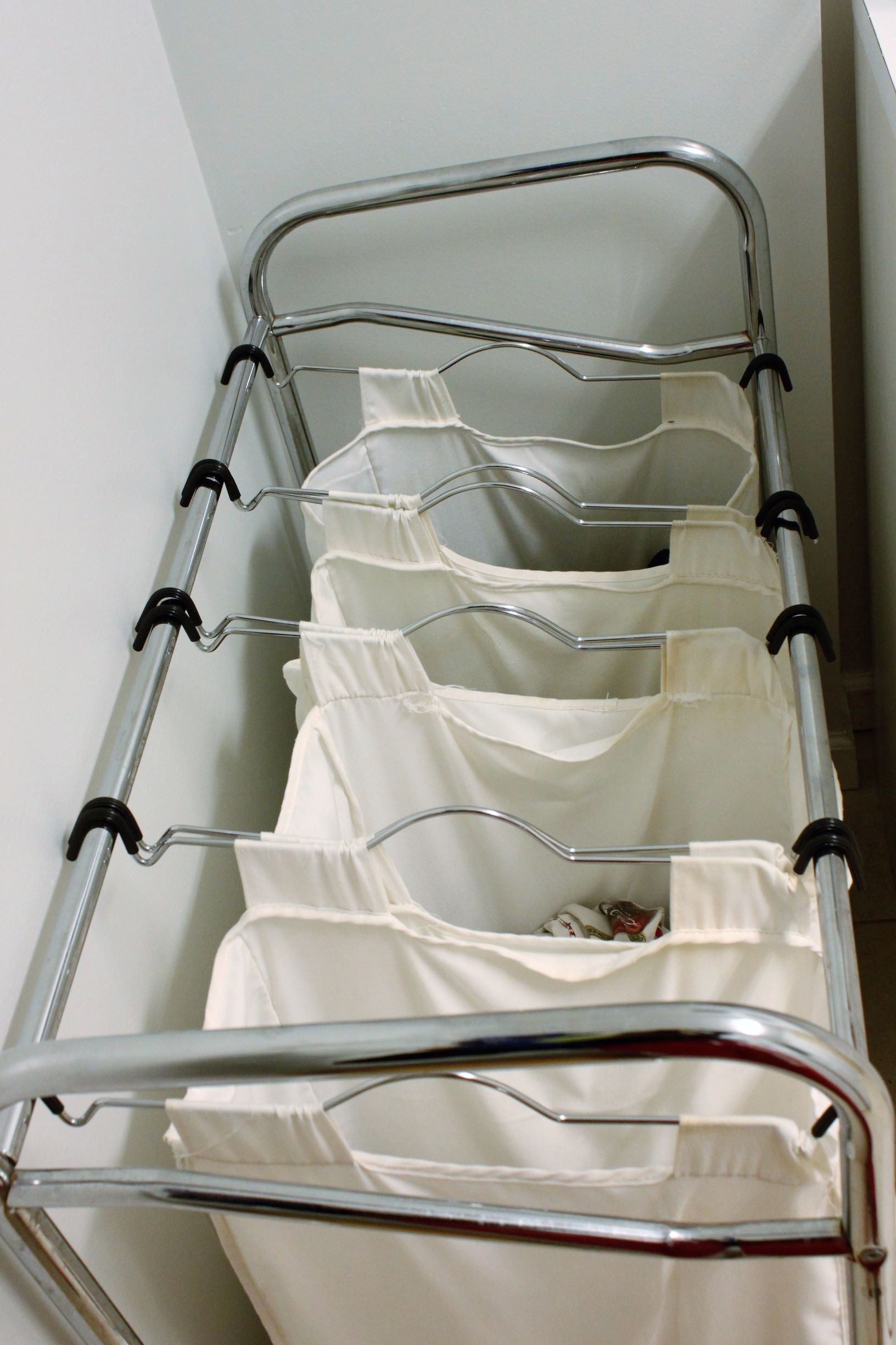 The drying rack stays out until clean clothing is dry, and then goes away in closet. Side note- I  have neglected to paint the almond color door and trim. I'm deeply dreading it as it is oil-based paint!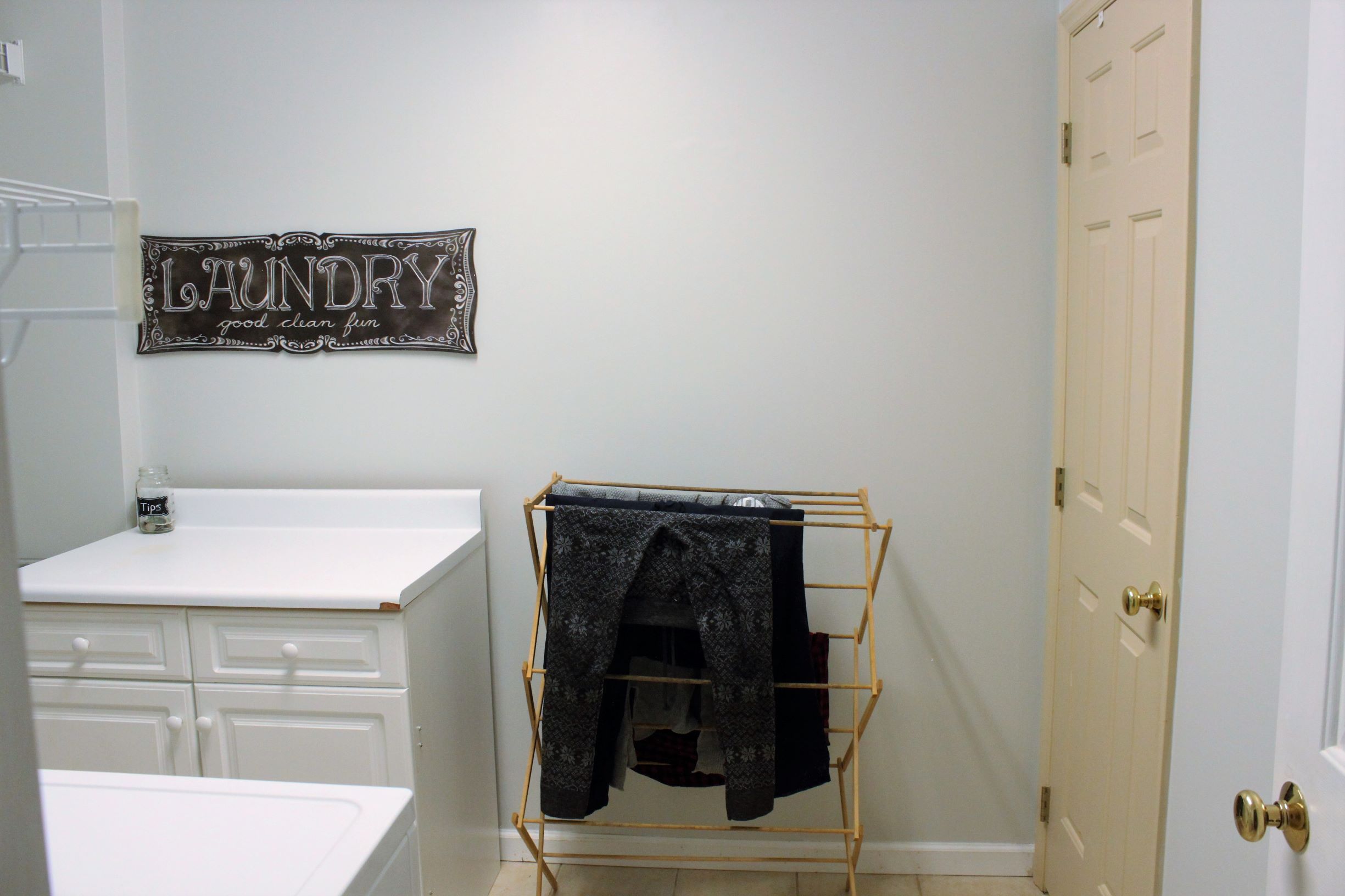 Ironing board comes down when in use, and goes back up after.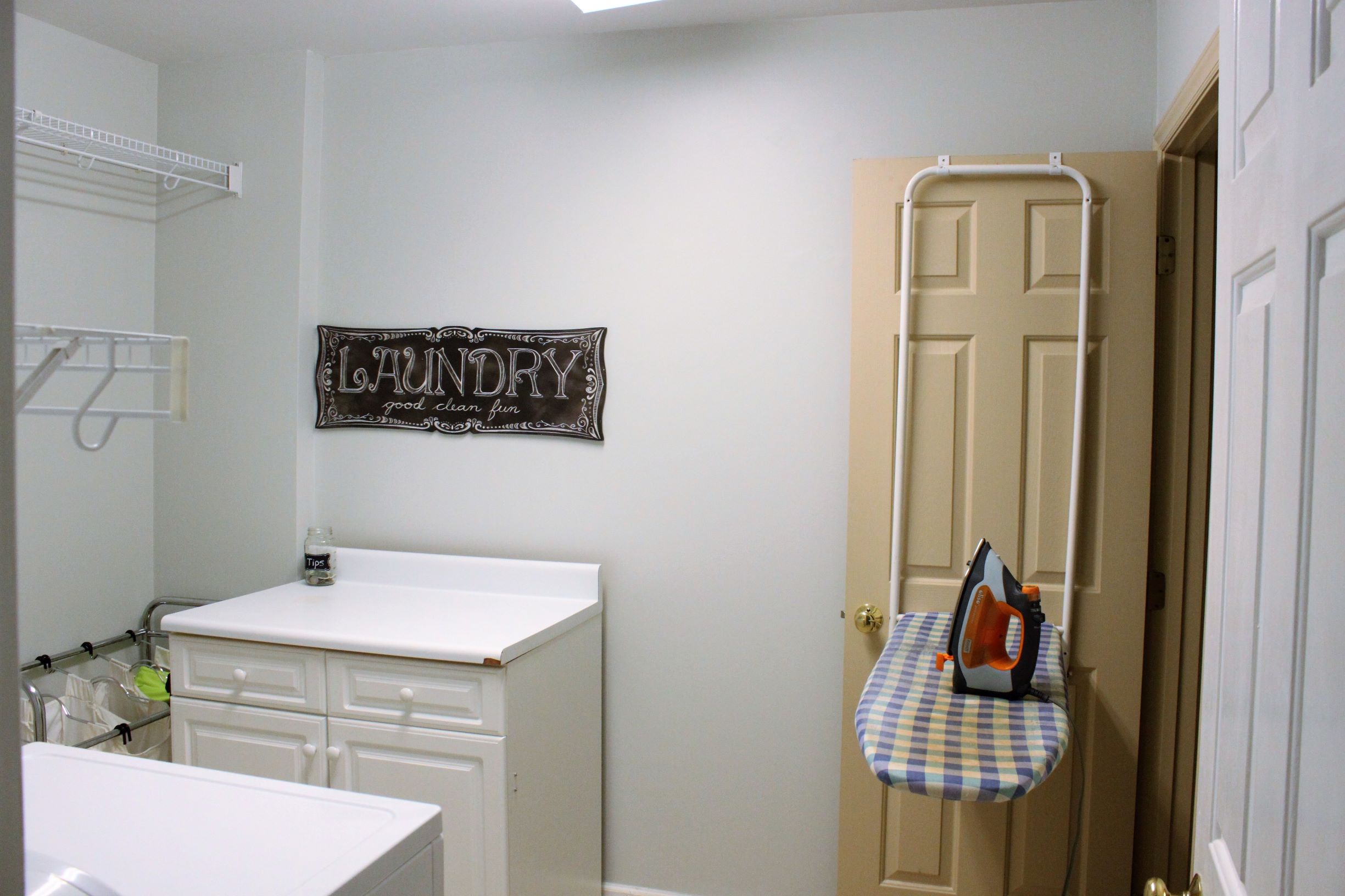 For fun! I created this little jar. This is where I put the money I find in pockets. After 6 months, this is all I've collected. The guys either don't carry cash or they are good at checking their pockets. Recently someone put a $1 in there just for kicks.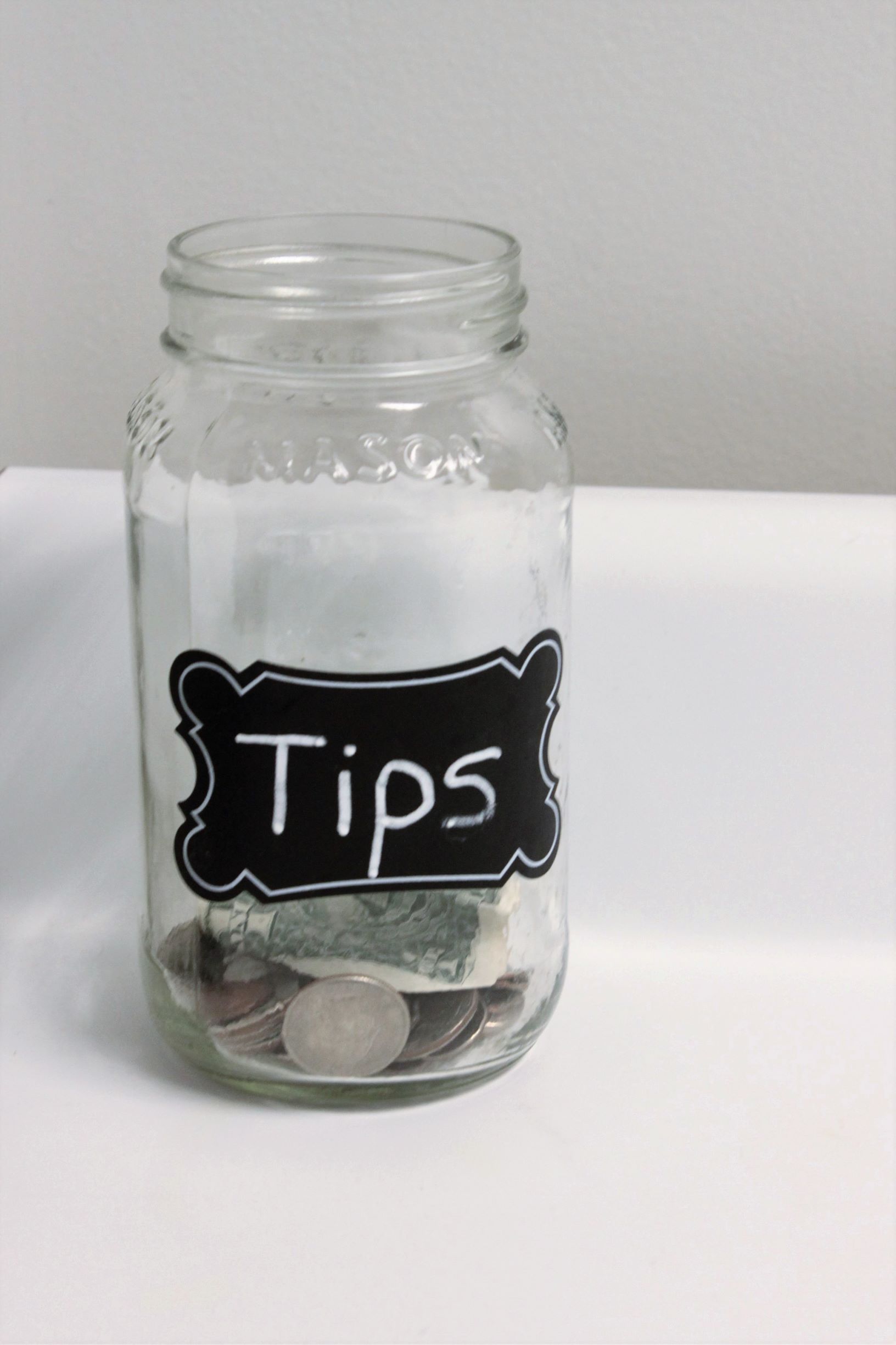 This is working! The motivation is there for me and the entire family to maintain this space for 2 reasons:
1- The functionality is ideal.
2- It has been painted and decorated, and makes me smile. Do not underestimate the power of making a space your own.
I hope you feel inspired to tackle one of your spaces! What's on your list for 2019?