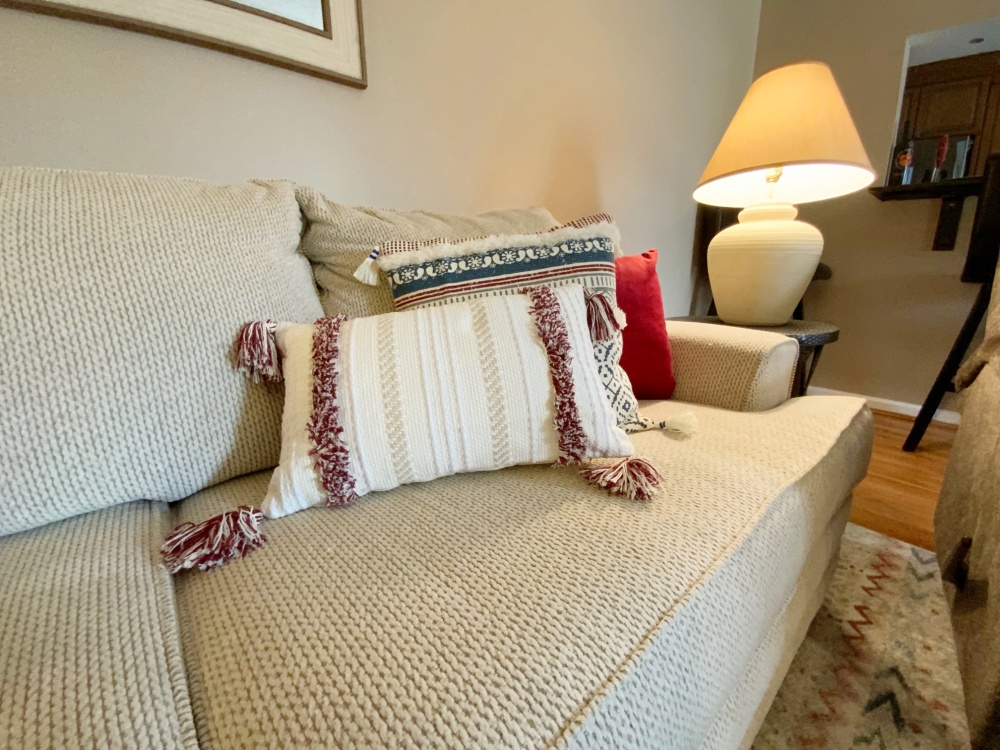 Modernized Living Room
How many of you have been living in your home 15+ years, and you're finding that your tastes have changed? Your furniture feels dated and well worn. The paint color is not as inviting as you once found it. You take a second to look around and realize that you're ready for a change.
THAT WAS THE CASE FOR THIS COUPLE
I'll call them the Smiths. They found themselves with only one teenager left at home who didn't spend much time in the living room. GOAL: To make the living room cozy and enjoyable for the two of them, and bring it up to date. It was time to modernize and provide a space they could kick up their feet at night and relax together.
FIRST ON THE AGENDA: RED BRICK FIREPLACE
We looked into several options including a complete overhaul, and landed on a simple and cost-efficient decision to have it whitewashed. The existing mantel is a solid wood beam and has AMAZING character. As you look at the photos below, you'll see it's the only thing that did not change.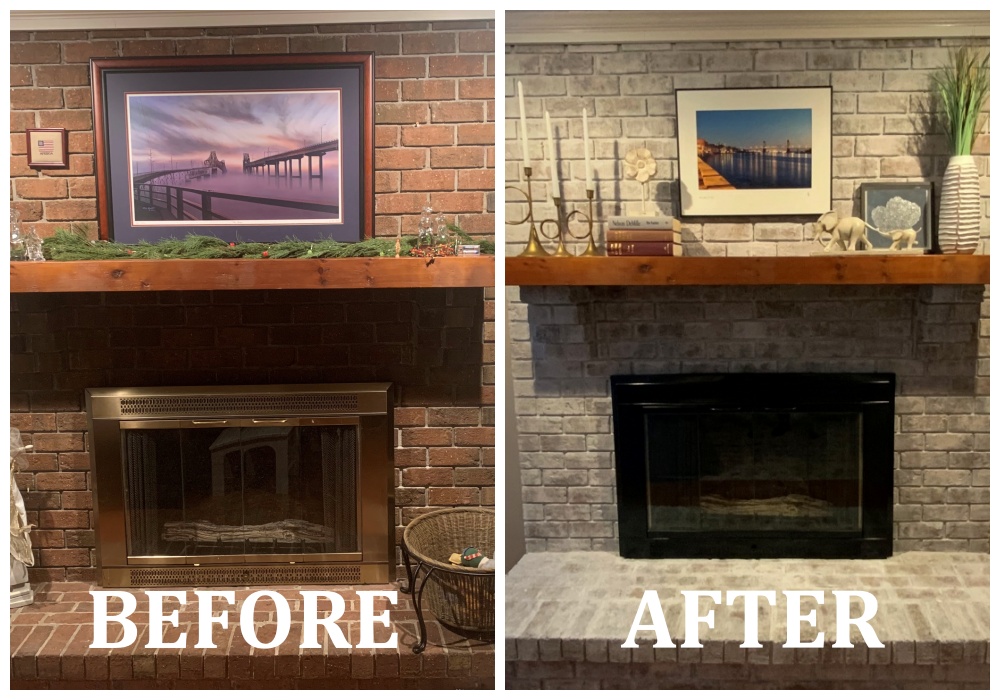 NEW FURNITURE FOR THE WIN
The living room is on the smaller side, and it sits between a kitchen bar and hallway to the foyer. The top requests for furniture included 2 recliners, a couch, and a big TV. Remember I told you they were ready to feel like they could just kick back and relax?! We didn't have a lot of space to work with, so I knew finding recliners and a couch to fit the space would be tricky. But boy, did we find some good ones!
THE JOY IN THE DISCOVERY
Sometimes I work with clients who know exactly what they want (to the point of having purchased accessories themselves), and sometimes I work with those who aren't quite sure. The Smiths were the latter. I enjoy this process with clients in working to discover their style and expression. What came out with this couple was a balanced mix of neutrals and blues, a splash of red, and all with a Modern Boho flare!
STARTING WITH WHAT YOU HAVE
All furniture and most of the accessories to complete this update were purchased, but what is displayed on the mantel are all items the Smiths already possessed (minus the coral art, plant, and flower). They already had both lamps as well- we just changed the shades. Oh, and that fun poof? We bought it as a cover and the "stuffing" is old bedding that will never be used for anything else. Did you know that's an option?
Can I make your home look different using the things you already have? YES I CAN! I always start with what someone has and go from there. I especially love helping clients learn to display what they have.
We are all pleased with how things turned out! Check out what this client has to say:
So thrilled with the amazing work by Melissa! I loved how she took time to learn about our tastes and then offered lots of different options and perspectives ultimately creating an amazing update to our living room. The transformation is incredible. She is such a pleasure to work with!