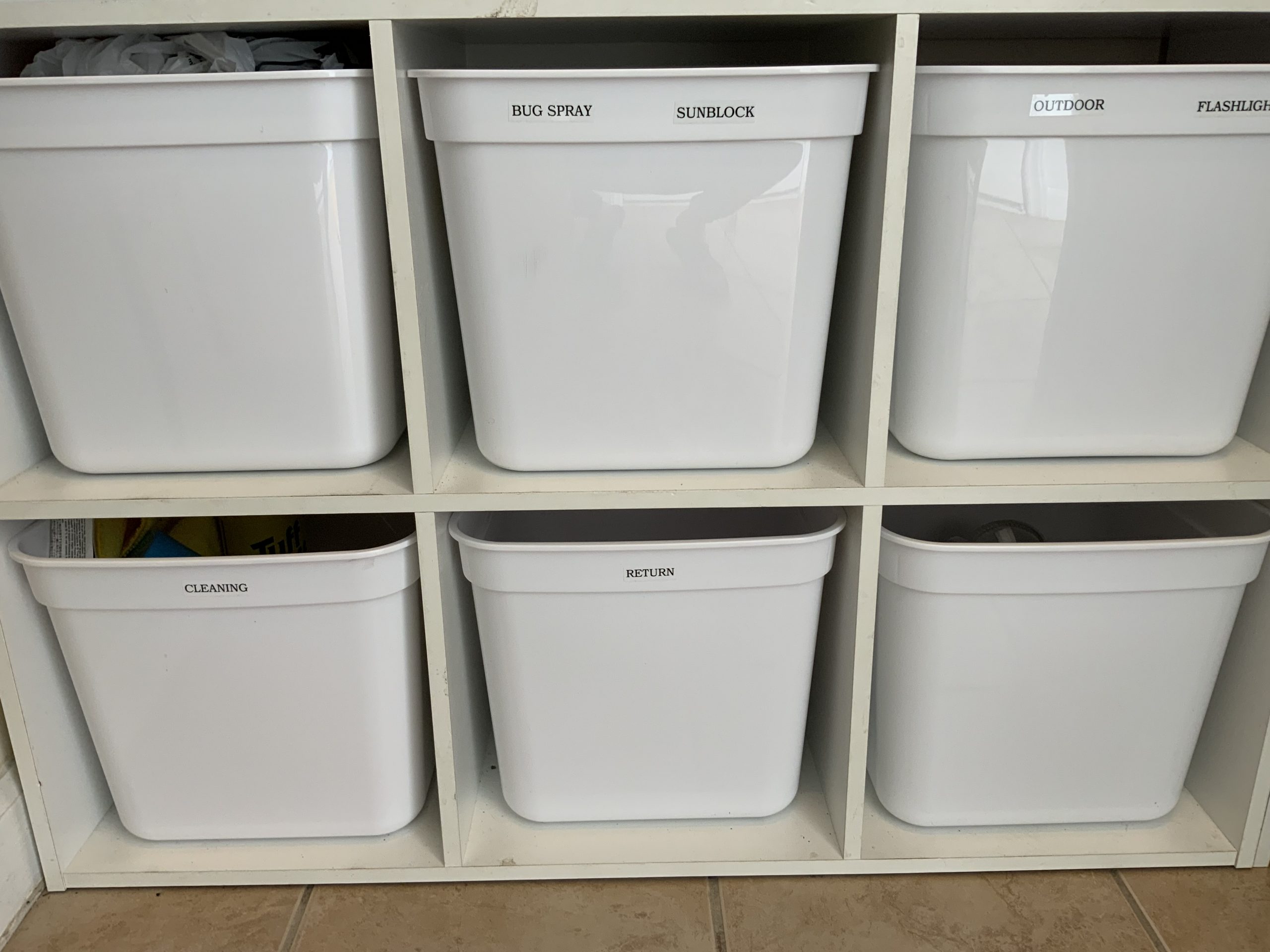 High Priority. Low Budget.
The Struggle is Real

Do you have any projects in your house that are low priority when it comes to investing money into them, but they are a high priority to address with SOME type of solution as they are connected to your daily function?
Let me introduce you to the dilemma in my mudroom closet.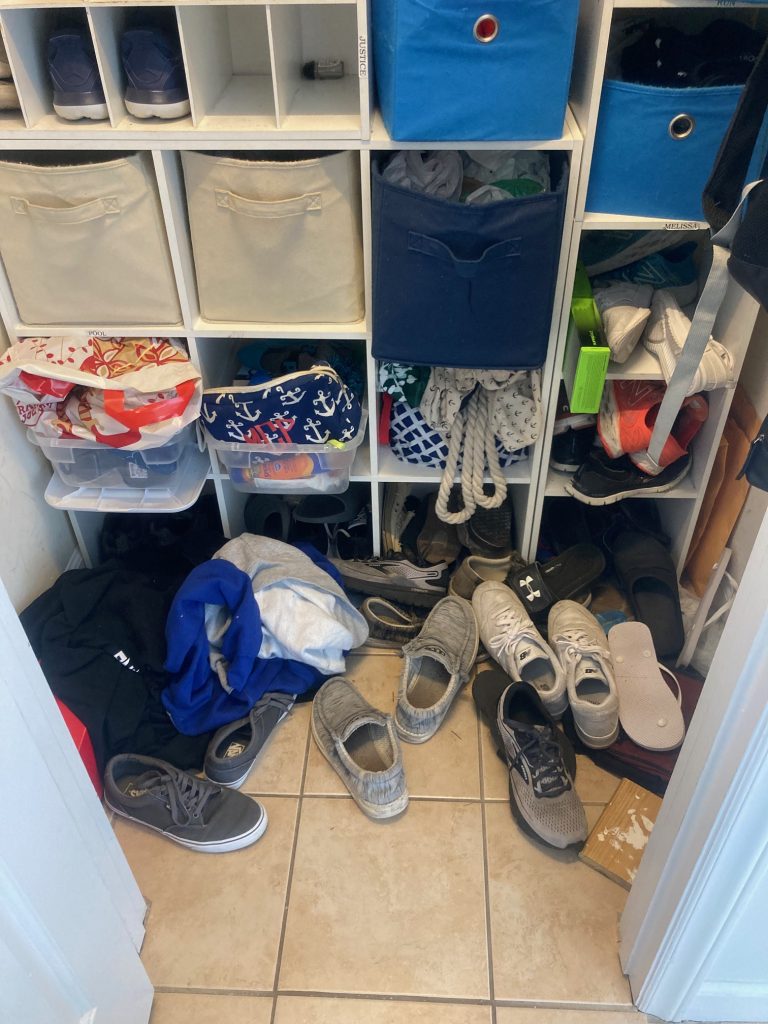 Small Closet, Big Job

For the categories housed in this closet, you think I'd need a mudroom 4x this size. I've thought about tearing the wall down and getting built-in hallway storage. I've thought about investing in solid wood custom shelving. However, I have other things that hold a higher priority in my home, so I've settled on free standing cube units (anchored to the wall) in this closet.
Your Space Must Evolve With Your Needs
I created this when my boys were ages 2, 4, and 6. Over 10 years ago! Look at my first set up of it using what I had to work with. This was when we had a few coats hanging on the original wire shelving.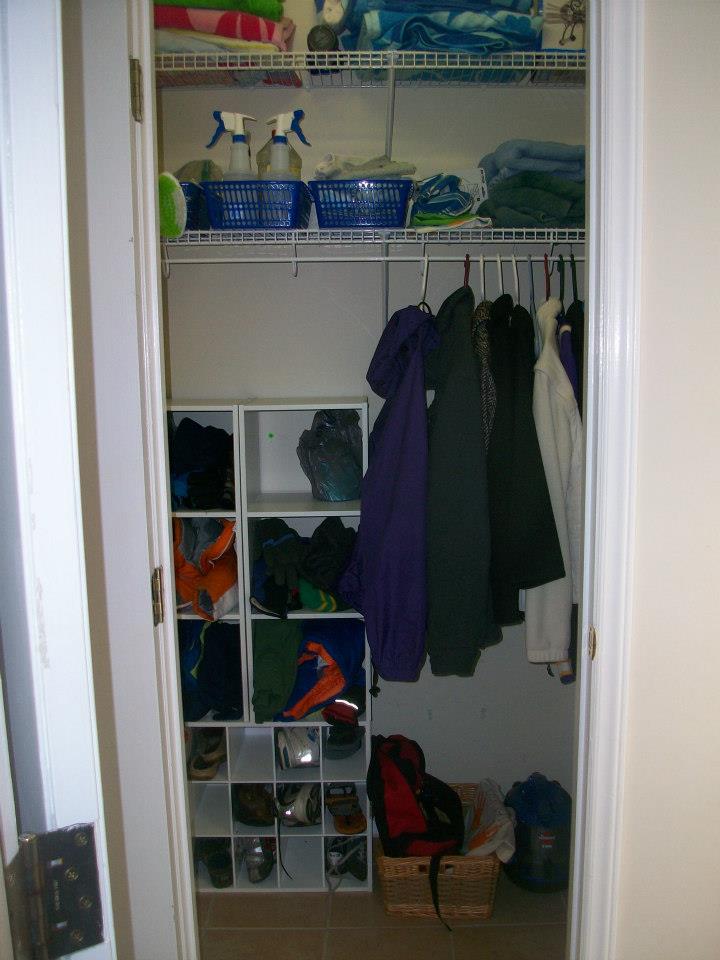 Adjustment After a Few Years
I didn't get photos each time I adjusted this closet (which I did at least every couple years). In this next one, we ripped out all the wire shelving and relocated the few coats we had. I was still working with materials I already had, minus a couple units I purchased including the shoe cubicles. It wasn't beautiful, but it was very functional for a few years.
Little Boys and Little Feet Don't Stay Little

The situation I was faced with prior to Christmas was that most shoes and everything else were being housed on the floor, and not on the shelves. Why? Because the shelving no longer functioned for the need. The intro photo I shared is what I experienced daily when I opened the closet. Let's see it again to further drive my point home.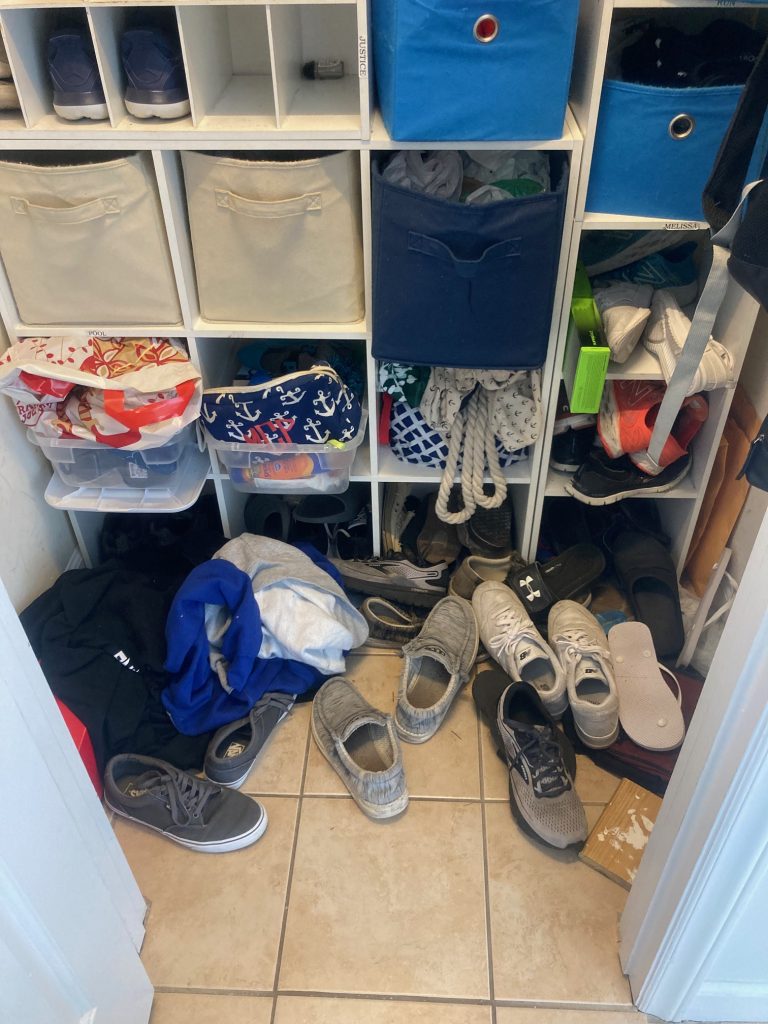 Time to Evolve
I picked a day I was off before Christmas, and just went for it.
First, I found a 9 cube unit that I already had which I was using in storage. I needed it more for this closet than I did for my storage building, so I reassigned it.
Goodbye shoe cubicles. These things were great before my boys started wearing big man sizes in shoes.
I stacked the units almost to the ceiling, and anchored them to the wall. These are the type you can find at Target that are stackable and connect via pegs when stacked, but I highly discourage stacking without securing to the wall.
Some Things Are Worth the Investment
The next thing I did was invest in matching white hard plastic bins. The fabric bins were cute when I used them in the playroom until they started stretching and losing shape, but let's be honest, they are not very durable especially for a job like this.
I didn't want to spend a ton of money, but since I saved on the actual shelving piece I had a budget to work with. Do you just love it when you find the right thing at the right time? My online searches for product aren't always instantly successful. But this day was my day! I found the perfect size white plastic bins at Target for a stellar price. I went to our local store and bought every single one they had!
I even had some smaller white ones already (that I'd purchased to keep on-hand for clients), and these worked perfect in the section of smaller cubes and on the shelf.
Now for a happy photo of my happy closet.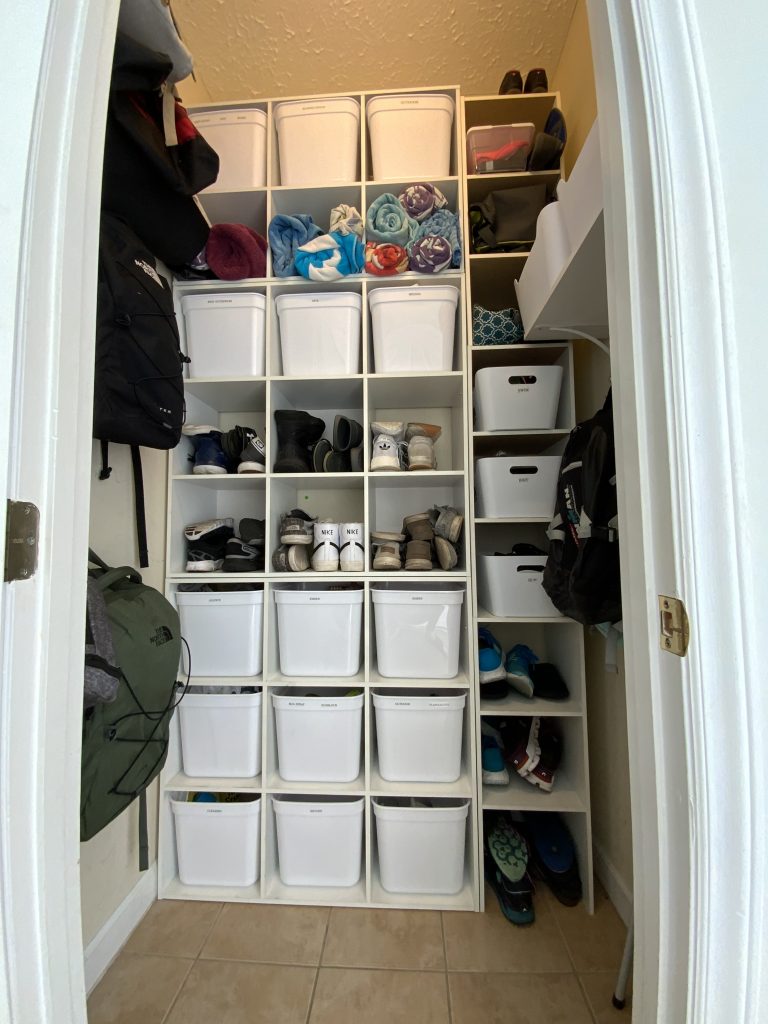 These Bins Are Perfect

I appreciate the hard plastic for durability, and the white for making me feel like the closet is clean and bright!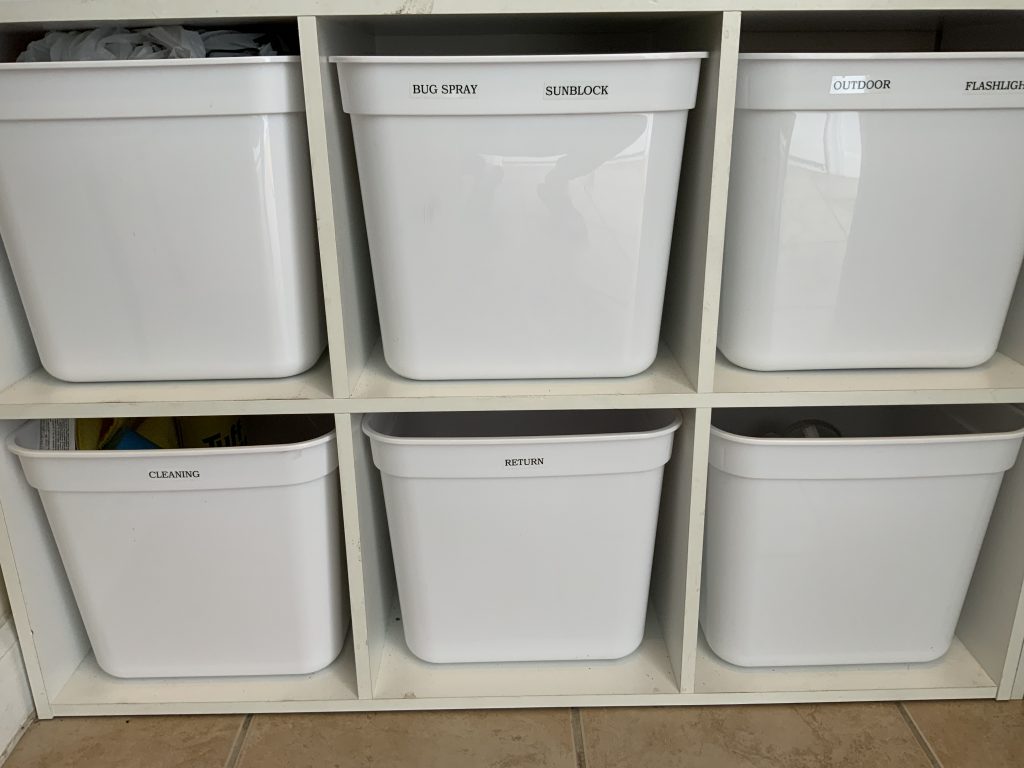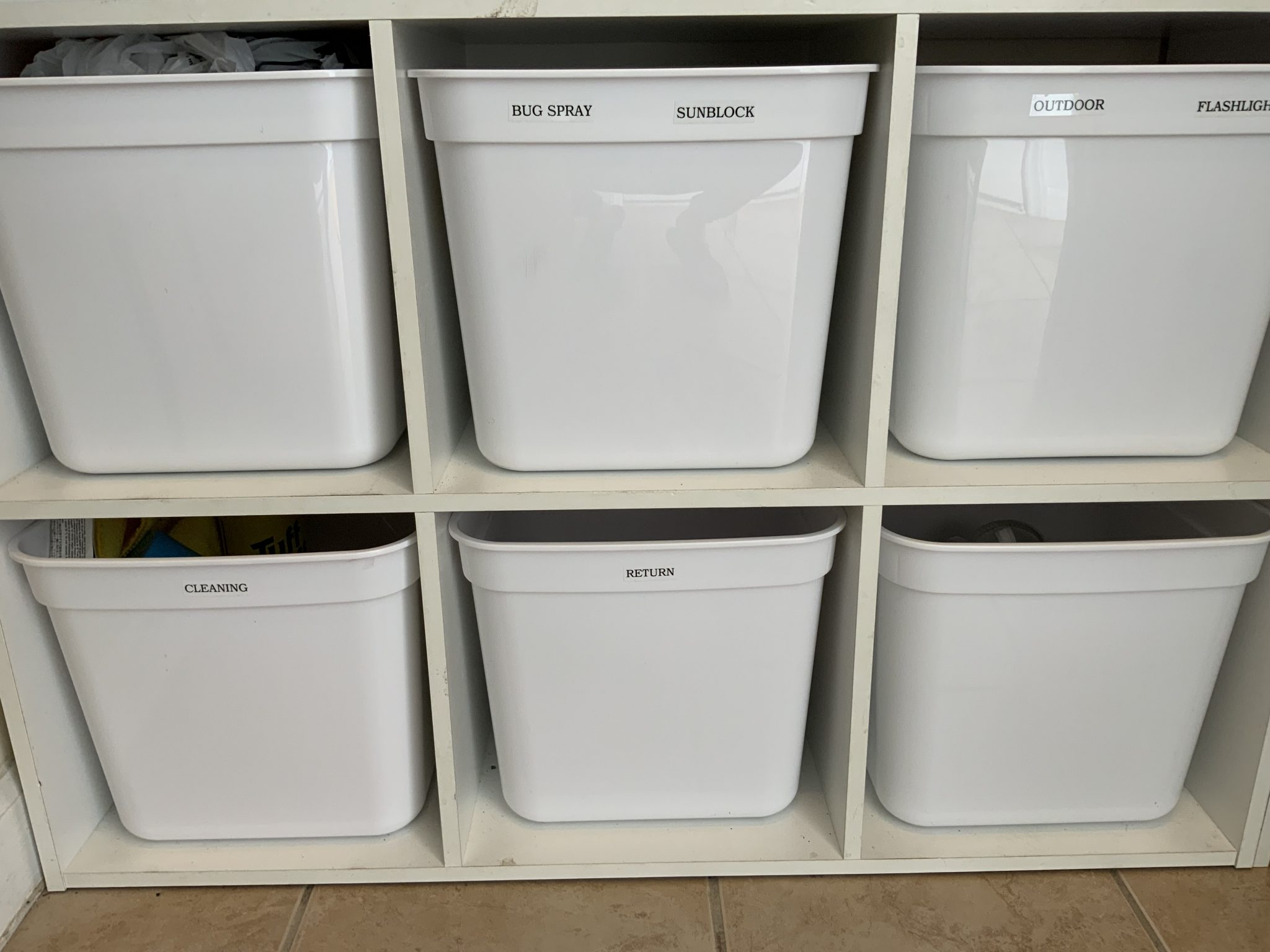 Labeling Is Everything

Since my boys are now teenagers, there was no need to label the shelves for where their shoes go like I did previously. However, adults and teens alike need labels for items hidden in solid bins. I put more than one label on some for ease in locating what's needed (and so that things are put back where they go!).  There are a couple left unlabeled because they are extra and I'm not yet positive what they will house. I'm currently doing a test-run with them.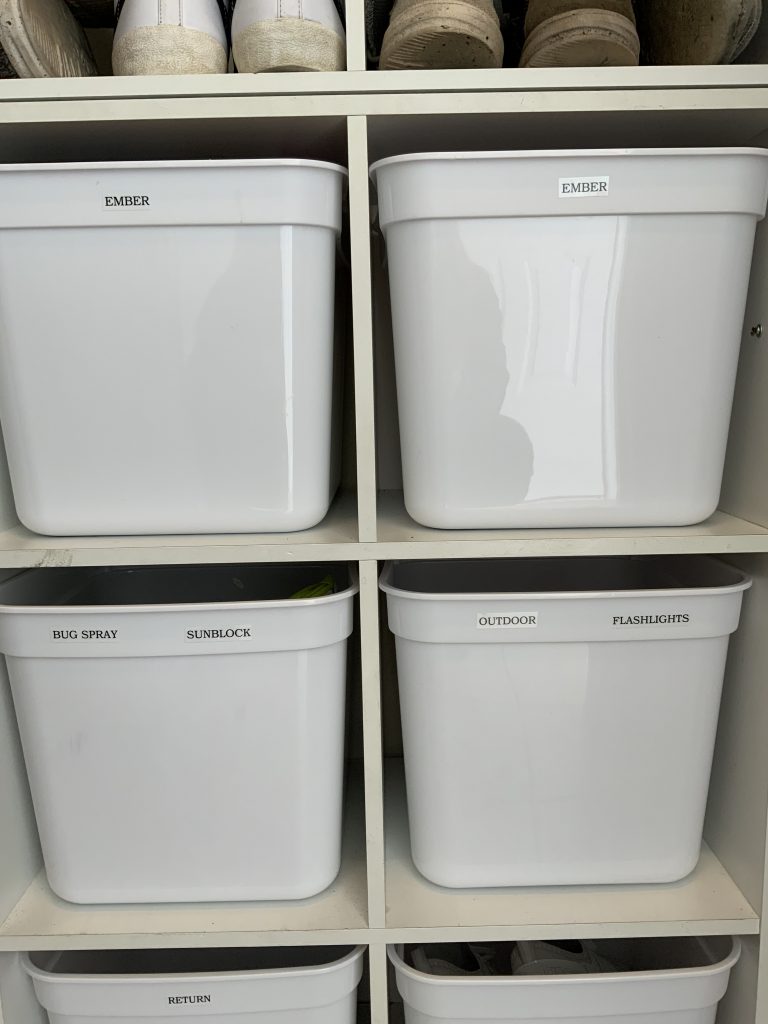 Mama's Special Section

I have had this special swim/bike/run section for years, and it makes it so easy to grab what I need before each training session! I'm so happy with my upgrade to these pretty white bins, as I'd been using playroom fabric hand-me-downs.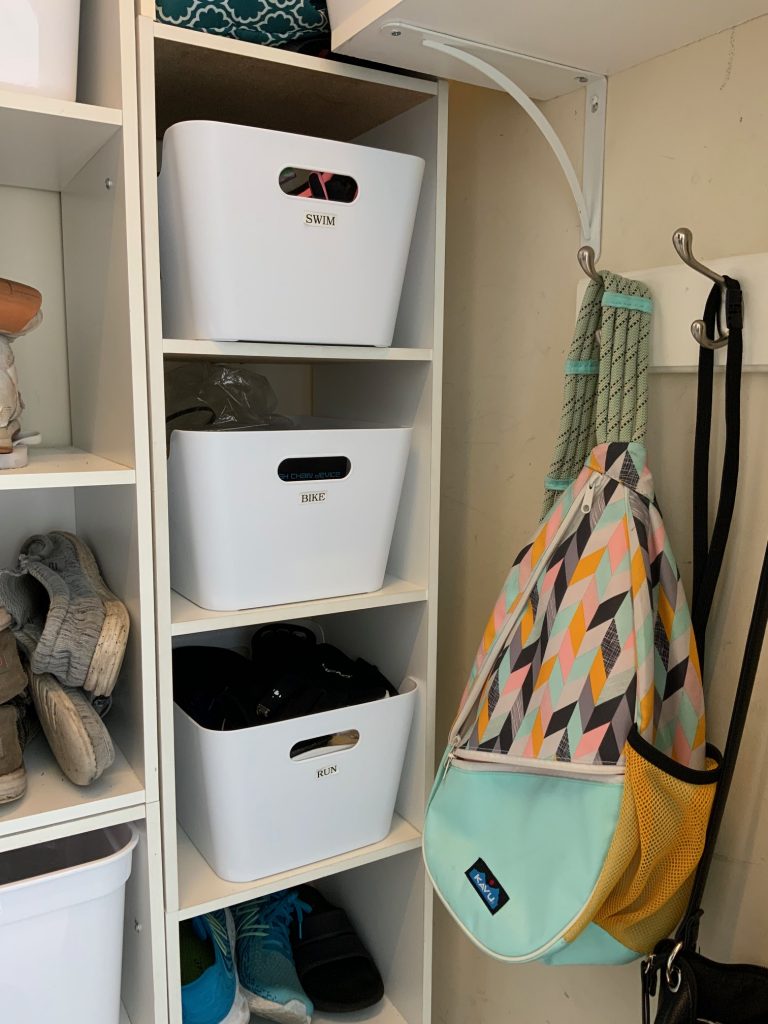 Utilizing All The Wall Space Is Key

Hooks are an easy way to use all your wall space to your advantage. On the wall to the left, you will see kids' backpacks, as well as my occasionally used bags. I have the 2 I carry most often on the hook with my keys. These other bags do have a function and place, just not on a daily basis. So it works for them to hang on a hook I need the step stool for.
On the wall to the right, we've even added a shelf that holds bins with flashlights, sunglasses, and anything else we might need when walking out the door.
Location, Location, Location!

I placed contained items down low that we used most often, and up high for those seldom used items.
There's no pretty way to store non-matching pool towels. I'm not going to spend the money to buy pretty matching ones, as these we've collected over the years and they make us smile. And they work! Towels get rolled and placed up high.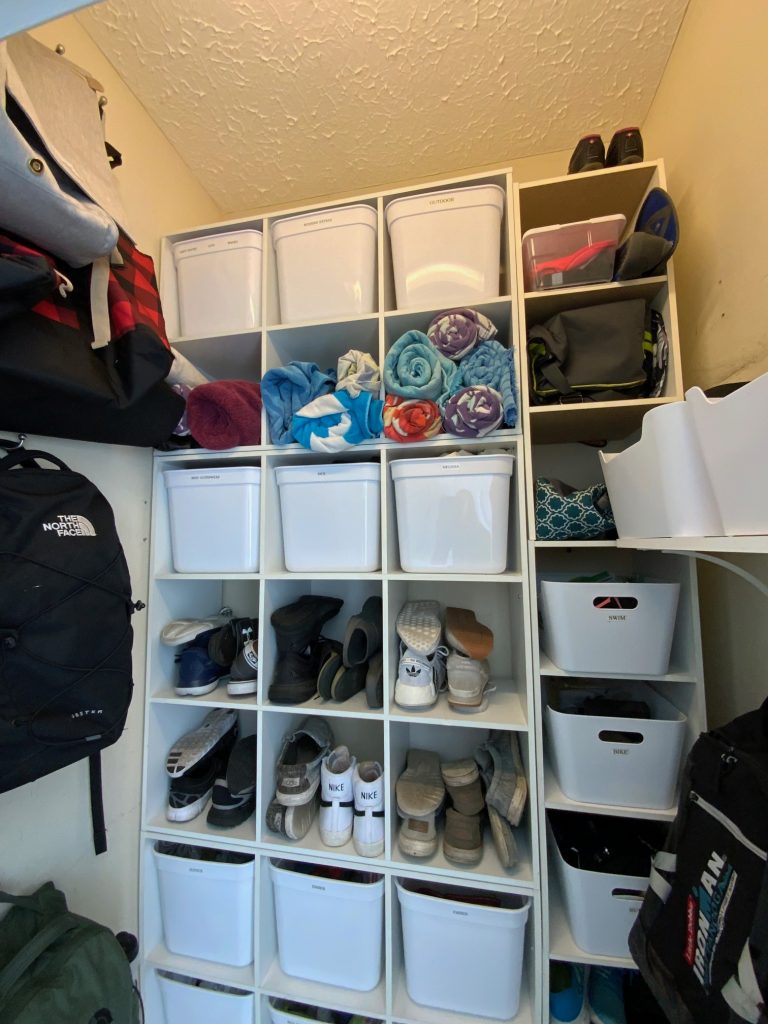 The Result
I feel the same way that I feel every time I open my recently upgraded pantry. Pure joy! The boys' shoes, back packs, and STUFF is in it's home, and the same goes for my husband and I. The bins are labeled. I even have a couple empty ones for future.
I'm fully prepared to reevaluate in 6 months, and adjust something if need be. That is how life works, remember the same goes in the organization of your home.
I just want you to know it IS possible to tackle those lower priority projects with a result that makes you feel like you spent 10x the amount of time and money you spent on it. Could I have spent thousands of dollars creating a dream mudroom 10 years ago? Yes. Would it have been worth it to not have to reevaluate and change this closet over the years?  No! We've used the money on other updates that were a priority for our family.
Maybe there's an area in your home that you need to start organizing by simply using what you have. Or maybe you need to pull the trigger and purchase the matching bins (measure and make sure they fit first). I want you to feel the REALNESS in organizing a lived in home that is full of life. Remember that as seasons of life change, organizational needs do as well. Be ready and willing to flex.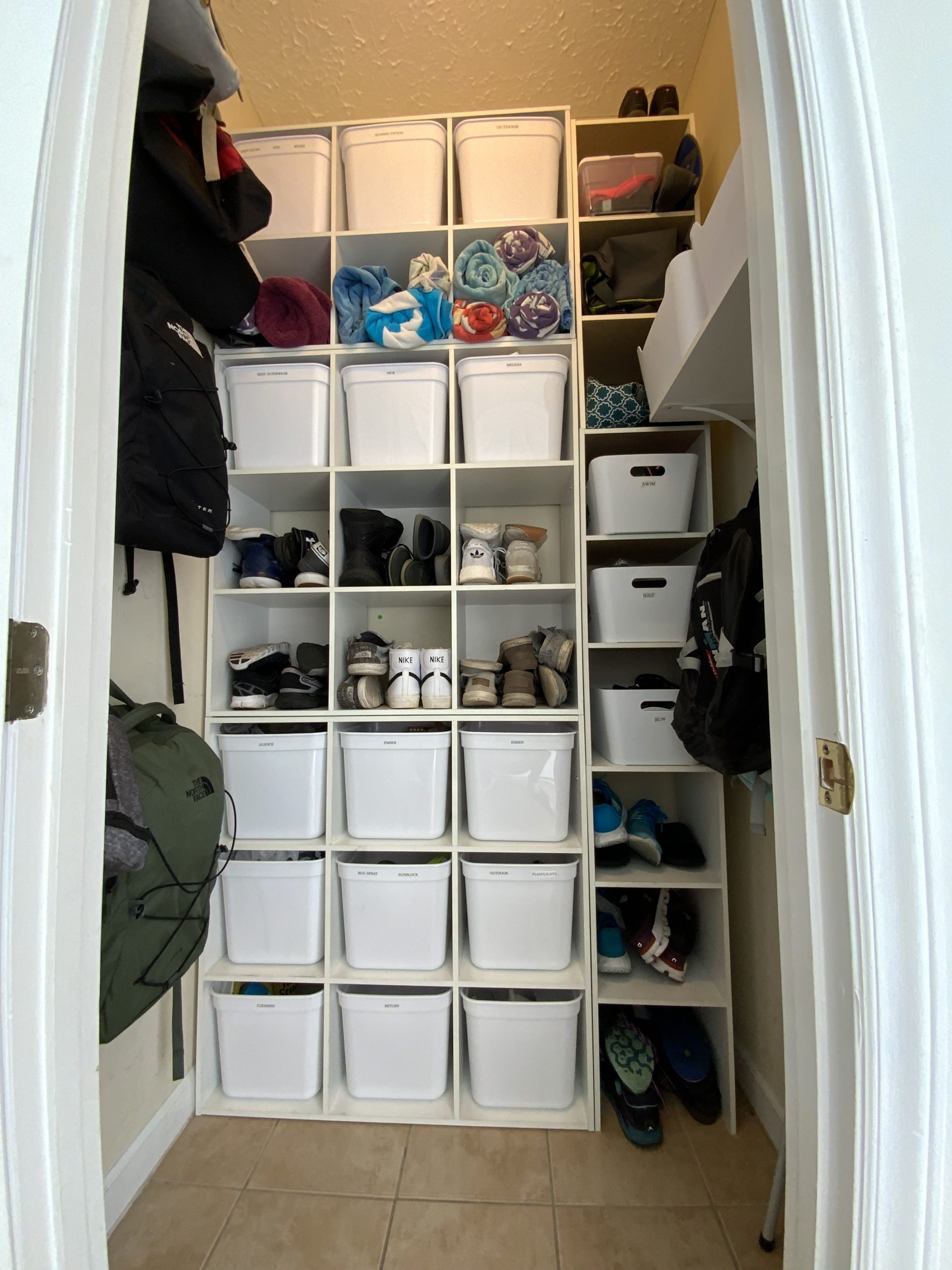 Well, what are you waiting for? Go get started!