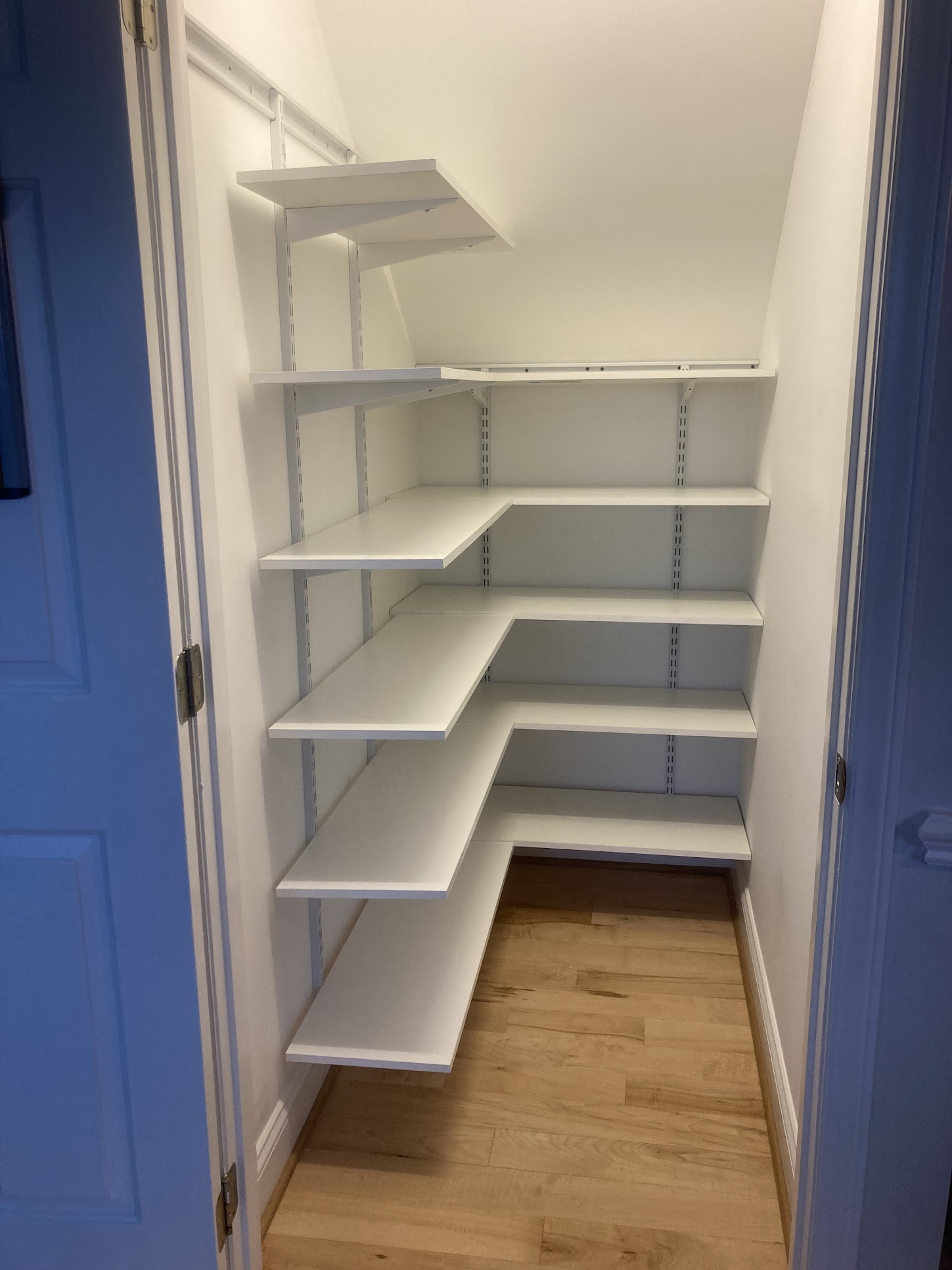 Shelving is Everything
Pantries Naturally Attract Chaos

Can I get an Amen on that? If your pantry looks like the remnants of a natural disaster, you're not alone. I've seen MANY pantries in my decade of organizing for other people. And guess what. I've been in that club periodically too.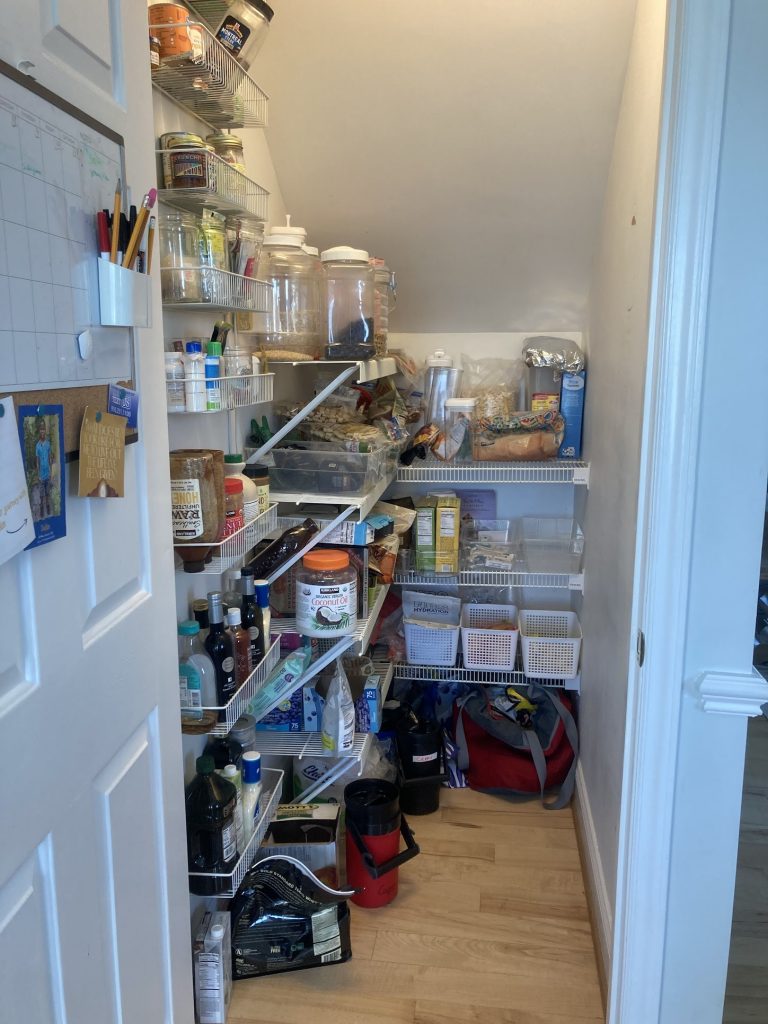 Back to Square One Again

I reorganize my pantry at least twice I year. I purchased bins. I did labels. I categorized and put everything in zones. I trained the other 4 people who live here (my husband and three sons). I pulled out all of my organizing tricks. Yet, it still ends up looking like this.
Assessing the Problem

I have disliked the wire shelving since we moved in. It's inside of all our closets. But we had other priorities and have never cared enough to invest money in replacing them. I always start by trying to work with what we have unless it absolutely doesn't work.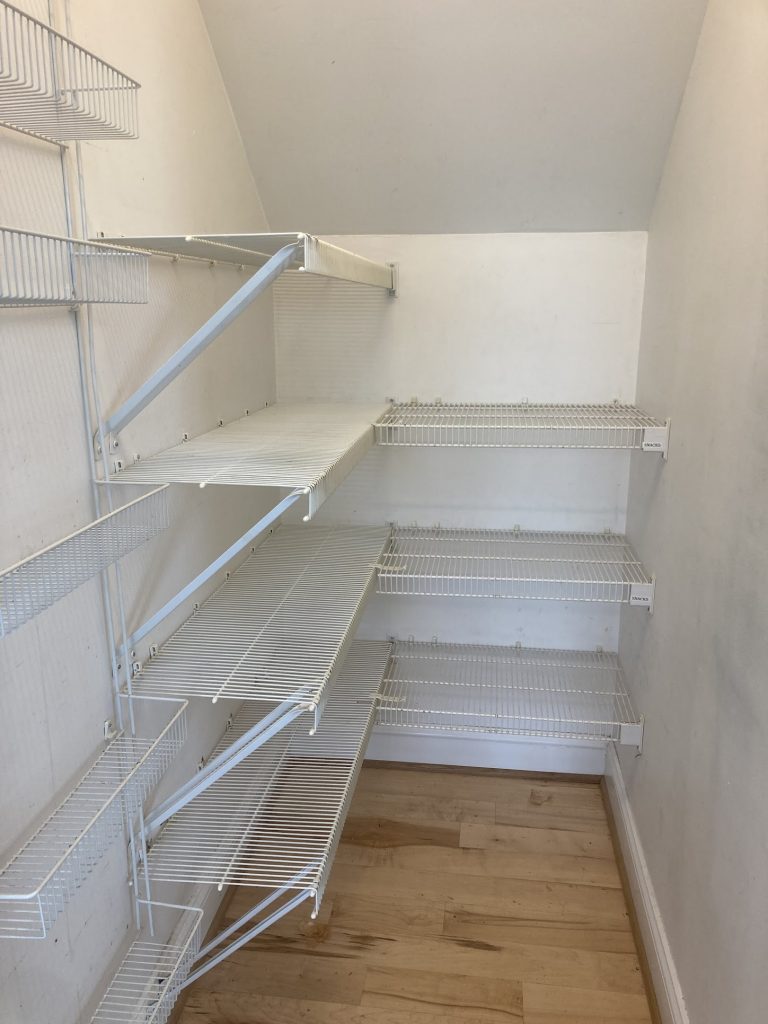 Goodbye Wire Shelving
We served our time trying to make it work. That came to an end when the cost of the stress and frustration outweighed the cost of new shelving. Here are the biggest drawbacks of the wire we had in the pantry:
The brackets that hold it to the wall combined with the 2″ lip on the front edge took away valuable space.
Because of the design of the system, the available wall space was not being fully utilized.
Thank You Facebook Marketplace

As I said before, I've wanted to redo the pantry for over a decade. It majorly started annoying me this summer as my 3 boys were home more and it became continuously out of control. I started looking at options, and then gave up. They were too much for the budget this year. I'm a firm believer in saving for what you REALLY WANT. The best choice is worth the investment.
One rainy afternoon, I was surfing through Facebook Marketplace looking for a different type of shelving when I came across a listing for solid board shelving on a track system. It was in a pantry that looked JUST LIKE OURS. The price worked with our budget. AND I knew I would still be happy with it 5 years down the road. A pantry that was shaped like ours (cut out under the staircase)- unbelievable. I just knew this person had to live in our neighborhood. To which they did. Which meant everything was (mostly) cut to the perfect size for our pantry, it was in great shape after only being used for a short period, and it cost us half as much as going and buying all the materials ourselves.
We picked a weekend and did the entire project from tear out to install. Including a fresh coat of paint for the walls (after TONS of sheetrock rehab). Check out the result! Note that we added not only one, but TWO shelves to each wall! That wire system was a total space hog!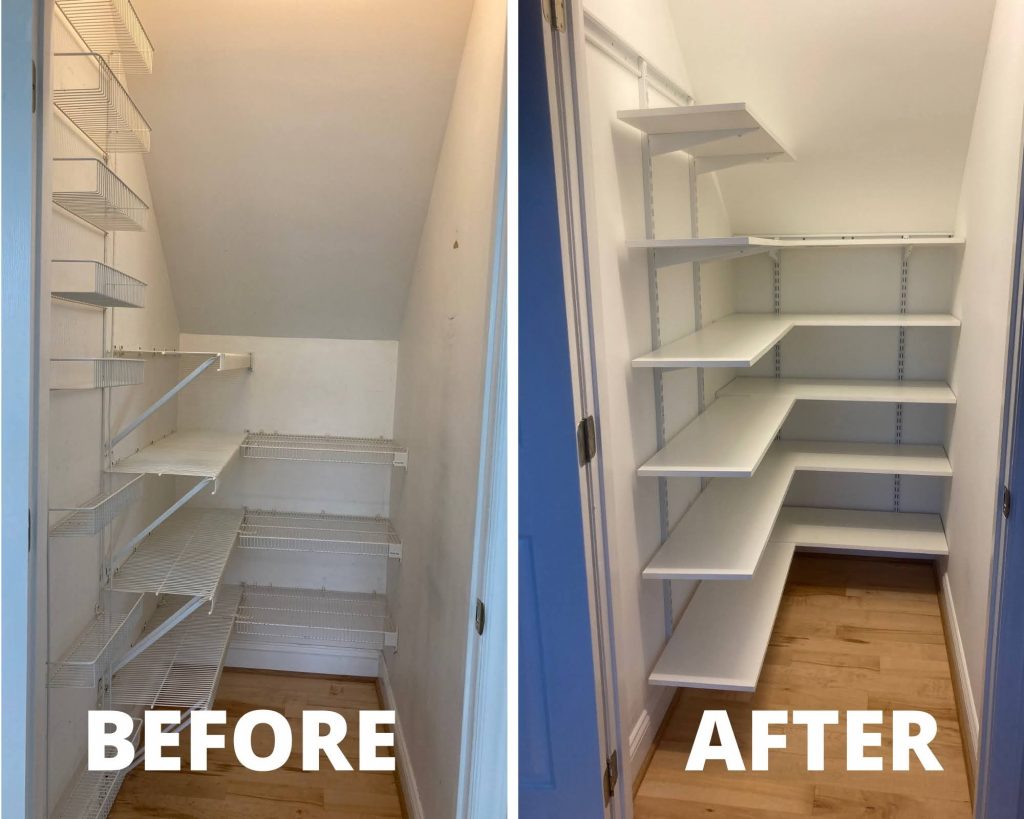 From Stuff on the Floor to Empty Space on Shelves

And now for photos with the food! As you can see, there's plenty of room for more if we need it. These photos are the day after grocery shopping, and there's still open space.
I ended up purchasing 2 more sets of clear bins. The new shelving warranted matching bins. I do this in other's home so much, I felt like it was my turn to buy myself some pretty bins. I also kept the ones that functioned well and matched.
I Can't Stop Looking At It.

I sometimes walk into it for no reason. I've been leaving the pantry door open because it just brings me so much joy and makes me feel peaceful. I feel successful. I feel like all is right in the world (my kitchen). One of the best parts is that there's nothing on the floor and I can send my Roomba inside to vacuum every night. It's never been allowed entry into the pantry. I think it's kind of happy too.
Maybe This is Why I Love My Job so Much
Every time I conquer clutter in my own home, I get to experience the same feelings that my clients do.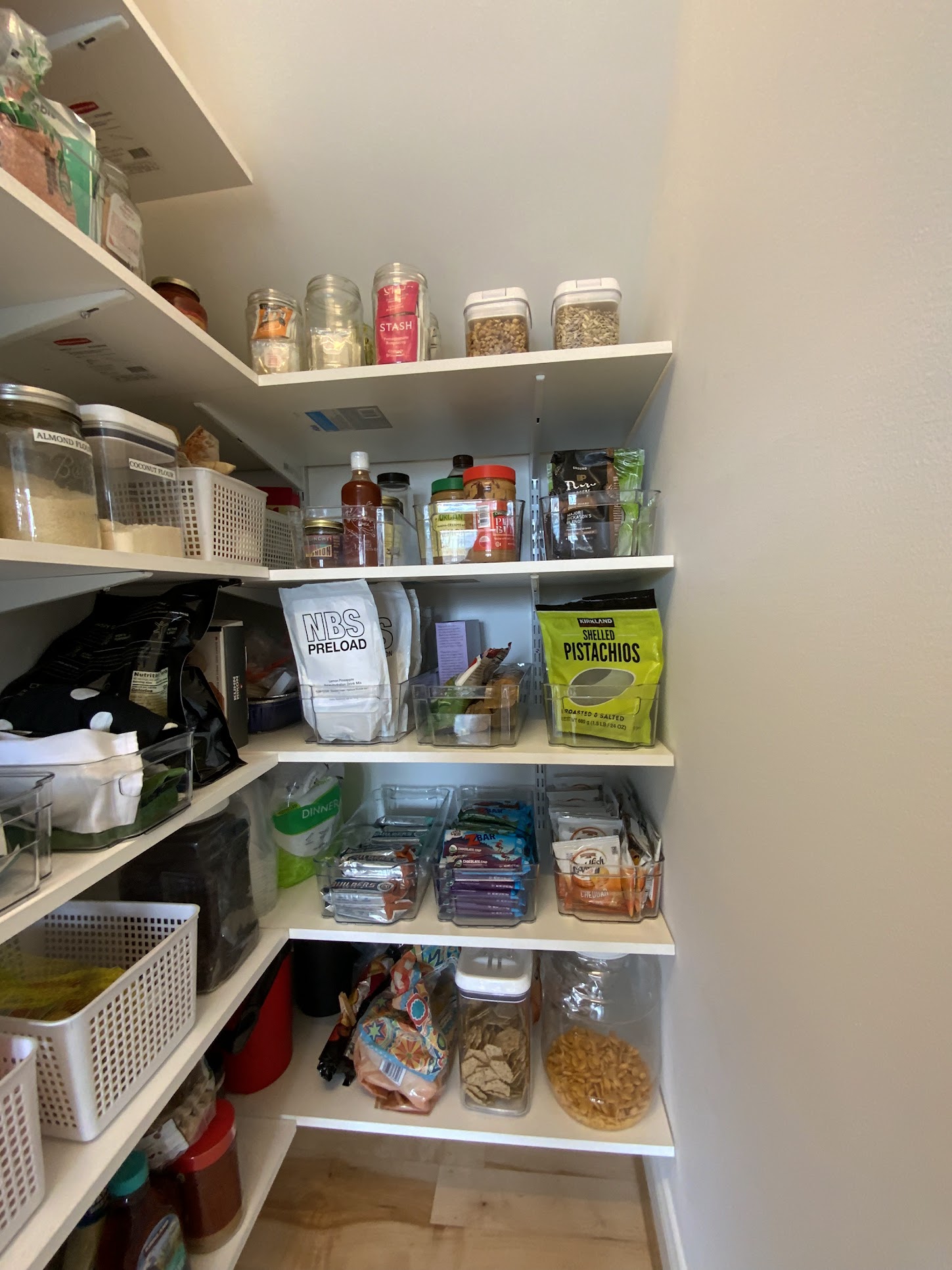 The Right Materials Make the Difference
You can't use a hammer to drill a hole in the wall. Well you CAN. But the result will likely not be what you're looking for. Organizing your home usually requires spending a little (or a lot) of money on materials. Start with what you have and work with your budget. If you have no clue where to start, or maybe you're stuck, that's what we are here for.