Simple Mudroom
So after I went crazy pinning mudrooms on Pinterest last week, I decided I would share mine with you.  Disclaimer:  Its nothing fancy or spectacular like some of the ones I pinned.  We still have A TON left to do on our house, so budget-wise it was low on priorities.  Its behind a closed door too, so simple and functional was the focus.
We moved into our house about a year and a half ago, and have been slowly but steadily making it "home."  We have GORGEOUS (and expensive) hardwood floors downstairs that we had expanded and refinished last year, so that was the end of wearing shoes in the house.  Lets get real here.  Who's kids are going to come in the door and immediately take their shoes to a closet in their room to put away, especially if their room is upstairs?   We were keeping (or trying to) most of our shoes upstairs, and you know how well that was working…  With 3 young children, asking them to run upstairs to put their shoes away, or run upstairs to get them before leaving never worked.  I'm all about keeping things simple 🙂
We mostly used the backdoor, so we needed a solution in close proximity to it.  What we had to work with was a coat/utility closet with a single rack, a couple high shelves, and one low shoe shelf. The kids couldn't reach the rack to hang up their coats, so I ended up doing it or our entrance looked kind of like this all the time: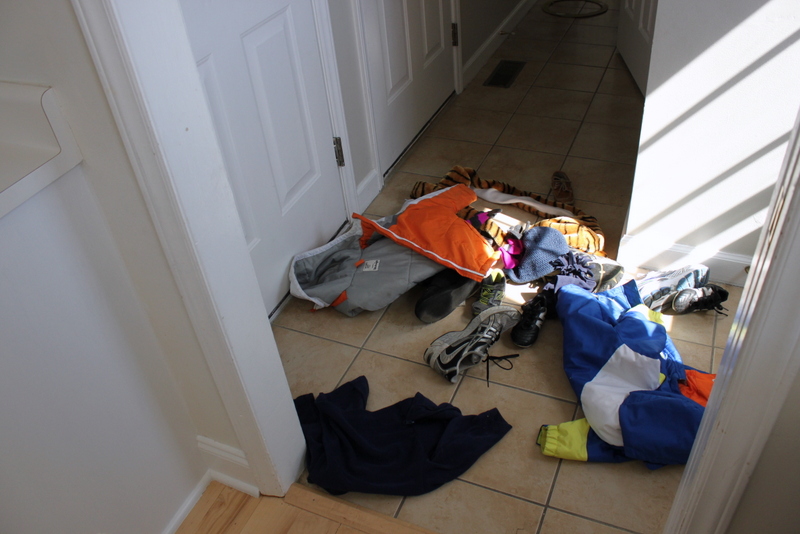 The closet also needed to serve other functions, like holding cleaning supplies, the vacuum cleaner, beach/pool towels, backpacks, and  overflow from seldom used kitchenware.
So I came up with a solution that was inexpensive and customized to fit our families needs right now.  Here's what the closet looks like now: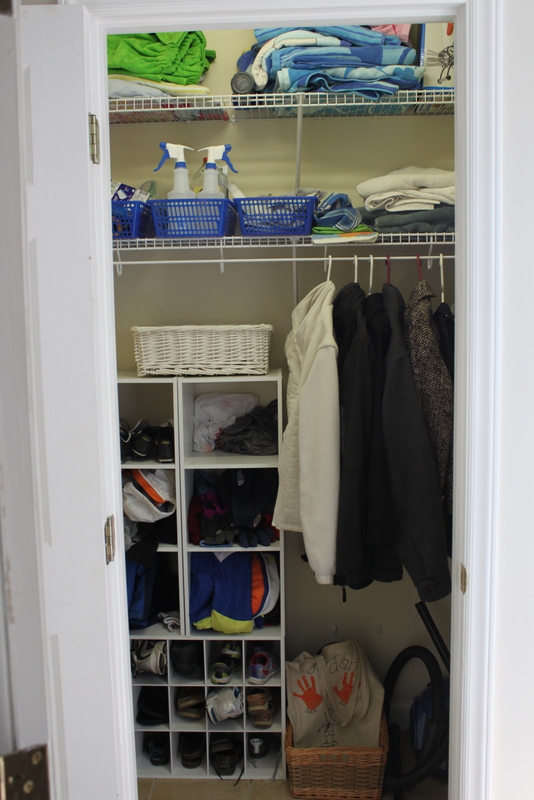 Below are cubbies I purchased as 3 separate units.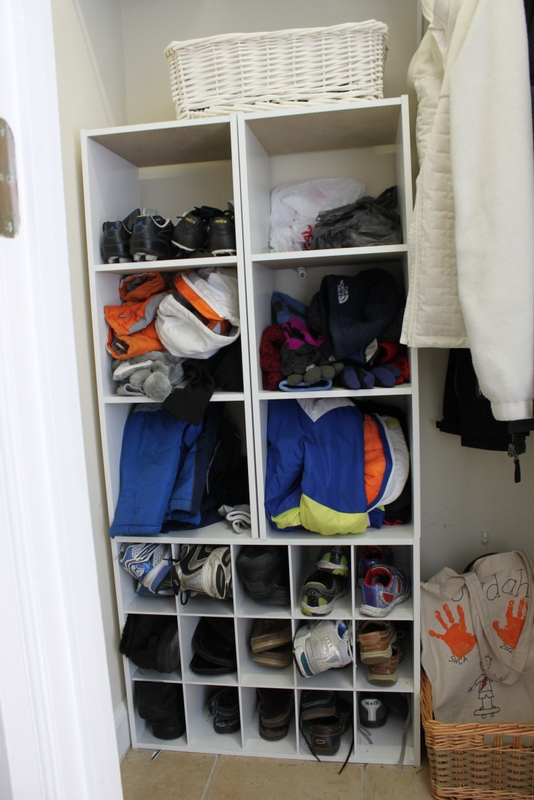 Shoes on the bottom.  The kids can easily pull their shoes in and out.  All of the kids shoes are here.  The boots and shoes that I don't wear every day I keep upstairs.  Running shoes, outdoor slip-ons and flip flops I keep here.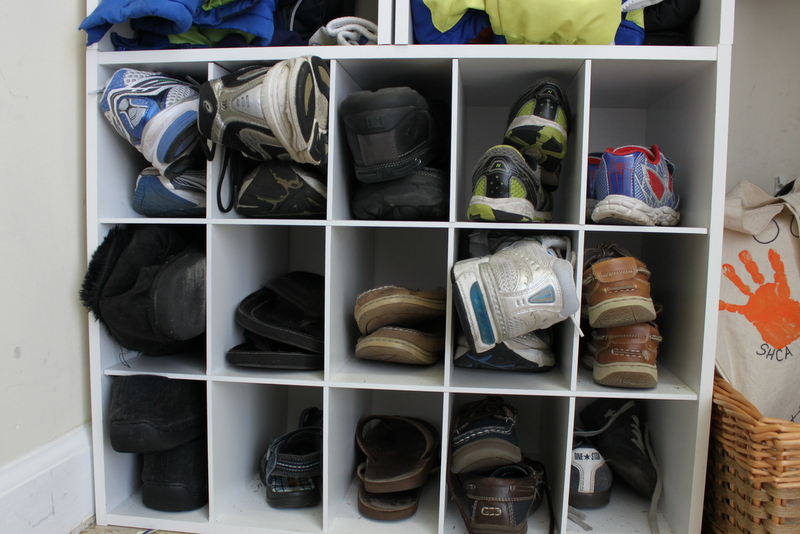 I needed a solution for coats, hats, gloves, etc.  Since there was no room to hang a shorter rack, I decided to try cubbies for those.  For one, these are seasonal items and I can use the space for something else when its not winter.  Also and more importantly, I figured my kids (ages 2, 4, 6) would be more likely to stuff their coats in a cubby than hang them.  They are not folded or necessarily "neat," but that doesn't bother me.  If they will take the time to stuff their coats in the cubby that is fine with me!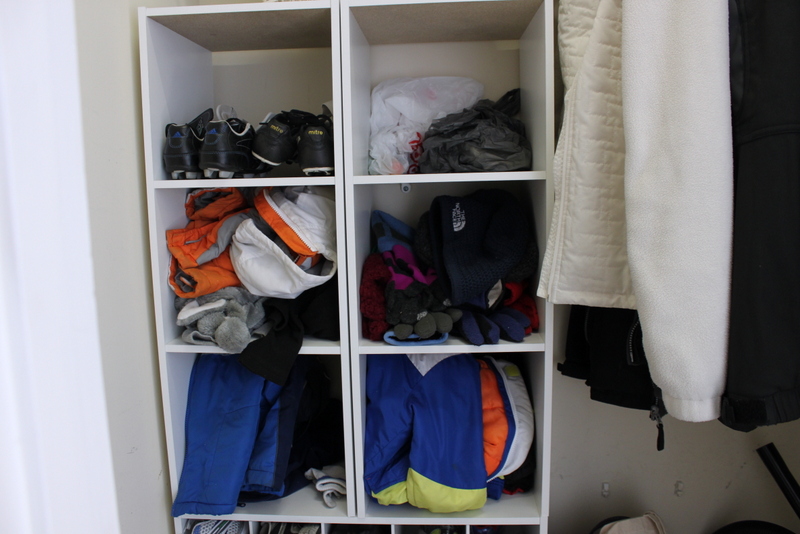 With 3 kids, there were 3 cubbies left over.  One was used for gloves & hats for my husband and I, one is currently holding soccer cleats & shin guards, and the last one is my "return" cubby.  I have a very hard time remembering to return things that I borrow from people, so I designated a spot for that.  I also put things here that need to be returned to a store.
As the season changes, the coats will get packed away with winter clothing, and I will use their cubbies to keep their individual bathing suits and beach/pool towels in.  We have a pool, and we live 15 minutes from the beach, so we spend a lot of time in swimsuits in the summer time!
I have a basket I found at a thrift shop that the kids put backpacks in, and the vacuum cleaner just slides in right beside it.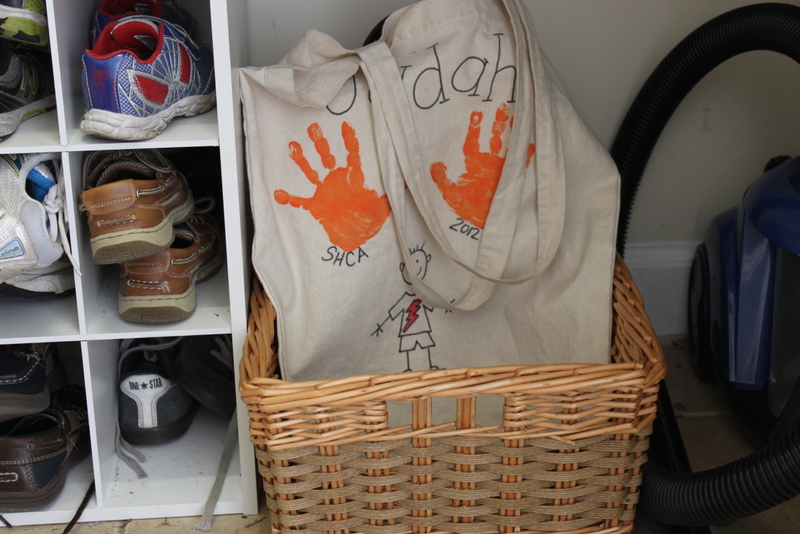 And adult coats just hang right on the rack: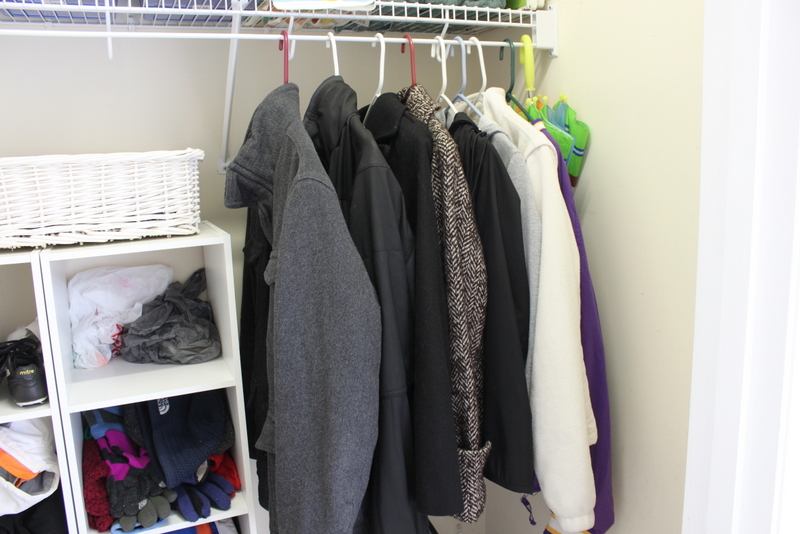 Up high I have cleaning supplies (in easy access baskets), towels, and a kitchen overflow item.  The towels will come down when the season changes.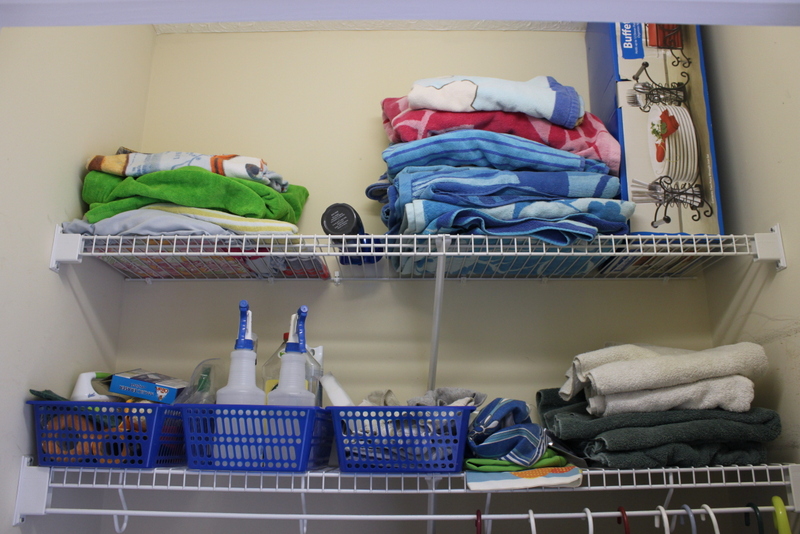 So there you go!  Its working pretty well.  I had to help the kids make a habit out of putting their outerwear, school bags, and shoes in the closet as soon as they walked in the door.  We made up a song!  "Shoes in the closet, hands in the sink!"  If the closet starts to get messy I ask one of the kids to straighten it out as a chore.  My 6 year old especially loves organizing!
Make a mudroom, drop-zone, catch-all that works for your family.  Sometimes solutions are difficult to visualize, so if you need help creating a space like this you know who to call 😉
Thanks for reading!
Melissa
Get Organized.  Simply Live.