Virtual Organizing Yields Great Results!
I recently held a Giveaway on Facebook as I announced my gift certificates for Christmas. Leigh Parker was the fortunate winner of the raffle, and had just in mind what she needed!
Leigh had just relocated all of her son's toys to his room (they were previously housed in the living space). She was happy everything "fit", but the setup was less than ideal and she needed input.
Leigh lives outside of my service area, so we made a virtual appointment to get the job done.  In less than one hour via Facetime, I was able to give her space planning recommendations that COMPLETELY changed the look and feel of the room.
Listen to what she said and check out her photos of the room:
"I was lucky enough to win the most recent Simple Spaces giveaway and I can't thank Melissa enough for helping me organize my toddler's room! It is so much more roomy in there now, I love it!"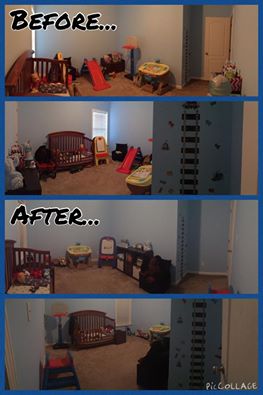 If you need help organizing or space planning, but live outside of my service area, virtual consulting is an excellent, cost-effective option.
I'm thankful for the opportunity to work with Leigh, and it makes me happy to see her loving the space!
Melissa
Get Organized. Simply Live.