Playroom Redesign
If  are a parent and have the space in your home, devoting an entire room to be the play/discovery/hang-out area for kids is great.  How it is designed and setup, however, can make or break the functionality of it.
I'm sharing with you a playroom redesign, which was actually one of my first big jobs last year!  My clients were using their bonus room as a playroom, but things weren't working so well.  They knew they wanted some sense of flow and order, but as with any bonus room that is often hard to visualize.  Especially when you're living in and using the space day in and day out.  That's where I came in as an outside perspective.
The first picture I'm going to show you is what the room looked like when I opened the door.  I love it when clients don't "tidy up" before I come over, and I actually ask them not to.   Seeing the usual state of the room helps me troubleshoot and figure out what is attributing to the problem, and then come up with a solution tailored to the space and the client.  Yes I will dig through your piles, its okay!  I don't judge and it is very hard to shock me.  Here is where we started: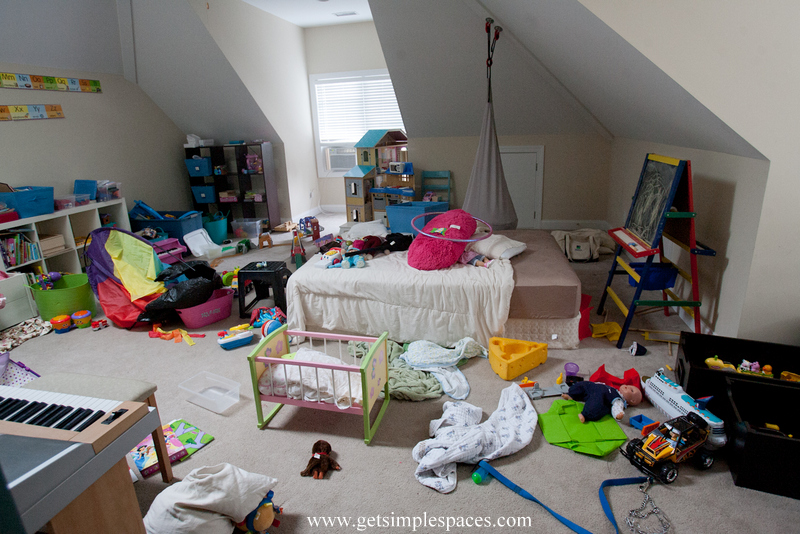 There were a few things that didn't belong in the room, like the bed.  This had been used for occasional sleeping quarters for guests, but my clients really wanted this space to strictly be for their children, and opted to find another solution for guests.
Also, there was no real flow or order to the room.  We talked about creating "stations" for play and avoiding a wide open space in the middle – that's where kids tend to dump all the toys!  We talked about relocating some of the larger toys (like the train table), and creating a nice little reading nook.  The clients also wanted to create a good art/school space and have room for storing supplies.  Lastly, the clients wanted to get rid of the neutral and light up the room with some color.  I love what they picked.
Are you ready to see some after pictures?

Note in the AFTER picture: Train table is in the center of the room.  It breaks up space and gives plenty of room for more than one child to play.  At the back left corner you will see a keyboard.  Creating a music corner was priority on the list.  The bins on the white shelves closest to the keyboard are holding instruments.
From another angle in the room:

A couple things to note in this AFTER picture.  The playhouse has its own spot.  To the right of it there is room for dress up and make believe play.  We were able to keep the swing in the same location and incorporate it into the space!
Close up of the easel and art table: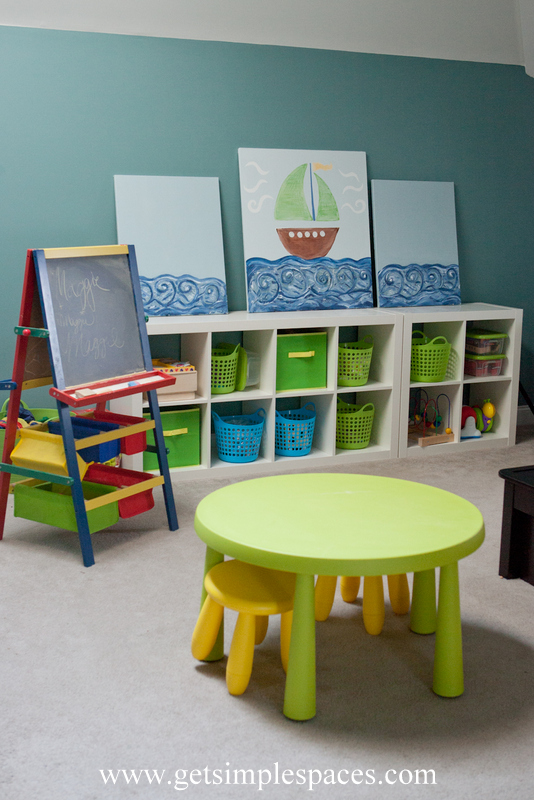 Looking past the train table, you can see the art table and shelves behind it.  These shelves hold educational and art supplies: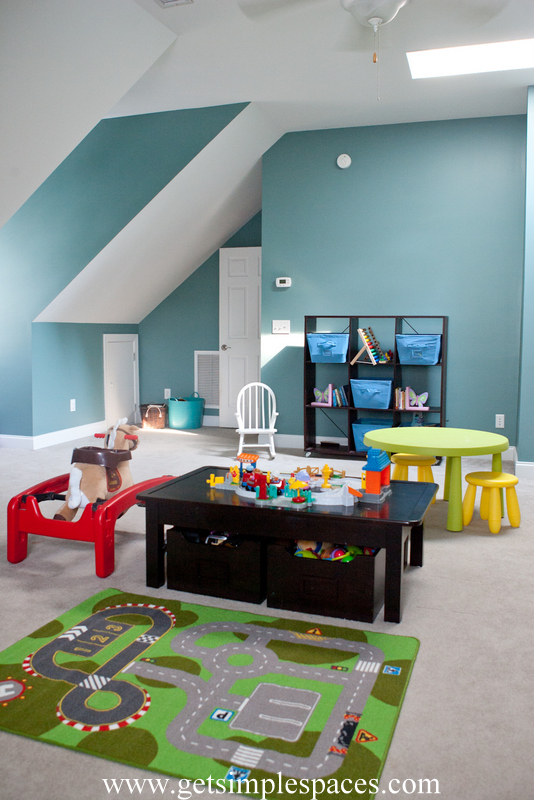 Up close of the "dress up" station. Makes me want to be a kid again!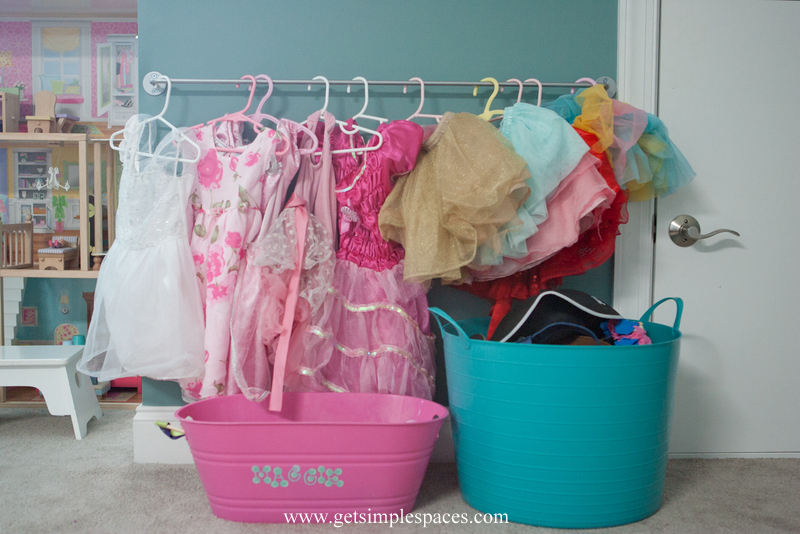 And the reading area!  The nook wasn't large enough for the bookshelf and comfy reading spot, but placing the bookshelf right outside of the nook worked.  This also makes me want to be a kid again!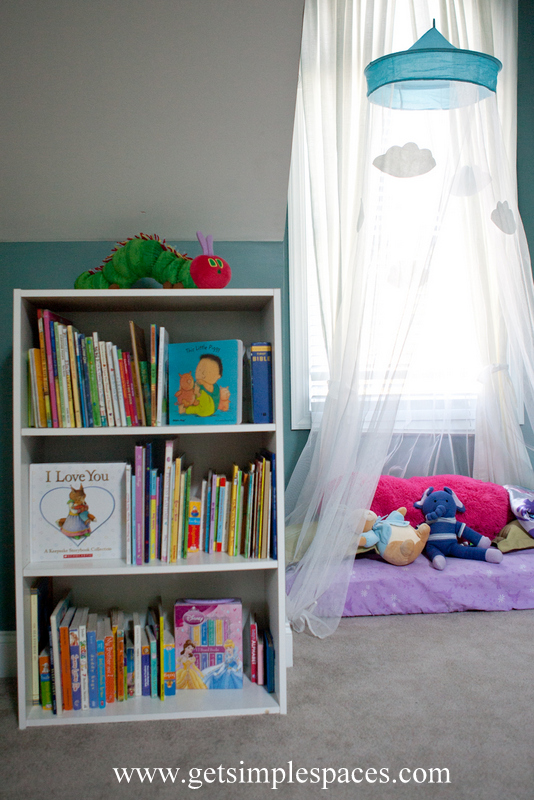 This project was a lot of fun!  And it was simply a "consulting" job.  I didn't do any of the actual design and organizing work with the clients.  We brainstormed together, came up with a plan, and they took my ideas and advice and did it themselves!  I came back when it was finished just to tie up loose ends and evaluate how the plan actually "looked" in the space.  Would you agree they did a fabulous job?  We were all really pleased!
Some people need me present when they are purging, rearranging, decorating, and putting things into place; some people prefer to work on their own.  I always begin with a consult because you can't get anywhere without a plan.  However in both my in-home organizing and in-home redesign services, I let clients have the option of choosing me to do the work or not.   I ALWAYS customize my services to fit each individuals needs.
Not everyone can devote an entire room in the house to a playroom.  I did a multipurpose bonus room redesign a few months ago that incorporated a play area for the kids.  Go here to see how that was done.

And, don't forget to remember me for your next redesign project!
Melissa
Get Organized.  Simply Live.