Pantry Storage With Glass Jars
Glass jars.  Clear plastic containers.  I come across a lot of these as my family of 5 goes through TREMENDOUS amounts of food.  Besides sending them to recycling, jars can be reused for numerous things.  Let me show you what I did with some of mine.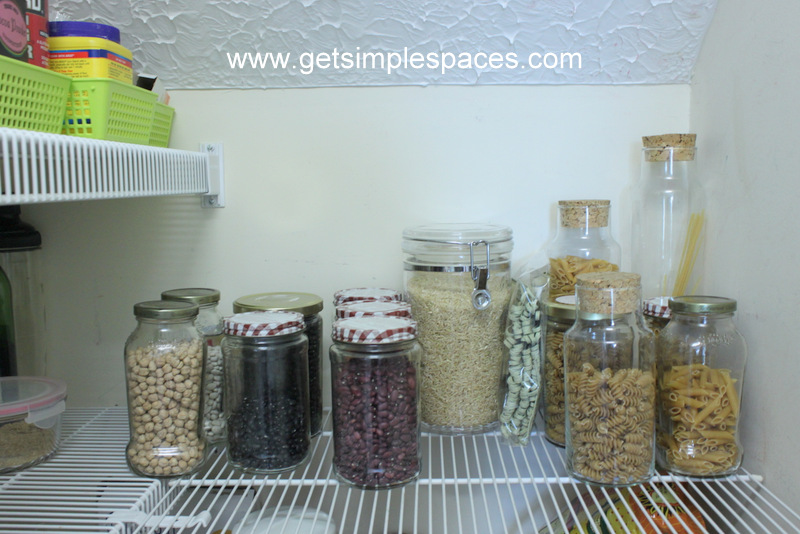 In the picture above,  you can see my shelf of beans and grains.  I have a few pieces that I use for pasta and rice, but I added to it with my jars!  Thoroughly wash the jars in soap and hot water to remove all the food & residue (and you can add in some white vinegar when you're washing to remove any smell).  I soaked them in hot water and scrubbed the labels off.  I used peanut butter & pasta sauce glass jars for the beans.
Here's my snack shelf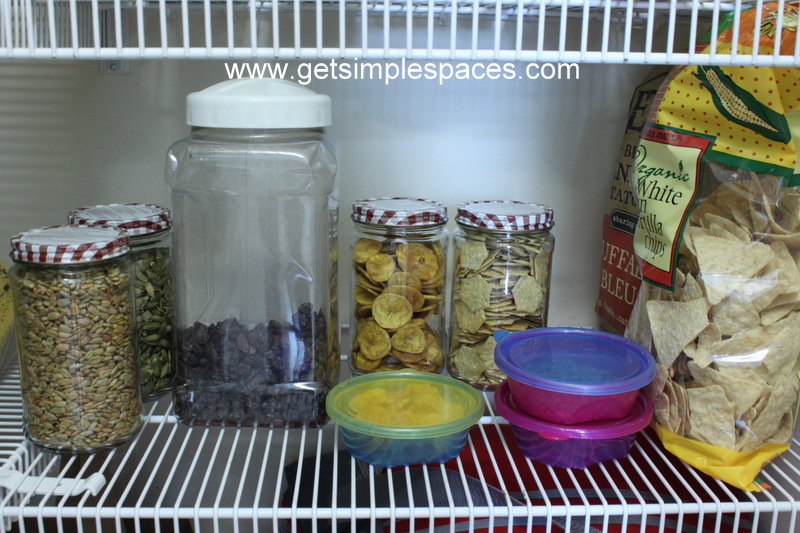 More peanut butter jars for nuts & seeds, also I used these for dried bananas and little crackers.  I have a large plastic container we were already using for raisins (we buy them in bulk so we need a really large container!).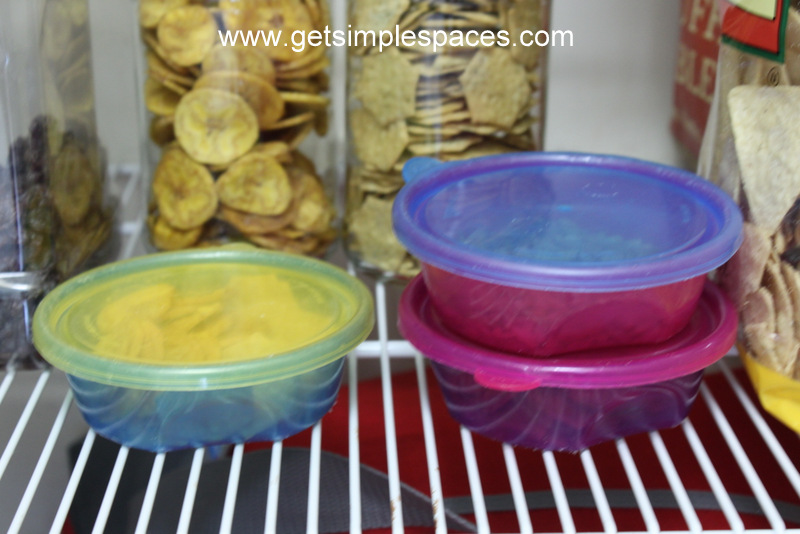 The small colored containers in the front are used for overflow – tiny bits of snacks that didn't fit into the jars, I went ahead and put in small containers for grab-and-go snacks!
These jars work perfect for little things that come in bags like nuts and seeds!  Very visible and easy to access.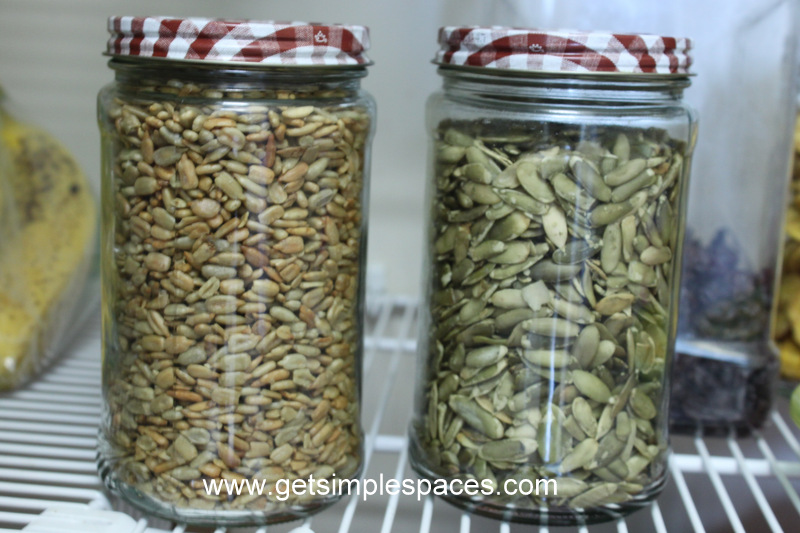 This large, clear, plastic container below originally housed pretzel sticks when we bought it at Costco.  When the pretzels ran out, I washed it up and deemed it our oat container!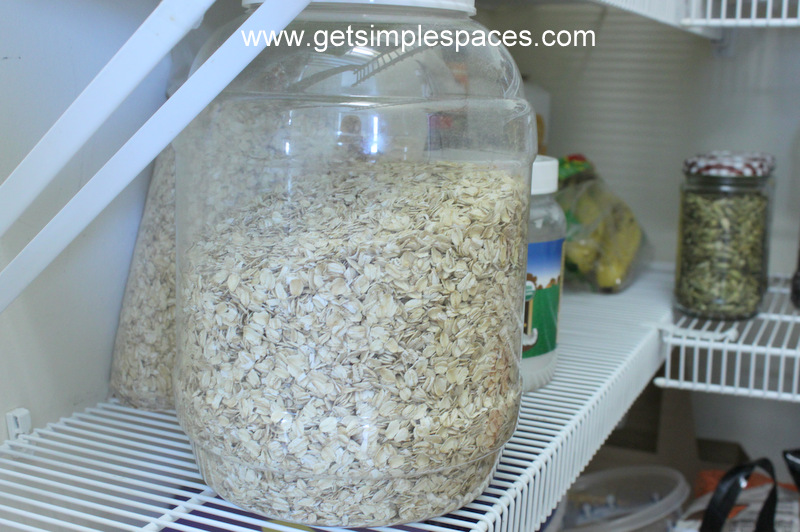 And I used another one to store sugar!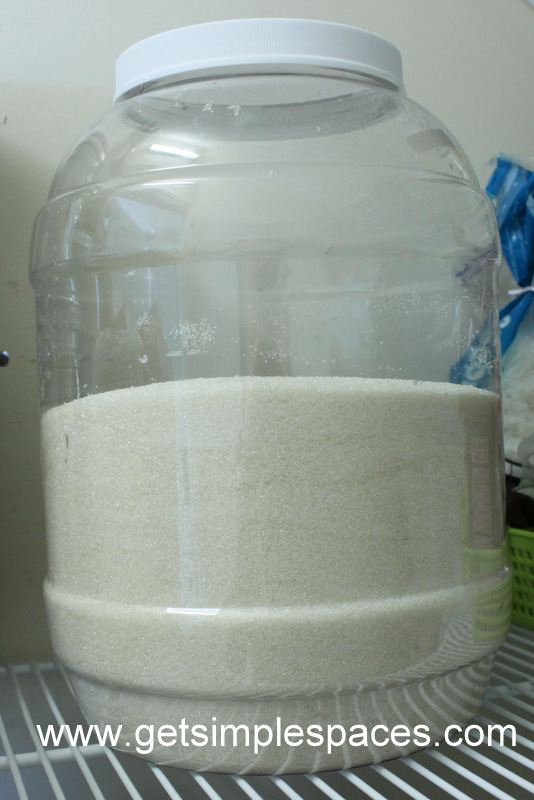 My raw almonds come in a bag too, so I had a reused container to devote to them.  I do a lot of baking with almond flour, which I grind myself.  I use a snap lock glass container to hold the flour.
So there's a glimpse into my pantry!  I have some other fun ways to use glass jars that doesn't involve food, and I will save those for a later post!  I hope this  inspires you to see "containers" in a whole new perspective.  🙂
Thanks for reading,
Melissa
Get Organized.  Simply Live.