Simplify Your Spice Cabinet
There tons of great ideas out there for spice storage, and if you really want to spruce things up in the kitchen I encourage you to explore all the creative options to figure out what works with your space.
Today however, I want to share 5 very simple things you can do to refresh your cabinet as it is, without costing  you much time or money. I've been through enough kitchens to notice a trend, and I'd love to share a few tips that will help most if not all of you.
1. Throw out expired spices.  Pull each jar out one by one, and check the expiration date. You will be amazed at how many out of date spices you find hiding in there!
2. Combine half empty jars of the same spice.  Do you have 3 jars of cinnamon that have all been opened and used? Pour as much as will fit into one jar.
3. Invest in a tiered space rack. I think this is one of the most inexpensive, brilliant organizing tools ever created. It enables you to clearly see everything you have, which helps prevent buying duplicates. You can find them at many stores in the kitchen or storage section, priced around $5.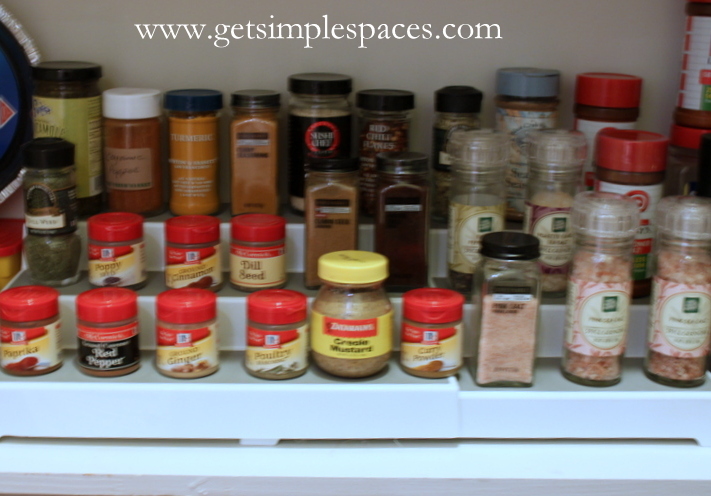 4. Organize according to frequency of use.  Whether you're using a tiered rack or not, put the spices you are most likely to use at the front, and those used less frequently towards the back. Save a back corner or the top of the cabinet for those extra jars you bought on sale, found while cleaning out, or bulk spices. Also use the top shelf for those spices used on rare occasions. You can utilize the same strategy to organize sauces, oils, and vinegars.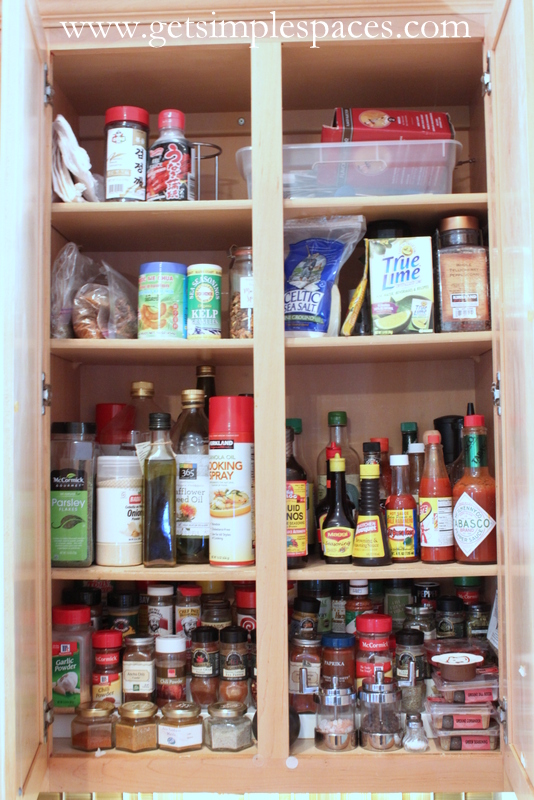 5. Fill recycled small jars to contain spices that you buy in bulk.  Do you buy ground pepper at Costco? No need to let that huge jar take up all the space on your shelf (or pull a muscle reaching for it everyday because you put it up high). Fill up a jar that you emptied and put in its rightful place among the other spices! Don't forget to label it.
I hope these simple tips help you as you go wild this spring with reclaiming your kitchen cabinets!  You can allow less than 30 minutes for this project. No doubt you can find that much time one day this week to devote to the cause. Every time you cook you will thank yourself for it! Let me know if you do it, I want to be excited with you!
Thanks for reading,
Melissa
Get Organized. Simply Live.