Cleaning with Norwex – Product Review
When I heard the words:  "You can remove everything from any surface in your house with a cloth and water." My first response was:  "Say what? Hhhmm.. OH, its a direct sales product. Hhmm.."
This was the initial conversation between me and Jenny Vetter, a Norwex Independent Sales Consultant. She wanted to know if I was willing to use and review her products on my blog. She's genuine, down to earth, and was all honesty without the added sales pitch and hype. Despite my skepticism (especially surrounding direct sales), I decided to give it a shot.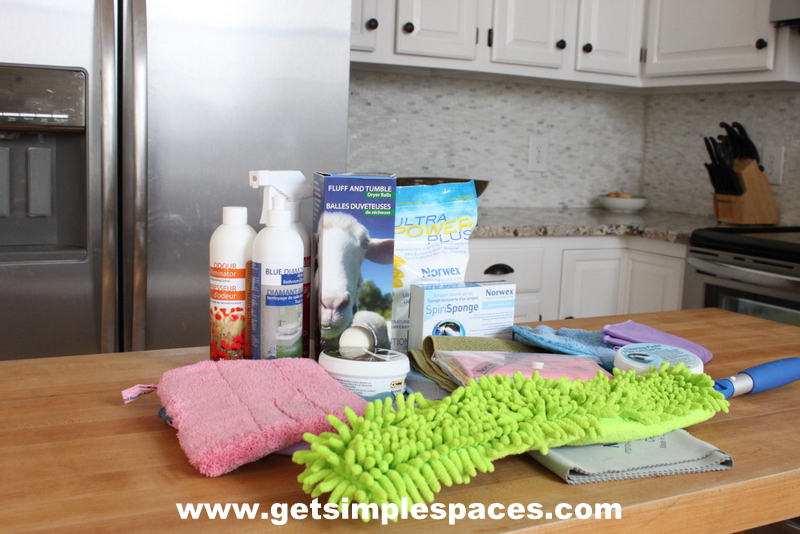 In this post I am sharing what I tested the products on in my own home, as well as my results and my overall opinion of Norwex products. Check it out:
Stains on Tile Floors
When I met with Jenny Vetter to look at all  her Norwex products, she told me to "scribble" on a piece of tile with a permanent marker. I wanted to really make sure this stuff works, so I drew a picture 🙂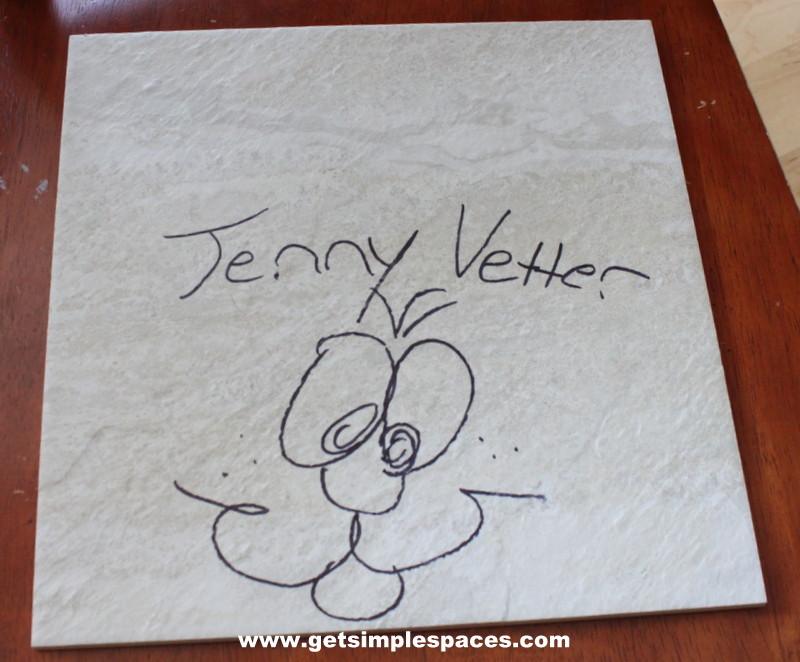 We chatted for a little while after this as she discussed each product with me (and the permanent marker really had a chance to soak in!).
Later, I put the Enviro cloth to work, along with a few dabs of Norwex cleaning paste. And because pictures are worth a thousand words, here you go: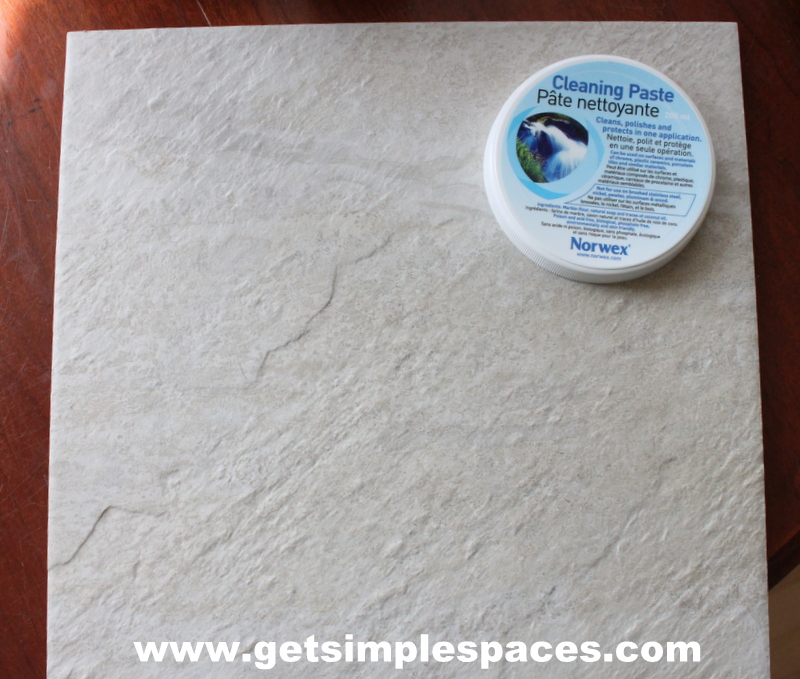 In the past, I've been a fan of magic erasers. Boy do they work magic, especially when you have little ones! So in the past, I would have tried one of them on a permanent marker stain (can't remember them actually working for permanent marker). So I was thrilled to see the stain come off with an Enviro cloth, water, and a little non-toxic paste!
Conveniently, a week later my 4 year old decided to write his name on our kitchen table. This was over top of all the scratches and just grossness that comes with having 3 children eat at the table all the time 🙂  This table is on its way out our door in the near future. But until then, its all we have. So I couldn't leave the kid's autograph on it!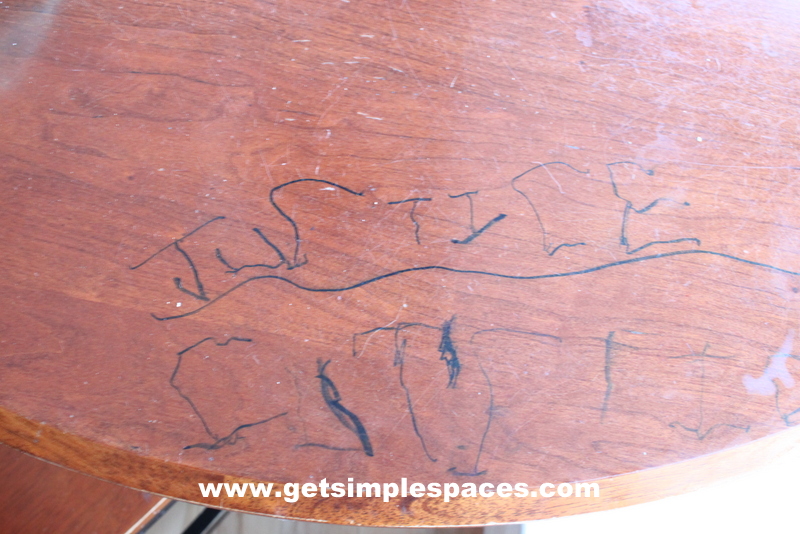 I knew what to use, and it came right off 🙂  I actually used only the Enviro cloth and water, no paste. No magic eraser. No chemicals.
 BacLock Factor
Now, these microfiber cloths are not like just any microfiber cloth you can buy in the stores. The fibers are 1/200th the width of human hair. So they pick up EVERYTHING on your surfaces, leaving nothing behind.  NOTHING.  Woven into the cloth is microsilver, which give the cloths antibacterial properties – basically, any germs or bacteria collected into the cloth from your counter, sink, table, etc. will die as the cloth dries. Norwex calls this "BacLock" because the cloths actually locks the germs and bacteria in and kills them off. Bonus – no more stinky cloths!
Kitchen
I LOVE this BacLock factor because in my kitchen, I have almost brand new granite countertops. The two options I have to choose from when sanitizing them are: bleach or other antibacterial cleaner (chemical), or white vinegar.  Now, while white vinegar is natural and works as an excellent sanitizer on most things, it is an absolutely "No No" for granite. Both white vinegar and bleach will break down the sealant on top of the stone. So I have been at a loss as to what to use when sanitizing. I will use either diluted white vinegar or bleach, and then quickly wipe down again with a rag and water so no substance stays long on the surface.
Now that I have a Norwex enviro cloth, I can wipe down the countertops without worrying and know that they are completely clean.
Stains on Hardwoods
Lets move on to another trouble area in my home. My hardwoods. They are BEAUTIFUL.  When having them refinished a few years ago, we decided to go with a finish that wouldn't yellow and would allow them to stay the natural color of the wood. The wood is maple. And its beautiful. However, maple is a very soft wood, and the finish doesn't clean easily. We've obtained quite a few scratches and permanent scuffs.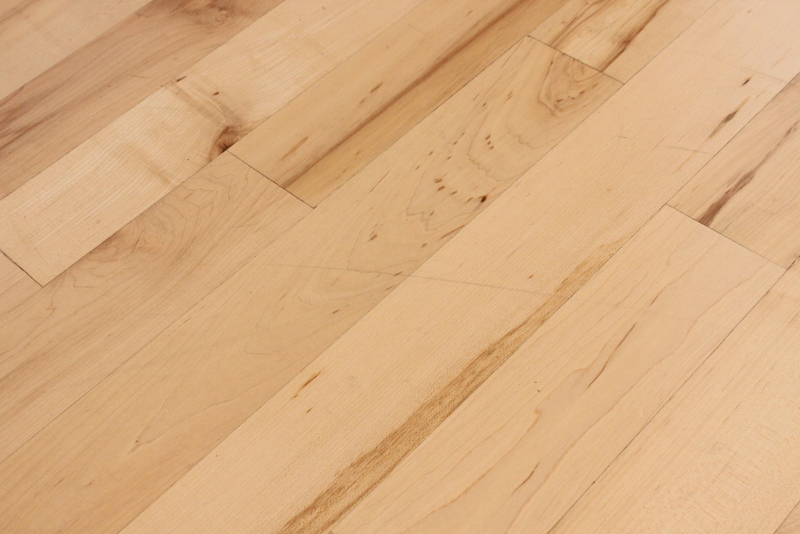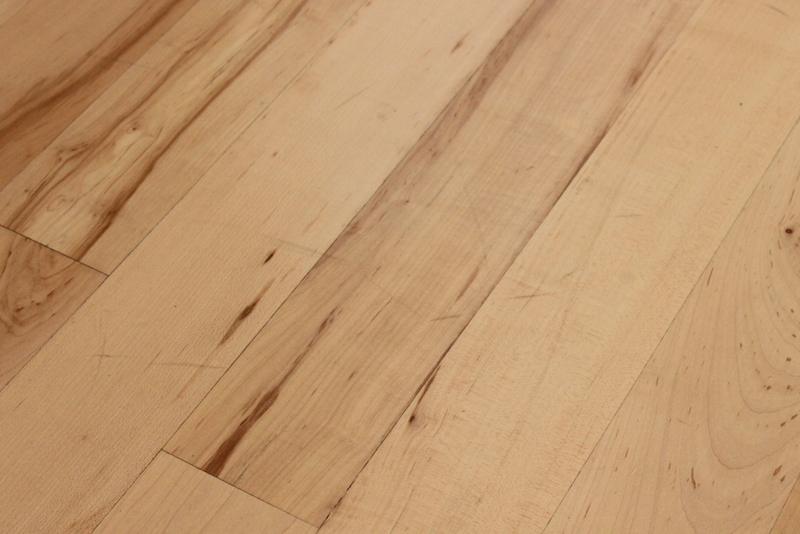 We have MANY marks like this, especially in the high traffic zone – the kitchen. Shoes leave these black marks that either 1. Don't come off or 2. When scrubbed finish comes off along with the mark (which leaves a dull place that puts the wood at risk for being stained).   I've tried the magic eraser and it removes the finish too.
So I eagerly got my Enviro cloth ready and gave it a shot. I used water only. And guess what 🙂  The marks came off!  And I used less scrubbing than with other methods I've tried. And the finish stayed in tact.
I'm reminding the kids not to wear shoes in the house, but its so relieving to know that even if they do and run/jump/slide around in their shoes – I can still have beautiful floors with a touch from my Norwex Enviro cloth!
Stainless Steel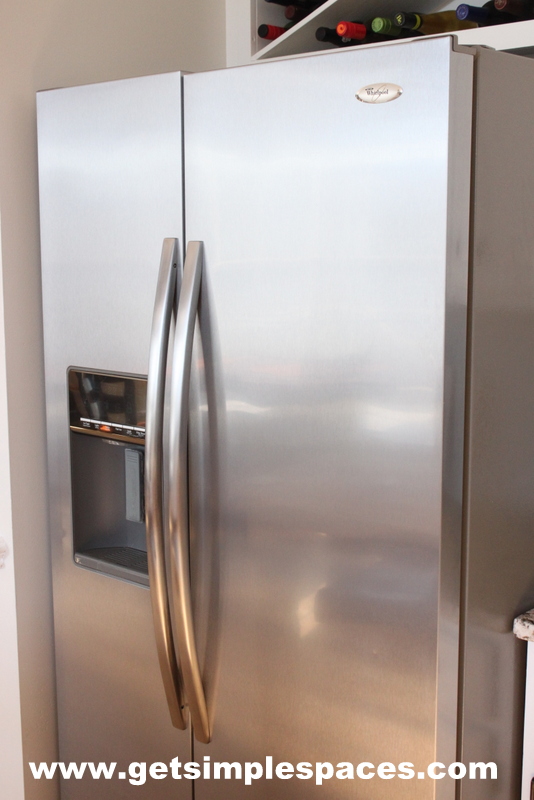 If you have stainless appliances, you know cleaning off fingerprints and smudges can be a pain. I am so impressed that I can just dampen my cloth, and quickly wipe down all my kitchen appliances to erase the smudges and completely clean the surface. With only water. It works quicker and better than what I've used in the past.
Dusting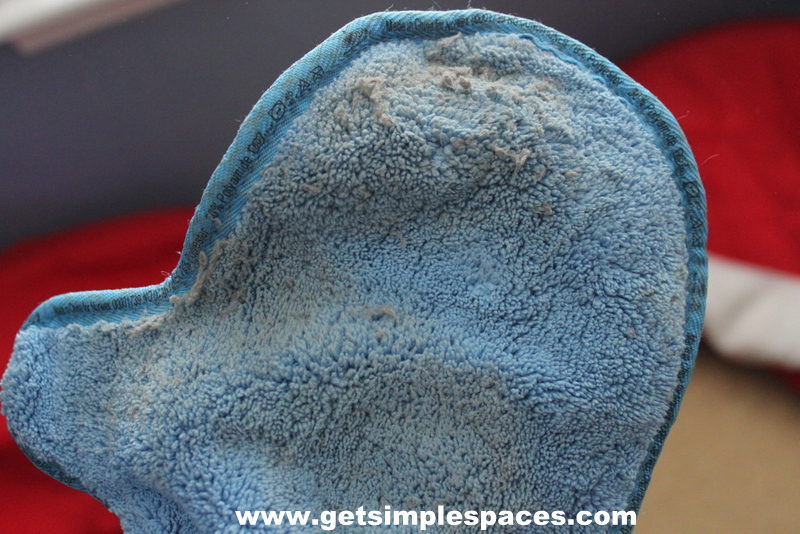 I found that the Norwex dust mitt not only collects all the dust from any surface, but also polishes that surface! Most excitingly though, the dust did not fall out of the mitt, unlike traditional feather dusters or mitts. I typically just use rags and Pledge for wood. And then rags and water for everything else. But dust goes everywhere. And that part makes this cleaning task my least favorite. So having a product that REALLY holds the dust it collects is amazing! I even tested the mitt on my blinds – those things in my home that haven't been dusted in years! Please tell me I'm not the only one. If you have ever tried to dust blinds you will understand why!  The dust goes everywhere and I wonder what the point is and give up.
Bathrooms
The Norwex Enviro cloth, along with a little Blue Diamond cleaner would work great  in the bathroom. However, I was unable to test this because I do not want to use the same rag that I use in the kitchen (although I am told you really can because the microsilver in it purifies the rag itself!).  But that's kind of gross. Having one Norwex Enviro cloth for each cleaning area/task is my preference.
With all that said, I like Norwex! Why do I like it?
1. No chemicals, so safe for your family and the environment
2. The products are extremely versatile
3. Since most things can be cleaned with a rag and water, this means less "stuff" to store away
Go check out all the products including those in my review at: http://www.norwex.biz/pws/jennyvetter/tabs/home.aspx
There are a few basic products that you can very well use in your entire home, and Jenny will help you determine what you need as she did with me.
Great product + Great customer service = You can't lose.
Happy Cleaning,
Melissa
Get Organized.  Simply Live.