Master Closet Makeover!
Let's face it: most of us are not pleased with our closets. Closets are the spaces that get the shaft right from the very beginning – the move in. And as time goes by they take on all the "stuff" that we can't figure out where to put.
But how many of us dream of having a master bedroom closet that we can just breath a sigh of relief when we open the door? One that makes us feel good about piecing together an outfit. One that makes our clothing and accessories look appealing.
I had the recent privilege of helping a friend redo her master closet.  This is a his & her's closet, and there was plenty of space, it was just not being used to its full potential.  That's where I came in 🙂
I opened the door to this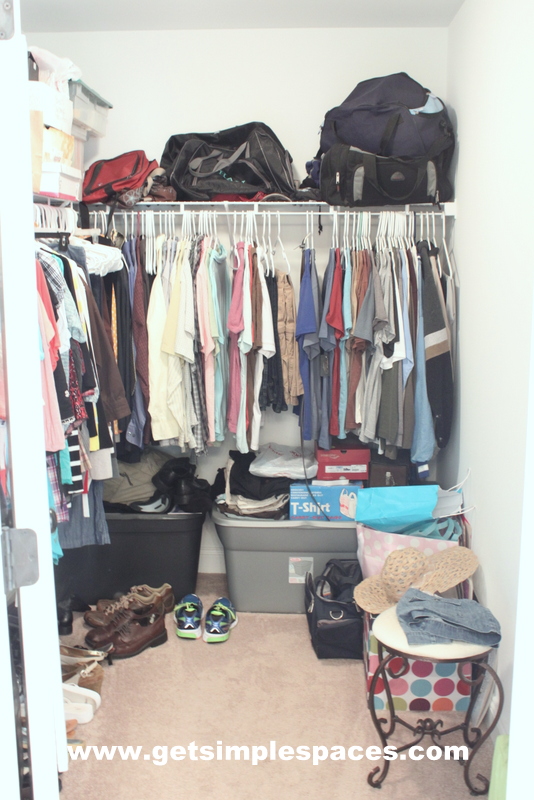 To the right there is a little nook. Great space, but poorly utilized: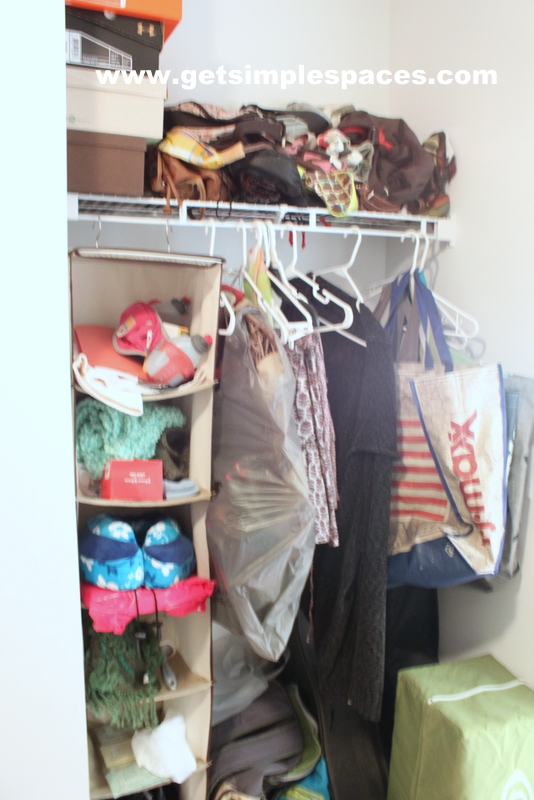 In only 3 hours, I was able to:
1- Help her come up with a plan of action including making additional storage unit recommendations
2- Go through all the "stuff" that didn't belong there (including nook, shelves, and floor)
3- Determine a home for all that "stuff"
4- Work through the clothing rack with her, helping make decisions about what to keep and what to pass along.
Once I left, she went to work on finding just the right closet system addition and putting everything into place. Her handy husband was able to do the install.
Are you ready to see the result?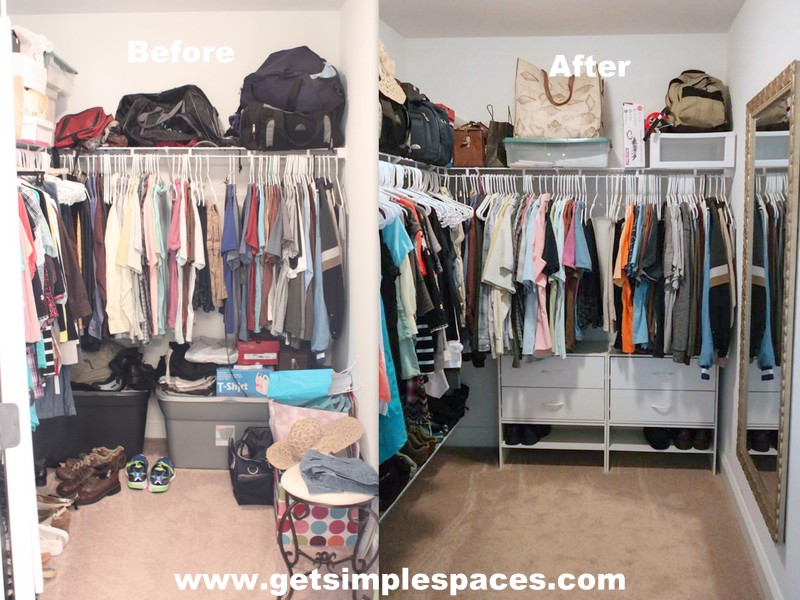 Additions 1 and 2 are below.
1- Straight ahead are two drawer units with extra storage for him.
2- To the left is a shoe rack for his shoes. Closets ALWAYS feel cleaner when everything is off the floor, even if its on a low shelf.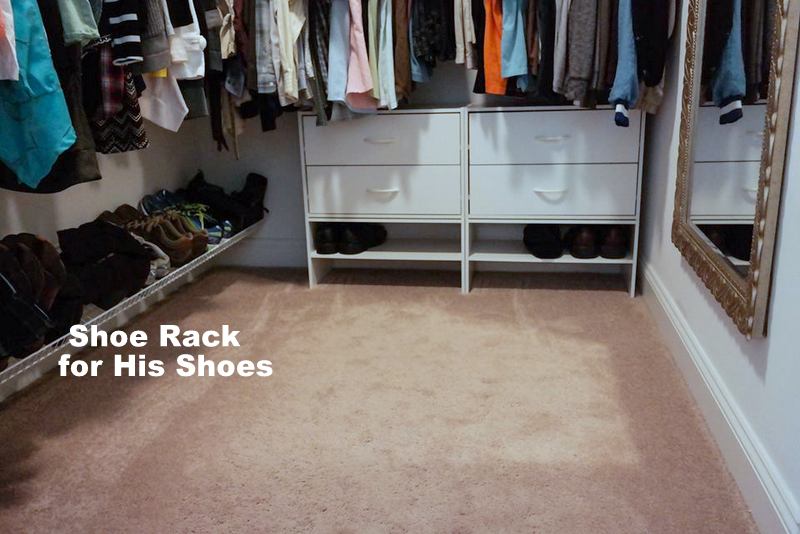 Next, lets take a look at what we did to the nook. Here's the Before/After: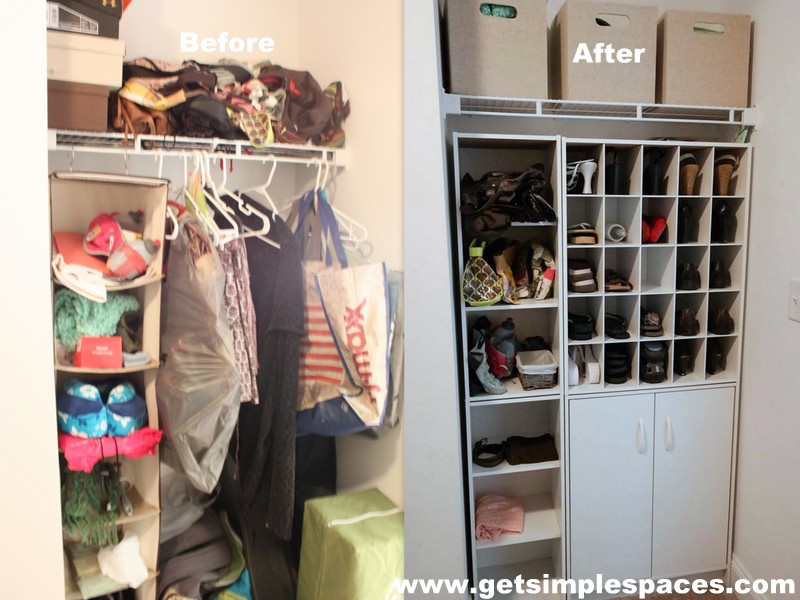 When I took inventory of needed to be stored in this space, I suggested a unit that would allow for shoe size cubbies for her shoes, as well as larger cubbies for items like purses, sweaters, scarves, athletic gear etc.  She also chose to add hidden storage in the form of a cabinet for items she didn't want to see every time she walked in, but needed a home here.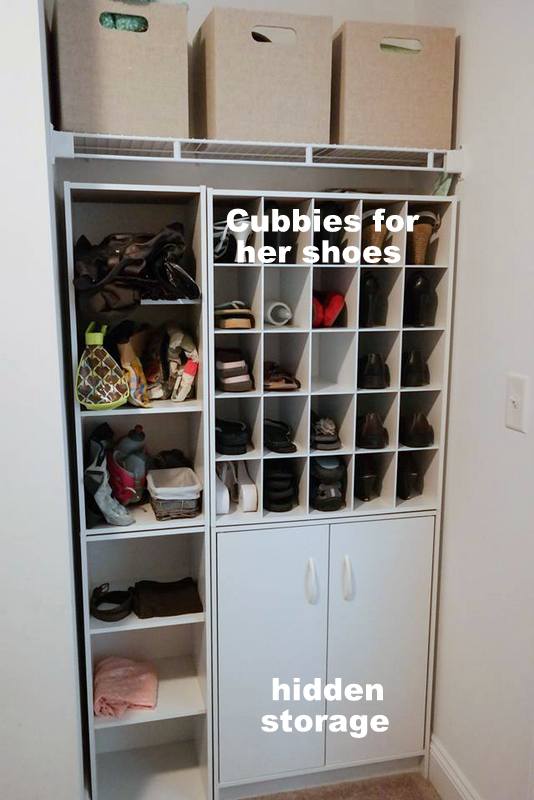 The boxes on top of the shelf allow for more great hidden storage, while maintaining the feeling of order.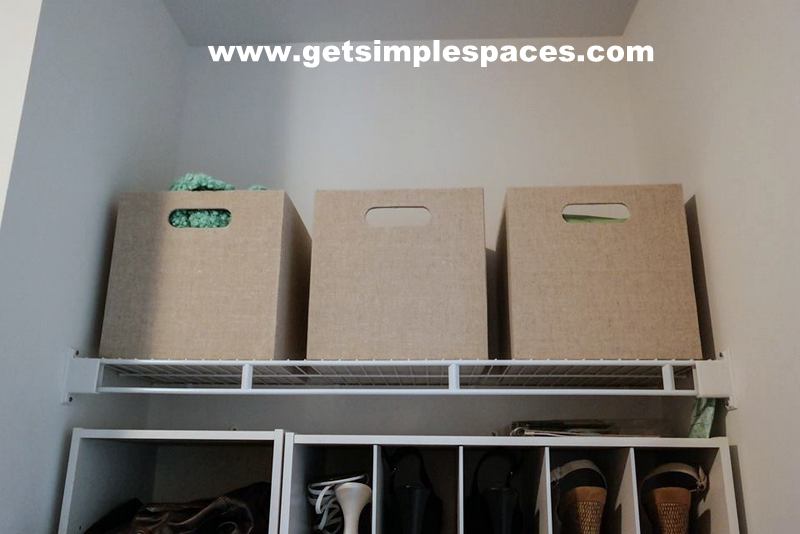 One last little bonus, my friend had been wanting a large wall mirror for this space. Something to add a little glamour and style. Do you want to see what she picked?! While it was hard to get a shot of the actual mirror due to lighting and the reflection, here's a glimpse of it. It represents her perfectly!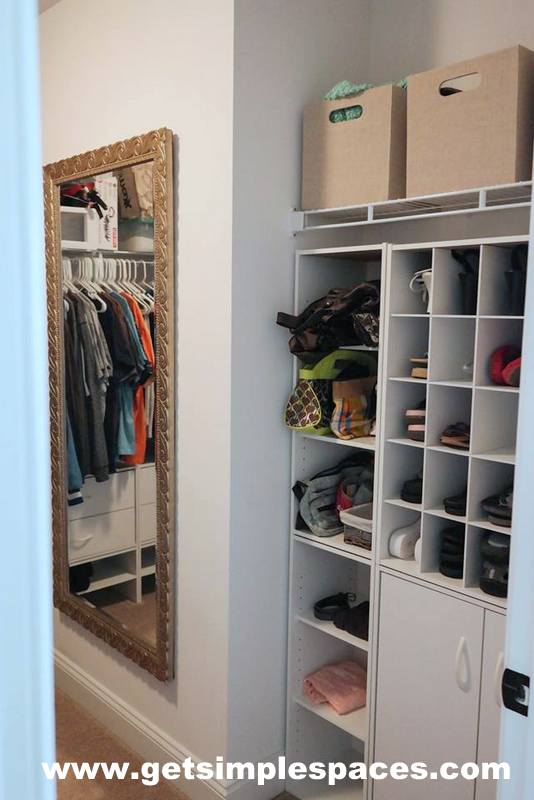 The closet looks and feels amazing! All things are in place to allow for easy maintenance.  I was so happy to be a part of this stunning makeover, and I'm even happier to see my friend LOVING it.
Does your closet need a makeover? If you are stuck and overwhelmed in your closet, give me a shout!  You can contact me directly through the form here on my website or by emailing melissa@getsimplespaces.com  If you contact me this week and schedule, I will give you 30% off of a closet package. I'm only discounting for closet appointments made this week, so if you want to catch this deal don't hesitate!
You should love your closet!
Melissa
Get Organized. Simply Live