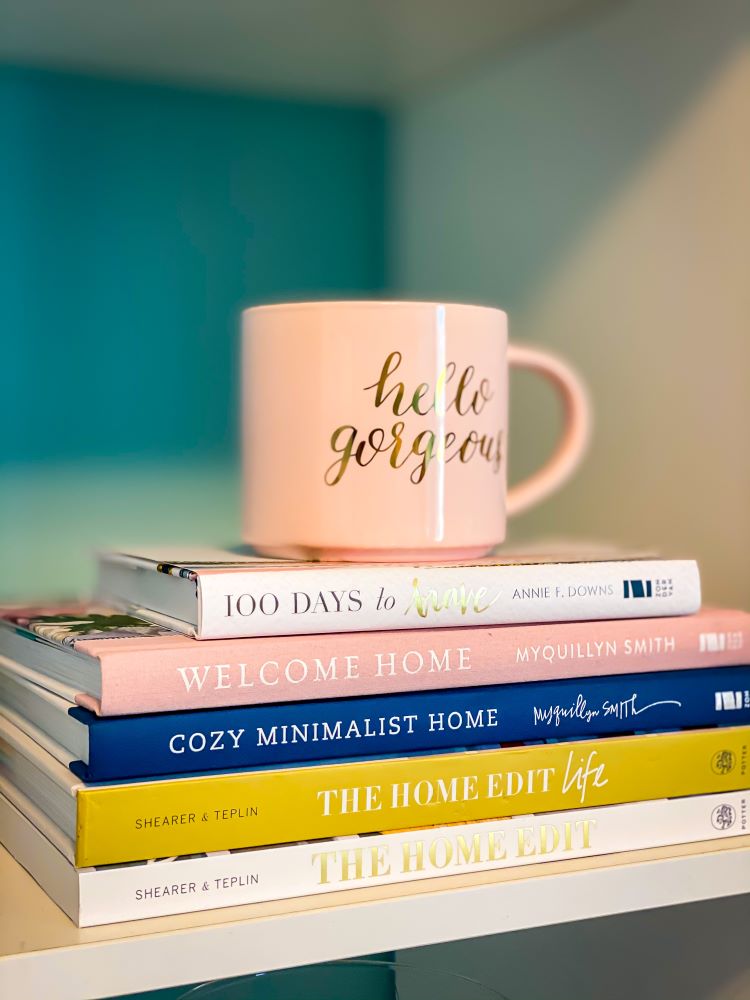 Back to Work Makeover
I consider it a privilege and honor to work with every client, in all types of situations. Each one has their own story and journey. As I am invited in, I approach with complete humility. Not all clients feel comfortable allowing me to share, but when they do I share. I hope that this story offers encouragement, inspiration, and motivation in your own organizing journey.
I received a call from a friend who wanted to gift her sister with an organizing package for her birthday. Ummm- don't we all need a sister like this?! She's been walking through a very difficult season with her sister, and this was the specific request for a birthday present! Let me give you the background before I share the project.
This client recently went through losing her husband in a difficult battle with cancer. He was young and the diagnosis completely unexpected. They have 4 children living at home, one of which is very young. There are no adequate words to explain the heartbreak of this entire family.
My client is returning to working remotely in October. Though she is EXTREMELY organized (I mean like super star organized) everywhere else in her home, her home office was out of control. When she stopped working, it had become a dumping ground of all categories. Her request:
I need an office that's functional, easy to maintain, adequate storage for memorabilia, and COLORFUL!<
Let me show you what things looked like when I walked in: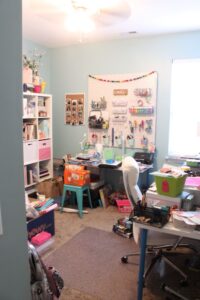 She had great furniture, containers, and bright & colorful items to work with! Much of the structure of what she had previously created was working. However, like a lot of organized people, she had reached a point several times where she was stuck. She wasn't sure how to "finish" it. And then the piling resumed. There is no shame in bringing in an expert with outside perspective, and experience in multiple spaces.
Enter me. Also enter the Container Store. I think she should get a discount and VIP pass. My favorite text prior to meeting was the one with pictures of product on the day she received her packages!!! We both experienced the feeling that children get in a candy store, when you get unlimited bags and can choose to fill with whatever shiny sugary treat you want.
The first session focused on purging, categorizing, and relocating. I took boxes of items she wanted to donate, and left her with homework. There were items to be moved to store at another location in the house. I also left a few task boxes and piles of things she could go through in her own time- mainly paperwork. We were able to begin the containing process, and finished the closet in that first session. It was 3 non-stop hours of serious productivity!
After giving adequate time for my client to complete homework, we met again for the second and final session of 2 hours. We tackled the desk, the structure of the cube shelf, and polished everything else. All that remained was a small task box, and labeling.
Again, serious productivity!
Now for the really good stuff, PICTURES!
The beautiful "after" photos come courtesy of Katie Matthews Photography! Thank you Katie for capturing the beauty of this project!
Here are a few highlights, with tips!
Last but not least, the closet. Closets are valuable real estate for storage IF you properly store the things you want and need!
As I said in the beginning, I felt humbled, honored, excited, maybe a little nervous too! This organized client certainly raised the bar with her vision for the space and structure. I came in with the missing pieces: my organizing and styling expertise :). We were both beyond pleased with the result. She is looking forward to going back to work, and feels inspired by her space. She has inspired me with the mantra of her office, and life: