Home Office Redesign
This week I am excited to feature a project that I've been working on the last few weeks.  My client contacted me in a transition of moving to working from home.  The available space in her home was her bonus room.  This room also functioned as workout room, playroom, and family entertainment room.  She needed it to continue to serve as a multipurpose room, but look like an office she wanted to come to everyday.  Tricky business; but with paint, rearranging furniture, and adding furniture and decor, we made this space amazing!
I want to add, this client is a very organized person.  Her house is picture perfect and she's great at maintaining it.  But she needed an outside perspective for this space.  The organized can even benefit from hiring an organizer!
Now for the fun part, pictures! Pairing before and after together.  When you walk into the room, here is a picture of what you see!

We brought the couch away from the wall and to the center of the room, in front of the window.  There's a contour table and a little space behind. The treadmill was tough because of the slanted ceilings, but we found a place for it.
The entertainment center had to be moved to where TV could be watched from the couch and treadmill (and the kids could plop in front to play video games).  Here's a shot of it:

Below is a shot from another corner of the room, we added a cube shelf to house the toys and put it where the entertainment center used to be:

Next, is the before and after of the office nook.  We chose a fun, bright blue color to set this space apart.  Finding an appropriate amount of workspace was tricky with 3 monitors and a printer, but we did it!

And for a close-up shot of the bookshelf she's using to house office supplies/work materials.  I love her choice in decor and all the fun touches!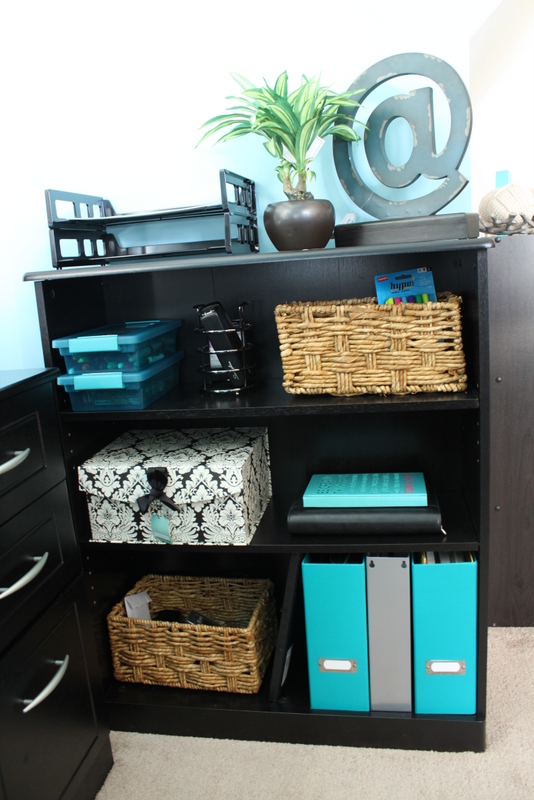 And lastly, probably my favorite corner of the room, the kids' art table!!!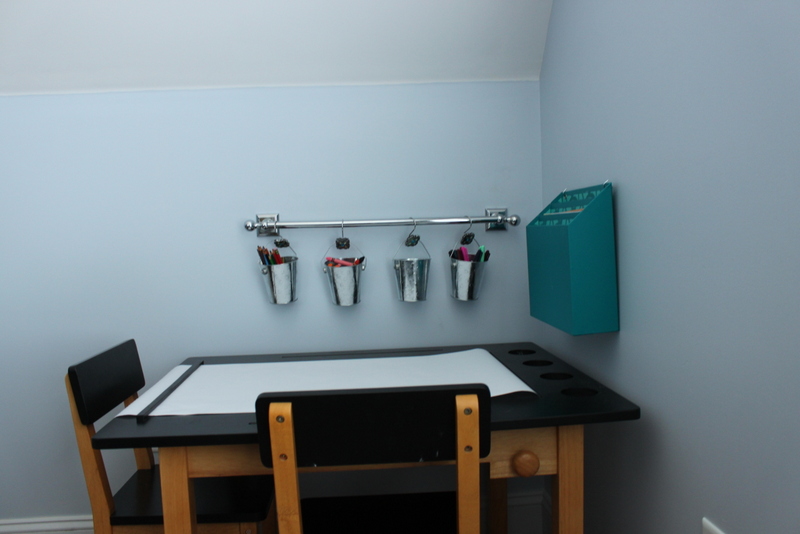 Here's a close up of the cute art/drawing utensil buckets!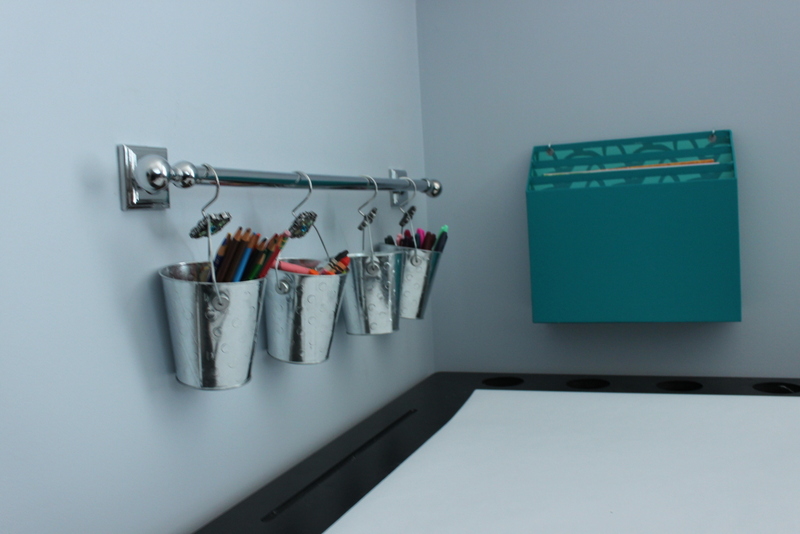 We also spent a lot of time detangling and simplifying cords – behind the computers and entertainment center.  We had a lot of fun and now she is working away, enjoying her new space.  The kids love it too and are spending more time in it.  I was so happy to make this space functional and fashionable 🙂  Thanks for reading!
Melissa
Get Organized.  Simply Live.