Simple Kid's Dresser
Yesterday, I talked about the frustration those of us parents share with clothing chaos in our kids' rooms.  If you haven't read it yet, go here.
I want to share some ideas with you, all of which I implement in my home, that will hopefully help with the clothing storage messes.
Now please be aware I only have boys and boy clothing issues here, so I am planning on doing a "Part 2" with a friend for ideas on girls' clothes and accessories!
We recently started redoing my 3 year old's room, which included selling the existing furniture (it was time for the baby stuff to go).  In the transition while my child was without a dresser, I stored his clothing on shelves in his closet.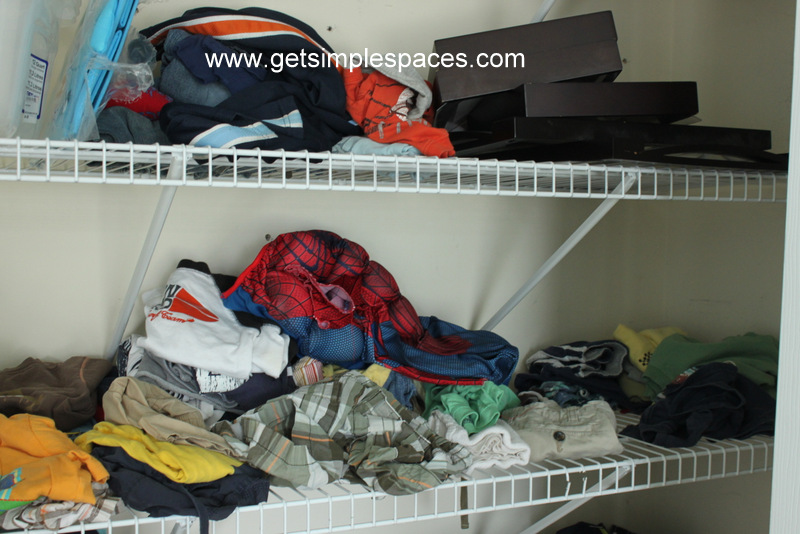 And it didn't go so well.  That above picture is proof enough ;).  There is a way to make shelves work, but I'm going to focus on dressers today.
I bought a dresser off of Craigslist and painted it.  Benjamin Moore has a paint called "Advanced, Self-Leveling" that I will always use for furniture.  It really goes on well and does not show brush strokes!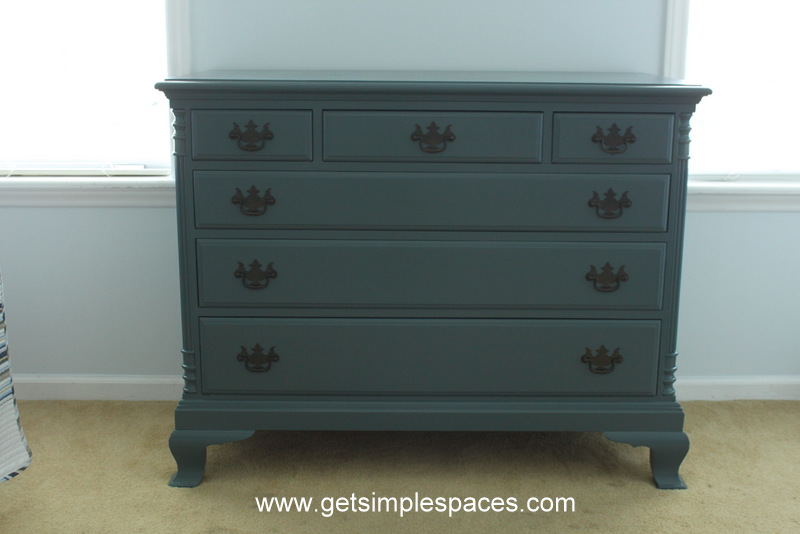 Look at the detail of this dresser; I adore the character and decided to keep the original pulls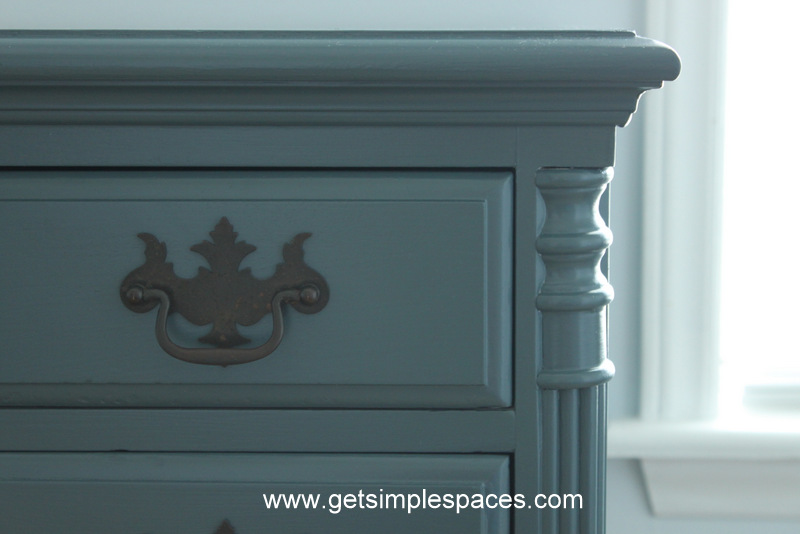 The dresser you choose has everything to do with setting your child up for success.  I have some tips in what to look for when choosing one, and you can implement these with what you have as well.
1.  Your child should be able to reach and see the contents in the top drawer.  If the top drawer is too high, keep a stool nearby.  Or use the top drawer for items you don't want your child to have access to if you have a very little one!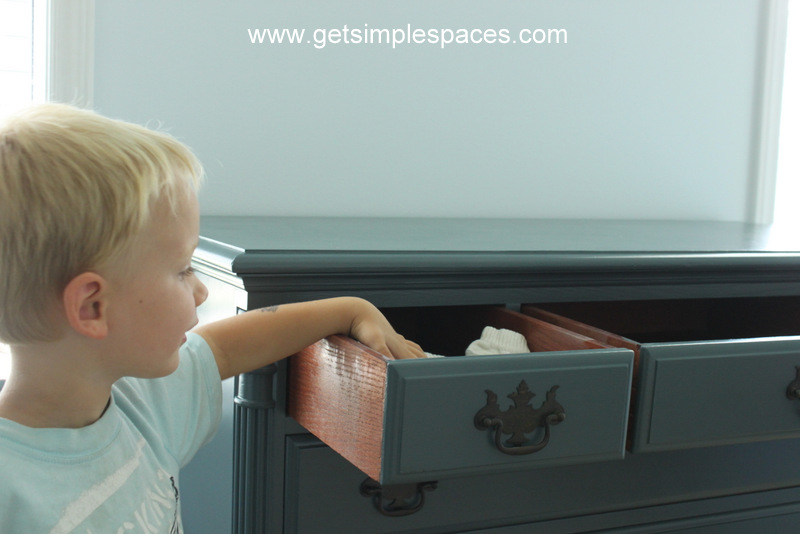 2.  Dressers with small, divided drawers at the top make a great spot for small items like underwear, socks, pajamas.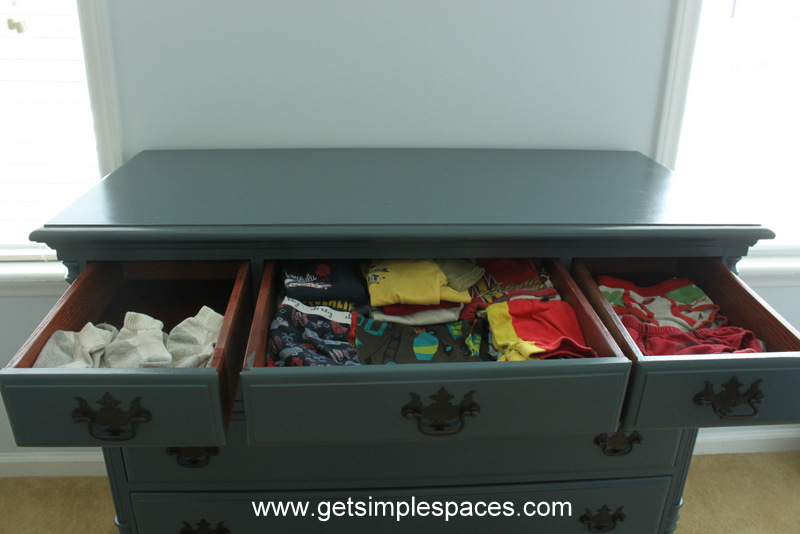 3.  My kids typically wear only pajama bottoms to sleep in.  I decided to try separating pants and bottoms.  To make it easy on my 3 year old to match his, I put the shirts in the same order as the bottoms and put them right behind the stack.  Now, I would be crazy to think it will always work! And I think its cute and creative when they mix up the pants and shirts.  But this was to make it easy on him (as he likes to pick the correct shirt out!)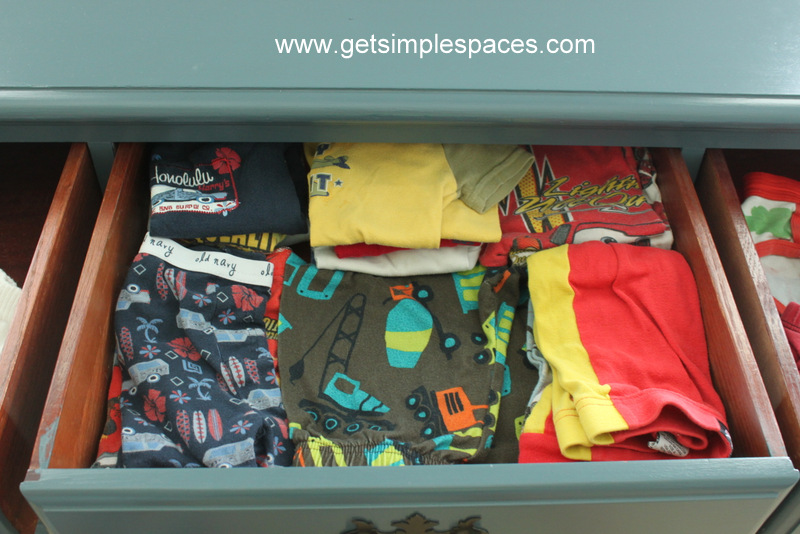 Here's my drawer of bathing suits and rash guards. I don't mind having a lot of these because we have a pool and live 10 minutes from the beach.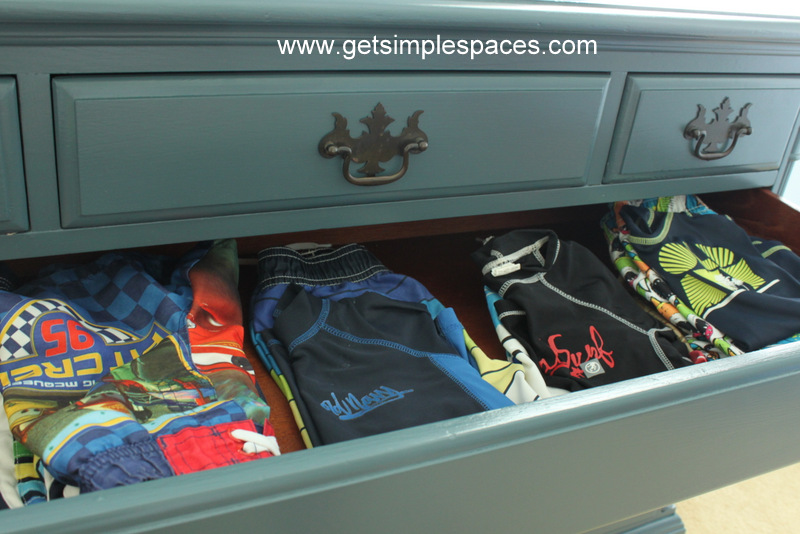 4.  Now onto shirts/shorts.  I pair them together for my kids.  Shirts on top, shorts on the bottom.  They can make a decision about what they want to wear, but there are not so many choices about "what goes with what."  And there's a lot less pulling things out and stuffing them back in.  And, if we are going out somewhere they will match (although I am not ashamed to take out my children in mix-matched clothes if that's what they really want!).  I actually tried separating tops and bottoms at the beginning of the season with my older two, and they ended up wanting me to go back to putting them together.
5.  Dressers with shallow drawers are GREAT for kids and really cut down on the balling up messes.  I have 2 drawers of outfits in this dresser, and just 2 outfits stacked together in each row.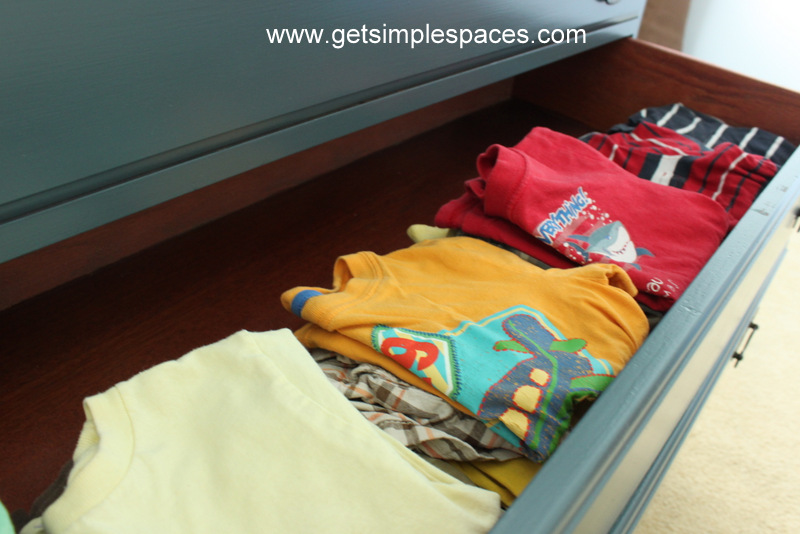 6.  Extra shirts  I put in the closet on a shelf. (I had a few, these are good for when their shirts get wet or dirty – which happens most days!)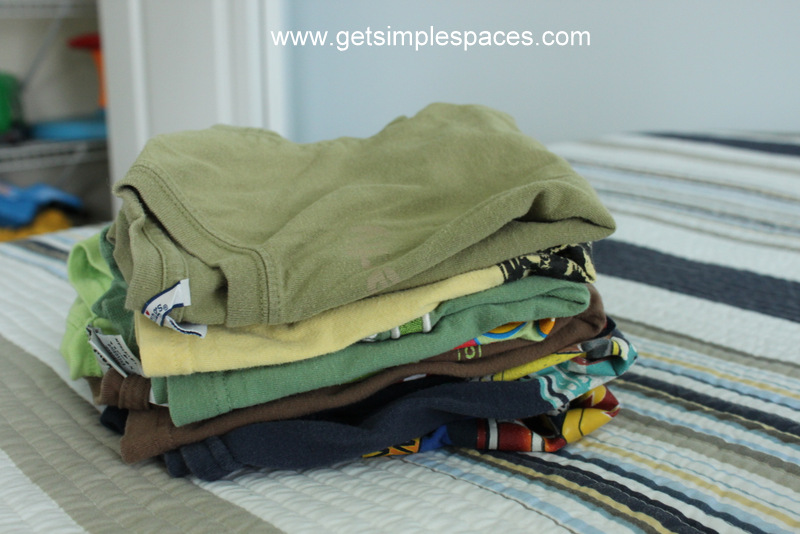 7.  This is a tip I say over and over: DO NOT overstuff the drawers.  Think about how much clothing your child actually needs.  How often do you do laundry?  How much clothing is left in the drawers as you're putting laundry away?  It is so easy to get overrun with kids' clothing, especially when you get hand-me-downs.  But sometimes the simplest solution is to downsize.
8.  Lastly, work with your child on this.  That is the MOST important thing to remember.  Sometimes we are so busy, we don't get on our child's level and teach them simple things like how to put their clothes away.  They really love responsibility. I spent time talking with my 3 year old, making sure he understood where everything was and that he could choose a shirt and shorts that were already paired.  He LOVED this.  He is excited to know he's in charge of his dresser.  And guess what, its almost been a week and things are still looking good.
I hope this encourages and inspires you today!
Thanks for reading,
Melissa
Get Organized.  Simply Live.