Guest Blogger Homeschool Organizing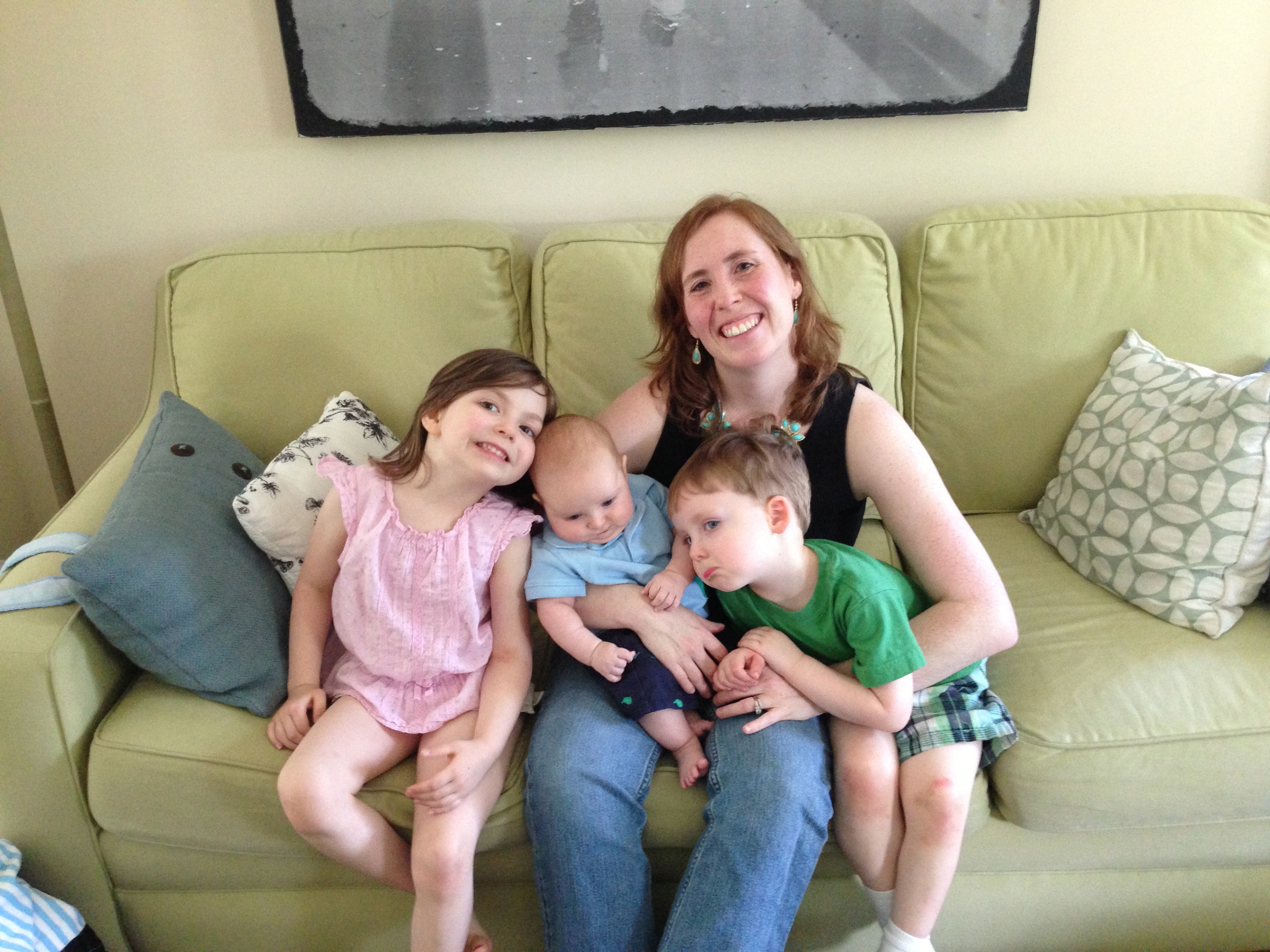 When Melissa first asked me if I would consider doing a guest post on homeschool organization, I laughed.  I laughed as I have a 5 year old, a 3 year old, and a 5 month old, and the organized person I usually try to be is buried beneath laundry, books, learning cloth diapering (read: more laundry), and baby swings and jumperoos, and has been for a while!  As I looked over at our "homeschool area", which is a work in progress as we get ready for this next school year, it occurred to me that while I cannot share with you as someone with years of experience, I CAN absolutely share with you as someone on the homeschool organizing journey who has learned a lot already by trial and error!
As I mentioned, I have little ones that are just starting out with their schooling- but they have been learning from day one!  We are a book family in particular, and while our house is certainly a good size for us, it does not have much in the way of extra storage space, room for bookshelves, and so forth.   We made do with a craft drawer or two in the kitchen and all our books were divided between the kids' bedrooms.  Once we added curriculum, additional craft supplies, and many more books into the mix with the official start of homeschooling, I began to see the need for a more organized, purposeful space.
I quickly realized that leaving our curriculum piled up on one kitchen counter was not going to cut it.  My husband and I have had plans to do some built-in bookshelves with a window seat in our eat-in kitchen someday, but we aren't quite there yet.  So, I looked around for what I already had that could work.  Voila! I found a rubbermaid storage box in the garage that we were not using, and decided to fill it up with all things learning.
Now…this was much, much better than the kitchen counter and various drawers as everything was centralized.  And because we were just doing kindergarten with some preschool thrown in for my 3 year old, it was enough room for that year. The downside was that it was very difficult to remember what was in there because I had to dig through to find things, so some items were used with much more frequency than others!  At the end of the school year, I determined to find a better solution within our budget that would meet our needs.  That said, my rubbermaid container did meet our needs for a certain period of time.  It wasn't fancy or even pretty, but that didn't matter to me.  I just needed it contained!
Still pining for our future built-ins and observing our growing pile of books and materials as my oldest heads into first-grade, I once again searched for an inexpensive, organized, and simple solution.  As I looked around at the kitchen (when not on field trips, our schooling is done either at the kitchen table or on the couch), my eyes stopped on the china cabinet we inherited from my husband's grandma.  It was filled with various pieces of dinnerware and serving ware, and while it looked nice, many of those things that often went unused.  I decided that it would be better put to use as a homeschool cabinet, and out went the dishes.  I had to find places to put the former china cabinet occupants, which wasn't super easy with space challenges, but we made it work and it now houses our various curricula, the majority of our arts and crafts supplies, and other related items!  I also like that the kids can see everything but that it's not easily accessible. 😉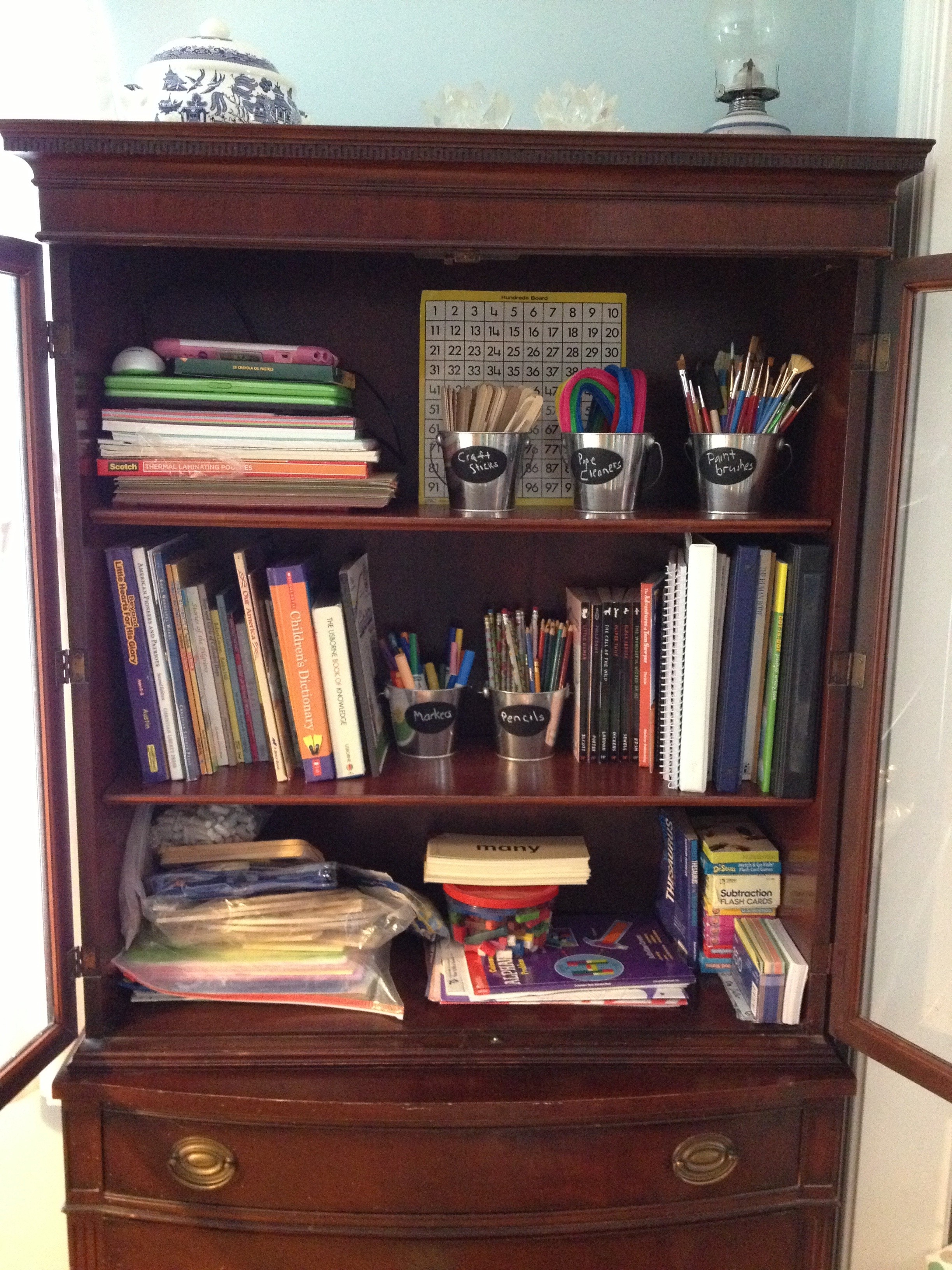 By the way, I just found the cute metal buckets with the chalkboard label at Target last week in the dollar section up front!  I was excited because I knew they would be perfect in my endeavor to get ready for this new year.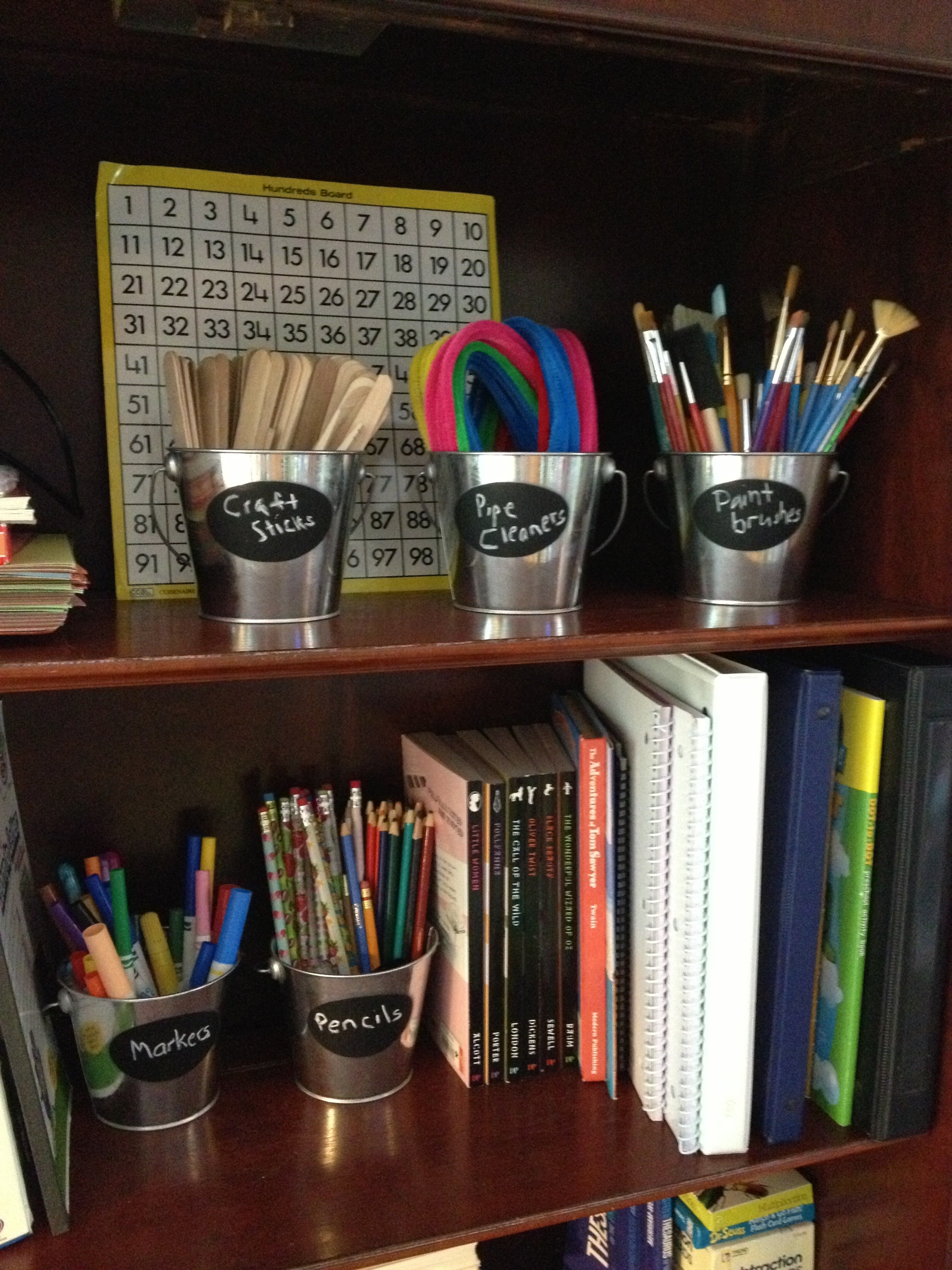 The other aspect of getting your homeschool organized that I have encountered as a newbie was the need for record keeping- whether it be for attendance, test scores, and/or to keep track of papers, projects, etc.  A couple of months ago I came across an idea on pinterest that I knew would work well for my family, so I'll share it with you in case it fits your family also!
The idea and picture below is from the Destination of Domestication blog (here's the link: http://destinationofdomestication.blogspot.com/2011/08/baby-boxes.html).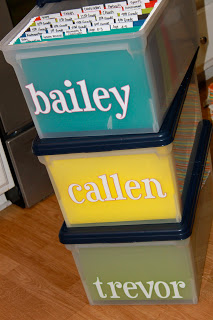 As I mentioned, I found this idea on pinterest and while it is seems obvious and is pretty self-explanatory, I had fallen subject to the overwhelming number of possible ways to do things in regard to homeschooling!  I love the simplicity of this method and the flexibility it offers.  I bought a portable file box from Target and since I got the last one they had, I plan to go back and grab two more for my youngest two.  Over at the Destination of Domestication, these boxes were used for storing baby keepsakes as well as school papers, so it's quite versatile.  I plan to use my box to keep track of each grade and will adjust this method as needed.
Overall, I am feeling much more organized than I was before and that helps build more confidence heading into the school year…especially when you are new to homeschooling!  Be encouraged and let your system work for you versus you working so hard for it!  One of the things I love most about homeschooling is that it offers tons of freedom in regard to just about everything, and how you choose to prepare and store your stuff is part of that.   So old dressers, rubbermaid boxes, china cabinets– they can all work.  There is no one way to do it- make it work for your family and don't be afraid to be unconventional in what you use!   No schoolroom or built-in bookcases are required! 😉
Olivia