A Reorganized Kitchen
Helping clients work through their spaces is always a privilege and joy for me. And when they allow me to share pictures that can inspire and encourage others, well that's bonus!
This week I'm sharing photos from a recent kitchen organizing job. As you will see, the surfaces were covered with "stuff."  We found a home for everything occupying every surface, but in order to do that we first had to go through every cabinet and drawer. We talked about "how much" was needed and purged the excess, found gadgets and tools that could serve multiple functions, and most of all cleaned out all that hadn't been touched in several years (and would never be!). Maximizing space makes me smile 🙂
I pride myself in that fact that all the business I do with clients is custom.  I work with their style, their decor (or choices in new decor if we are redesigning), their priorities, and their personality. It gives me the most satisfaction to watch someone's face light up as they step back and look over their revamped space – and love it!
Now, the moment you've been waiting for!



Can you sense the peace from the "After" pictures?
We also found a treasure of a space that was previously unused and hidden to the client. This nifty little bar area! Perfect for homework time for children or enjoying food and conversation with a friend. This was also the perfect spot to designate as the home message center.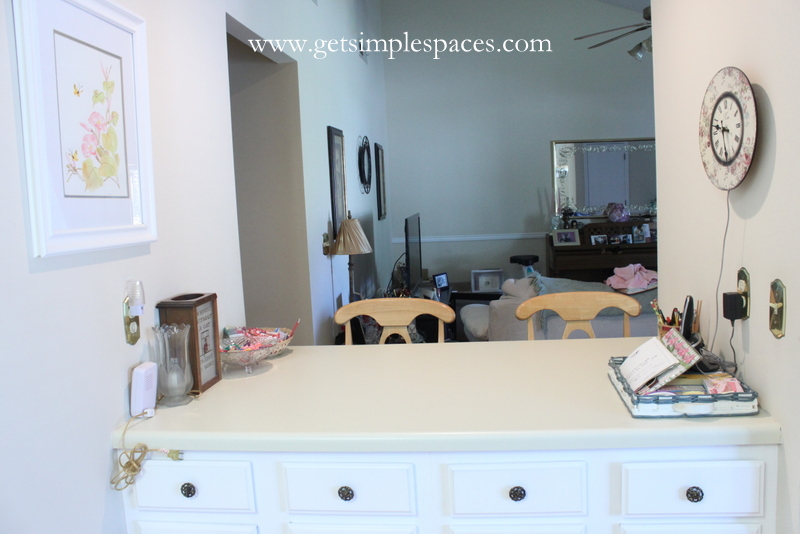 That was a lot of hard work, but the results were very gratifying for both of us. Be sure to check out another kitchen redo right here.  And for even more inspiration specifically on handling what's inside those cabinets and drawers, check out this post.
Thanks for reading,
Melissa
Get Organized. Simply Live.