Girl Room Makeover
Children's rooms are probably at the top of the list for most households when it comes to being disorganized. It's no surprise considering children are professional mess makers, and creating chaos is how they learn! However, it is possible to minimize the clutter and set children up for success in keeping their rooms clean.
Recently a mother of 3 children reached out to me for help. Though this family had been moved into their new home for a few years, they hadn't organized or decorated their children's rooms. This client was ready to do a complete overhaul in all three rooms – from organizing to design.
I will share the boys' rooms in a later post, but am excited to share the reveal for the girl room here!
Below is a picture of where we started: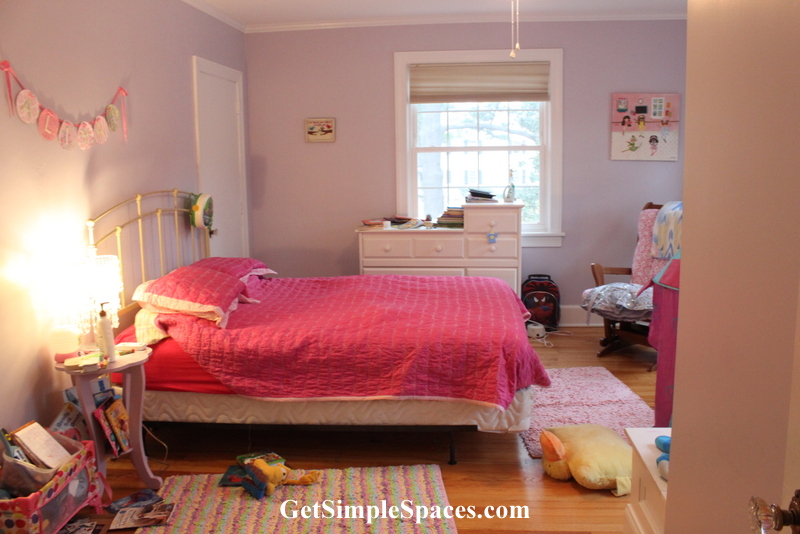 First came the design plan. This included working with what the client had, as well as adding in a few new things. Next, we dove into the most difficult part: purging, sorting, and reorganizing. We went through every inch of the room, furniture, and both closets. After that, the room was ready to be rearranged and dressed up!
Ready to see how it turned out?!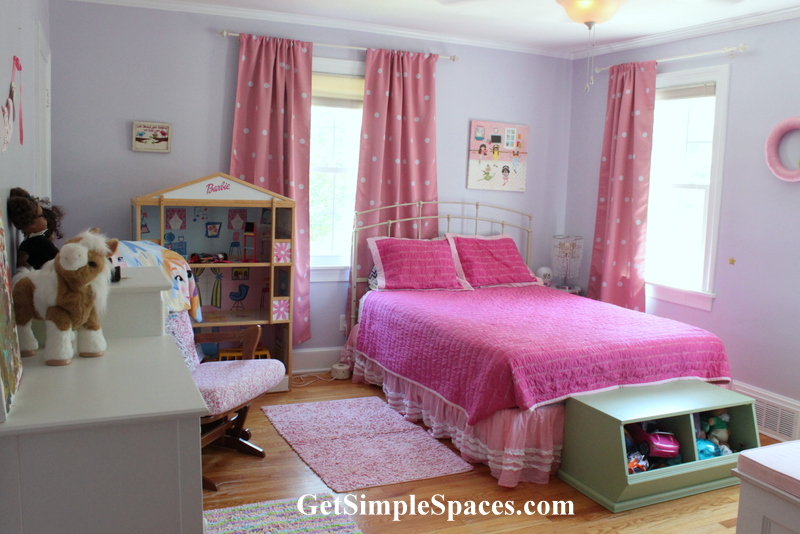 The position of the bed before was closing off the room. We decided to move it over near the window, and open up the floor space in the center. We left just enough space between the bed and the wall for the night table.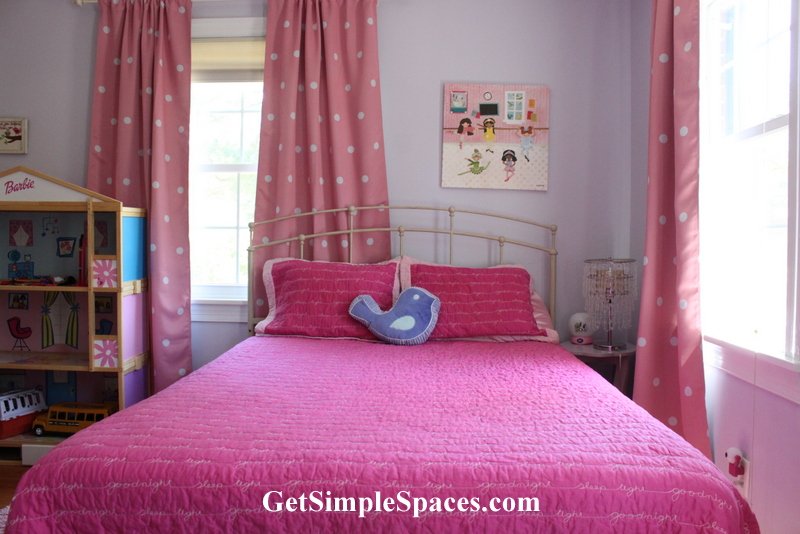 Above you can see the curtains my client selected. Simple, yet fun! And room darkening as well. She kept the existing bedding, and these curtains pull out the lighter pink in it.
The room has a gorgeous custom-built bench (with storage) that needed a cushion to soften it, and allow the girl a place to sit and read or play. I found a seamstress – Lori O'Connor – who gave us a great price for a custom made cushion. You can see the results below!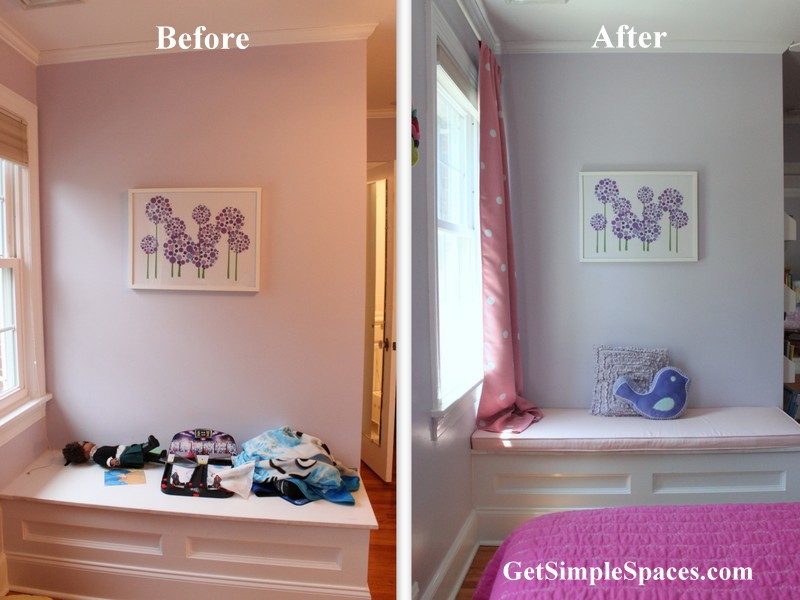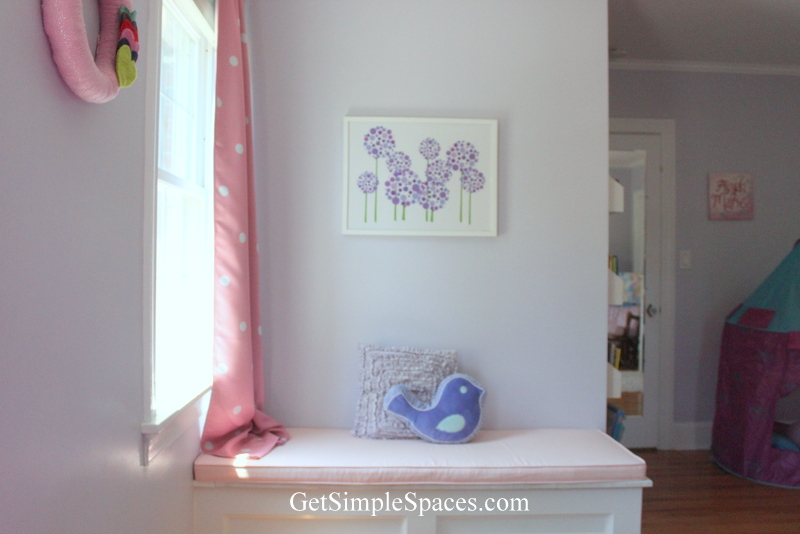 Books are an issue in every child's room. I recommended wall shelves, which would eliminate the need for another piece of furniture, and thus maximize space. When I showed her the handy work of my husband on the custom-built wall shelves in my son's room, she was sold! They turned out to be perfect!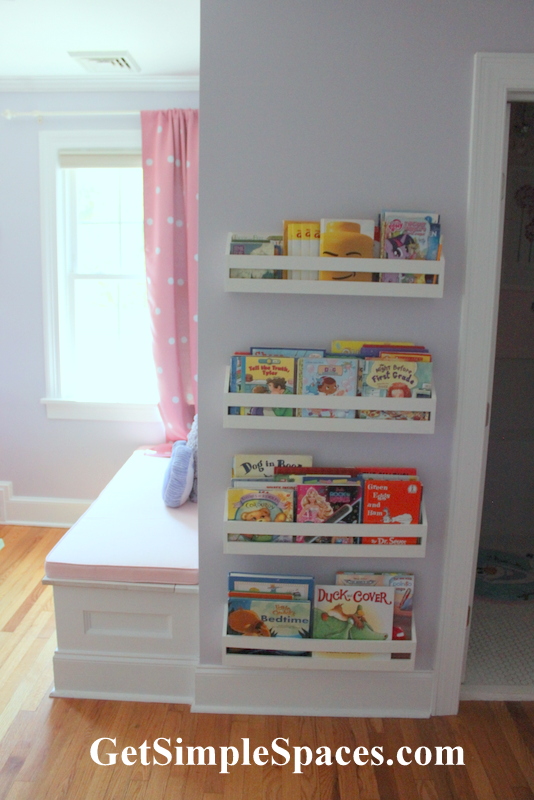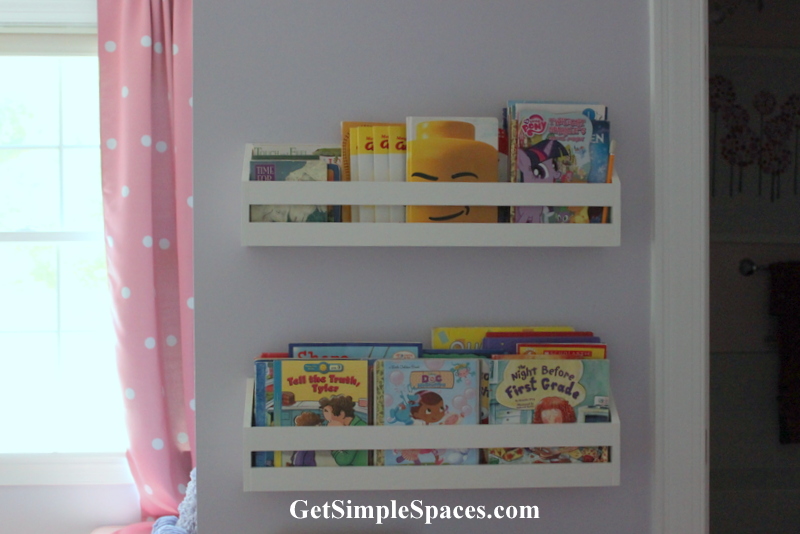 I thoroughly enjoyed this project, and enjoyed getting to know this family even more. Read below what my client has to say about her experience:
I am so grateful for contacting Melissa at Simple Spaces. Honestly, before calling I had been thinking about it for a long time. I felt that if I called and asked for help, it would be admitting failure as a mom to keep my kids' rooms neat and organized. We were doing so much remodeling on our old home when we first moved in that the kids' rooms were last on the priority list (we needed working bathrooms and kitchen!). Their rooms had gotten out of control and I could tell it was bothering them as much as it was bothering me. It had gotten to the point that whenever I walked into their rooms and opened the closet door I felt stressed and overwhelmed. So, I gave in and called Melissa! At first I felt like a diva but I am so glad that I did! She was incredibly helpful and non-judgmental. She wasn't afraid to roll up her sleeves and help with the non-glamorous work of going through 10 year old boys' rooms 🙂 She helped me decide on curtains, floor plans, and what to keep and give away. I felt like she was a partner who really cared and not just someone providing a service. That is true customer service! I am so happy with the end result and so grateful! So are my kids! They love their new spaces and we love hanging out in their rooms together. If you are thinking about asking for help, do not feel ashamed. Call Melissa! You won't regret it. ~ Gina
Happy Organizing,
Melissa
Get Organized. Simply Live.