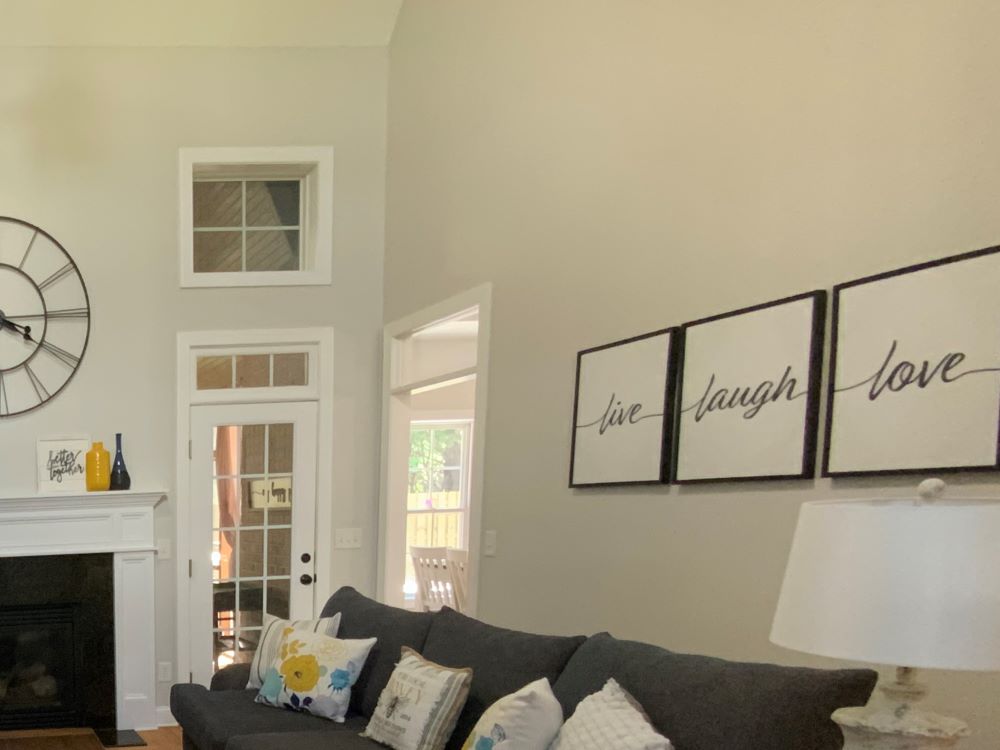 Styling Your Way
How Do I Pull It All Together?
This is the question I'm most frequently asked. In the realm of styling, the majority of my clients have an idea of what they want to do and even hold some key pieces, they just struggle to fit it together. That's where I shine! I love this stuff. Obviously so much that I've created a business out of it.
Let's take a look at a recent living spaces overhaul

This client was in the middle of a full update of her living spaces. She had purchased gorgeous new seating and a couple tables, but was missing the color/texture/fun stuff that makes a room feel complete.
Enter Me
After an initial consultation, she hired me to shop and install. Have I mentioned that I love this stuff?!
The Grand Entry
Let's start with her front living room. Upon entering the house, your eyes are drawn to a gorgeous wall with windows framing in a fireplace. 20 foot ceiling. It is THE opportunity to make THE statement that introduces this house. That's what makes decorating this space so difficult.
Here's what it looked like upon my consultation: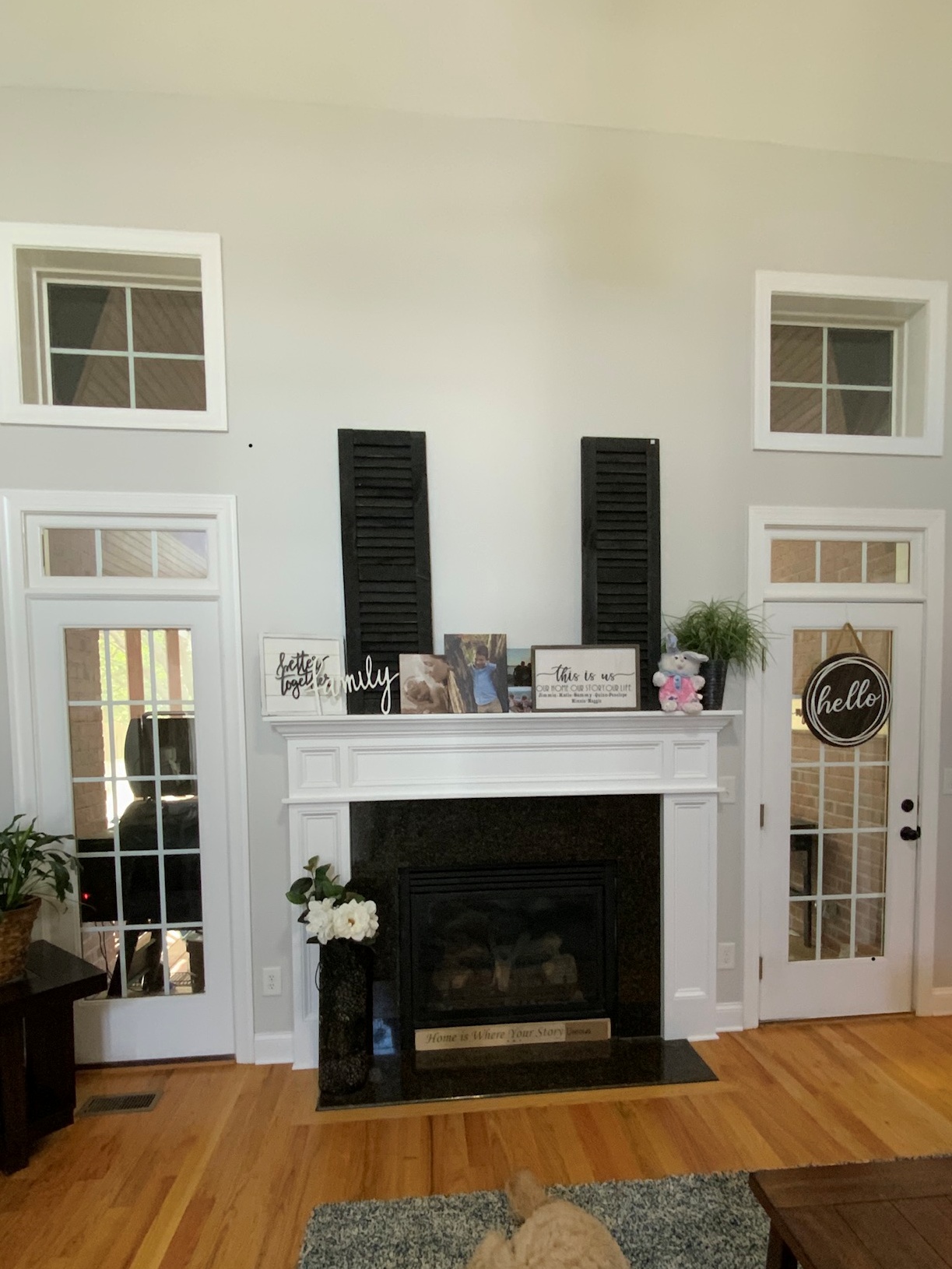 Your Style, Your Statement

After learning her style (Modern Farmhouse) and figuring out exactly what she wanted, we decided on an antique clock as the statement piece, and went from there. Check out the result!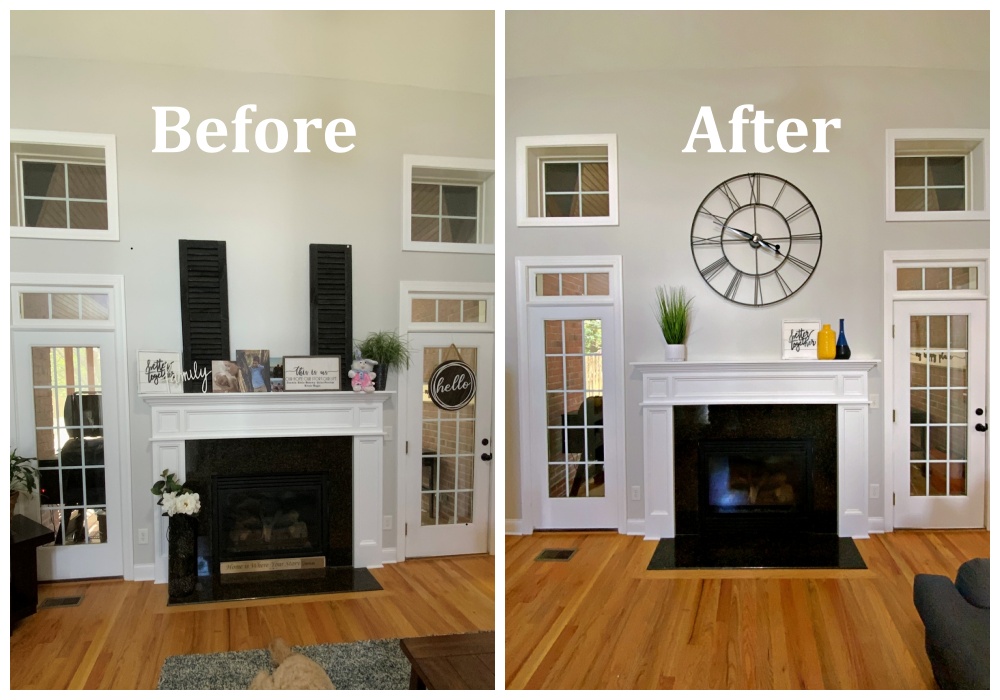 Seating that feels inviting

Let's take a look at the seating next. Gorgeous modern sofas that needed some pretty pillows with color. This new rug wasn't quite doing it either in the space. She ended up using the rug in a different room where it worked BEAUTIFULLY. This is where we started:
Here's the seating area after the Simple Spaces touch:
New pillows, wall art, lamp. We settled on yellow and aqua as accent colors in this room. This word art was perfect to display the core value of this family.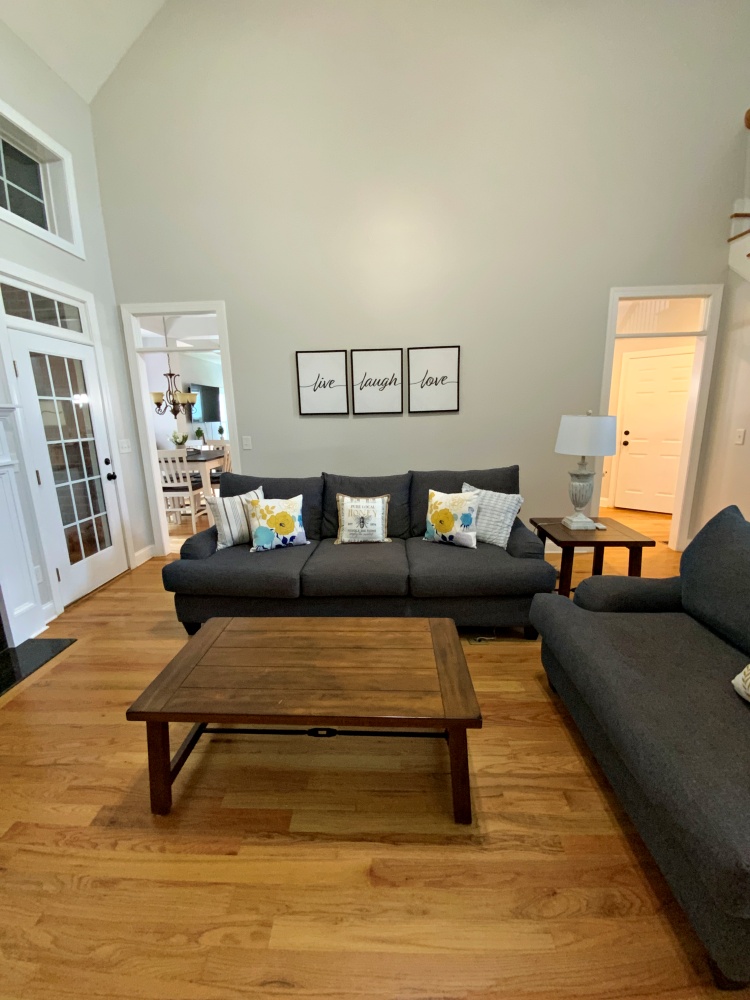 Where style meets function
Check out this entertainment center update! Want the "built-in" look without committing to the costs and permanency of them? This worked out perfect for what my client needed: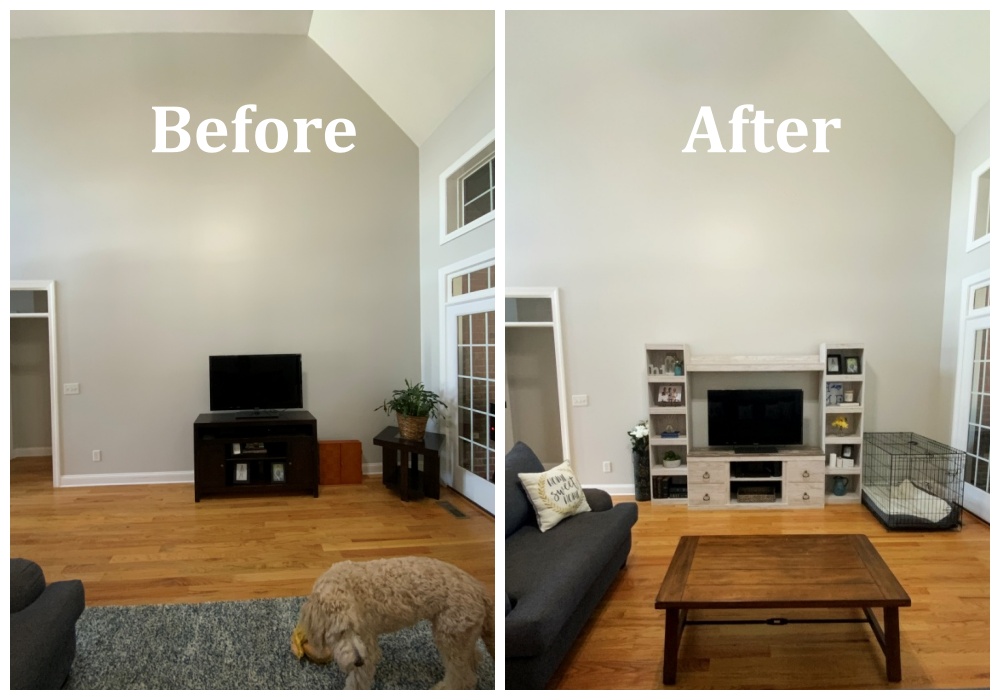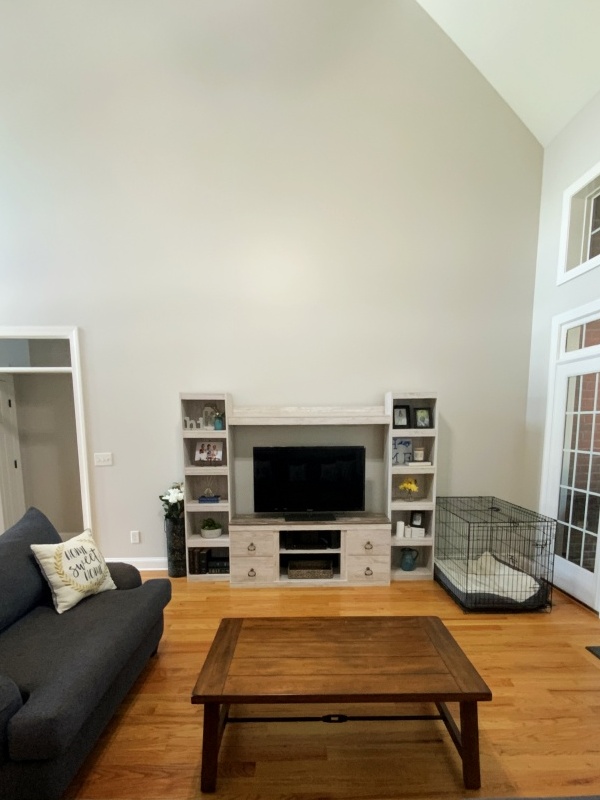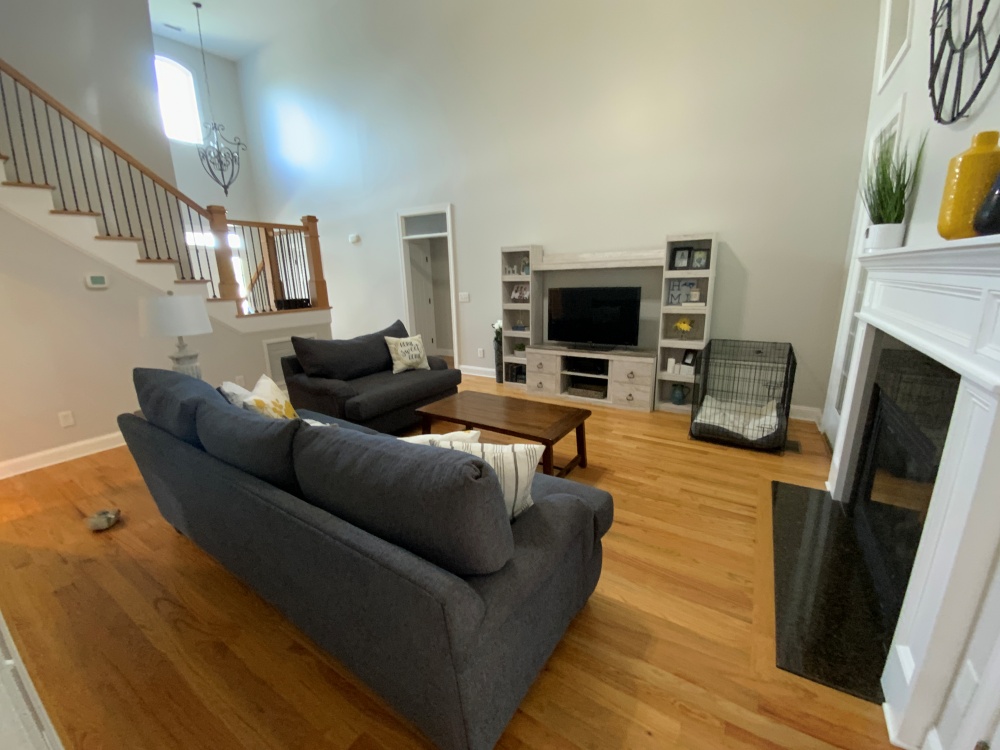 I debated whether or not to keep the dog crate in the corner for pictures. It's temporary until her dog is old enough to not need it. But the reality is that those of us who are pet owners have to figure out ways to work this into our spaces. This is not a staged home that's for sale, this is where someone lives and needs to be practical. I wanted to show the reality picture of this lived-in house.
The reality it is pet-friendly AND gorgeous!
PS: You might even spot her fur baby in some of these photos.
Family Room Warm Up
Let's move on to the family room that I also helped her outfit. Look at this gorgeous furniture she started with. She even had purchased some pretty little stuff for the tables, which I worked with and added to. Here's what I started with:
First up, I  turned all the large cushions around so they were solid. Then we could start fresh. Check the simple difference that made. Just because your couch is set up a certain way online or on the floor of a showroom, doesn't mean you have to replicate it.
So pillows, more accessories, and a wall gallery was on the agenda for this space. The client had an accent table for the back wall that was ordered, so we made plans for that wall as well. This room came together so beautifully. If the front living room is farmhouse-sophisticated, this room is farmhouse-cozy. It's where the family snuggles up and watches movies together. It's in an open space bordering the kitchen and dining area, so looked at the most frequently. Okay enough jabbering let me show you what I did!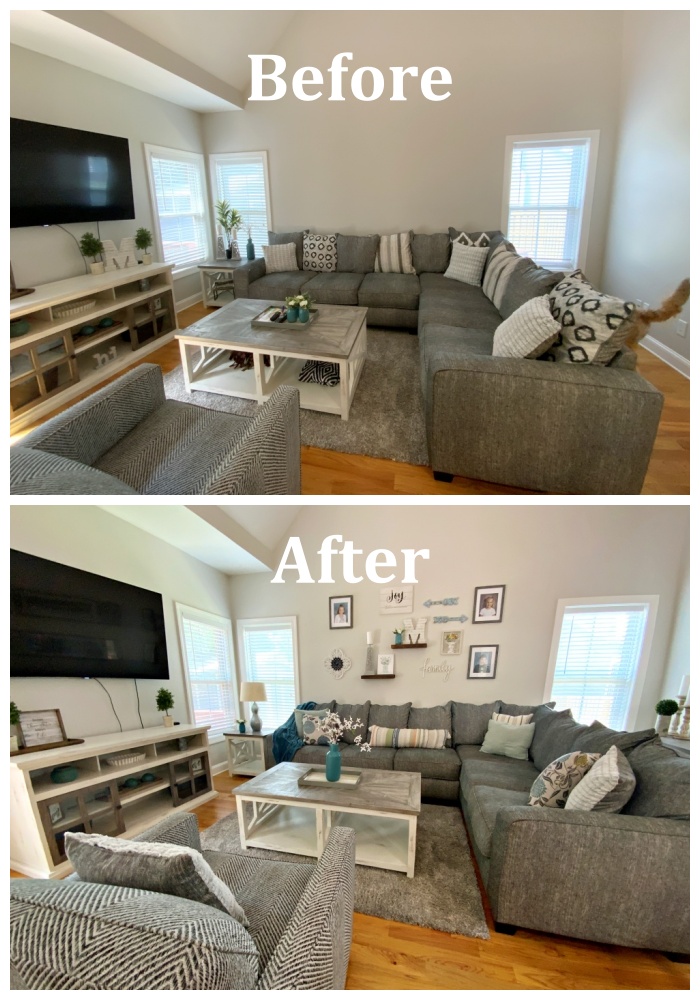 We chose orange, green, and shades of blue for color. You can see it in all the accessories. We love this mix of color/pattern/texture for the accent pillows that I found in a variety of places.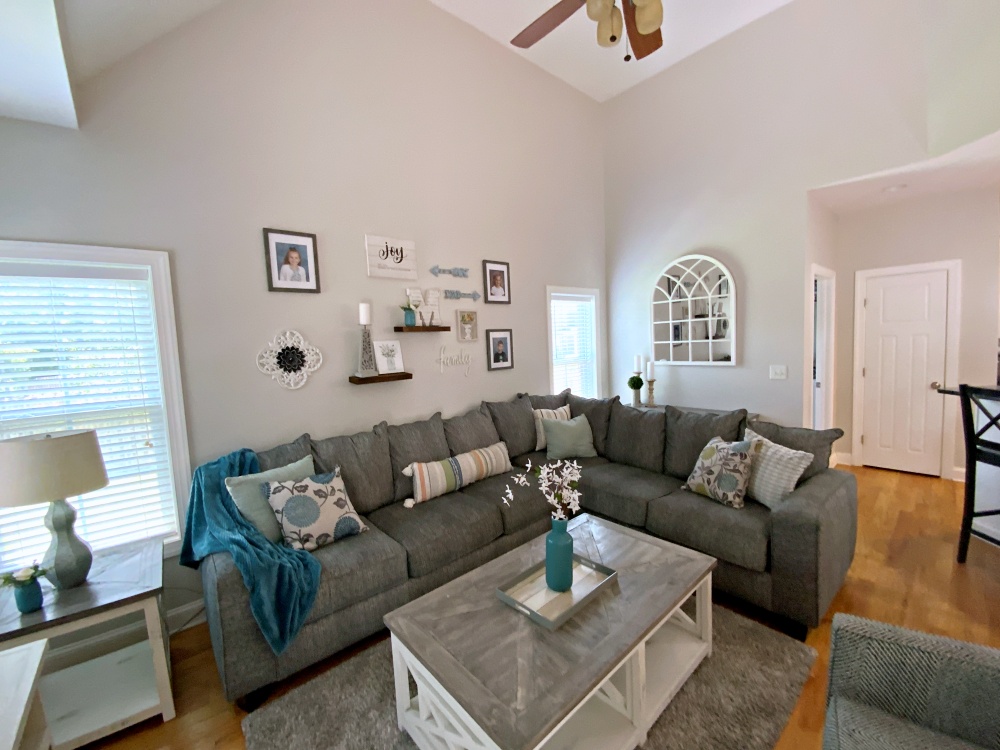 Who doesn't love a good gallery wall?!!!
This gallery wall is a mix of all the things that make my client happy, presented in a way that makes the eyes jump around following all the color, shapes, sizes, and character. The photos of the kids, and shelves were definites. Everything else we picked up and played with until it declared exactly what my client wanted it to.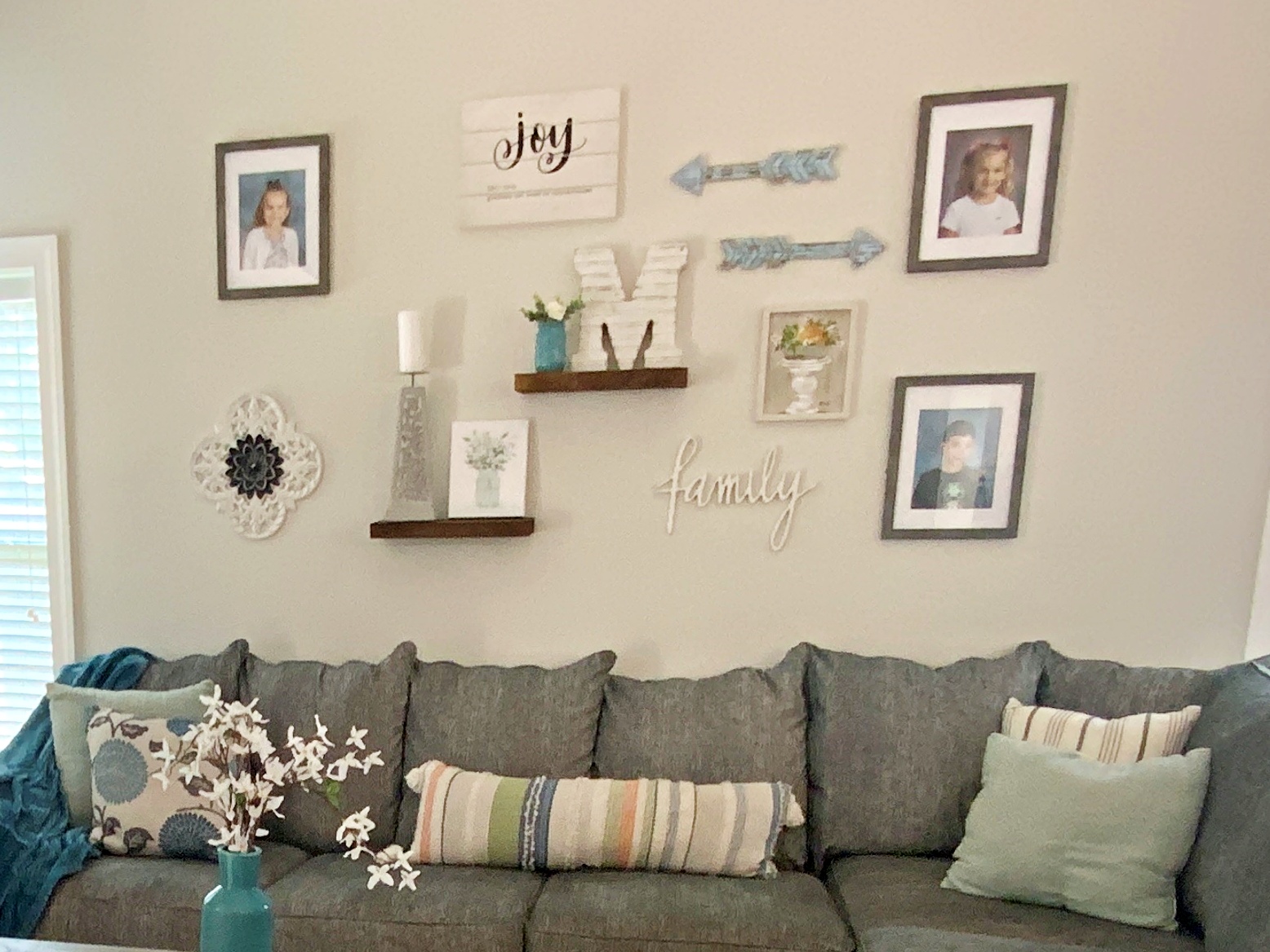 This window mirror I found in store goes perfectly above the accent table. It adds light and beauty to the space.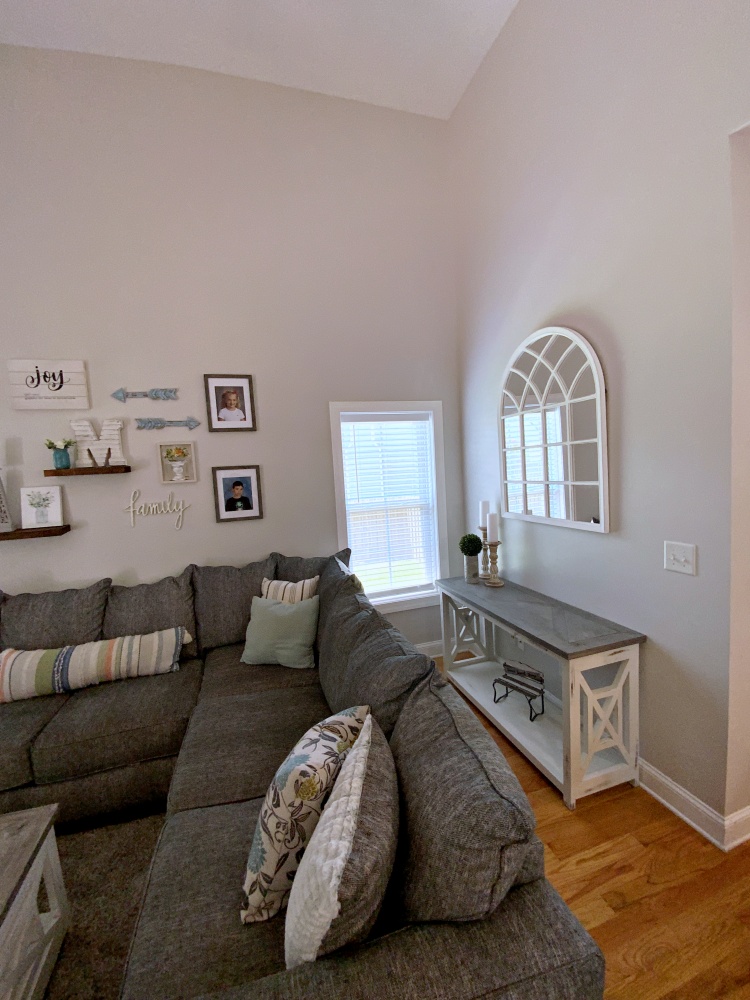 A space you want to show off
We were both ecstatic over the transformation of both rooms. This client also renovated her kitchen in the middle of this! It looks gorgeous and I can't take credit for that because it was all her! First thing she did upon completion of these projects: Host a big dinner party of course!
Everyone needs a home they feel good about showing off.
"From the start, Melissa listened to my ideas and immediately had a feel for how I wanted to decorate my house. She did all the legwork for me and picked pieces that fit my budget and style. She also taught me so much about decorating in the process. I really enjoyed working with her and am thrilled with my newly designed rooms!" – Katie