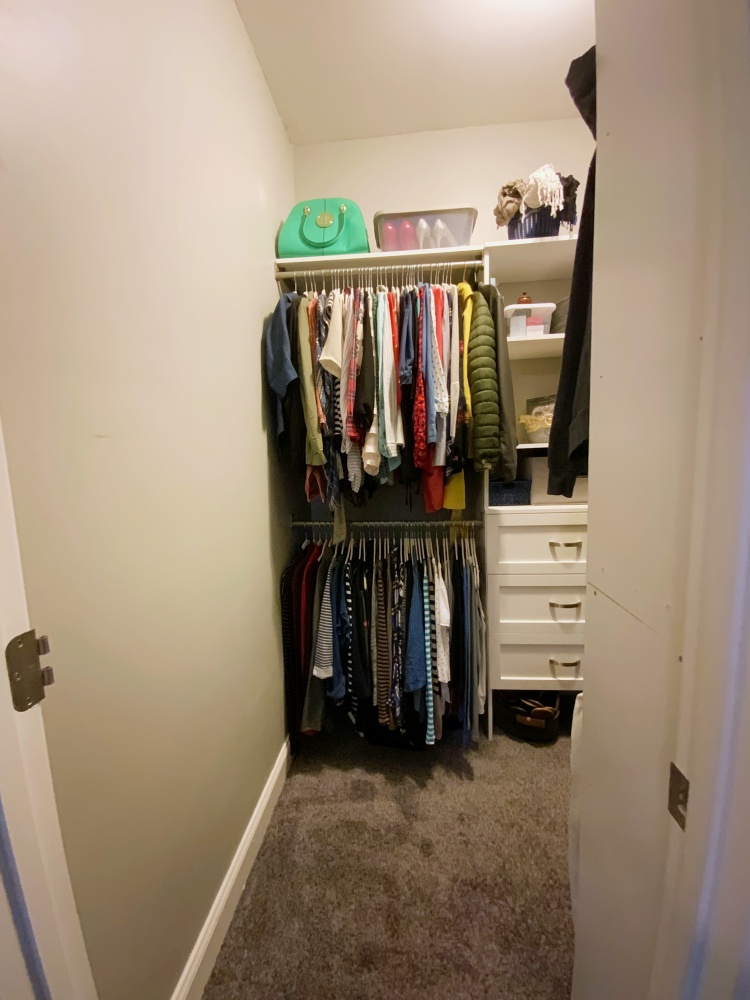 Walk-In Closet Overhaul
Walk-In Closets Feel Luxurious

Well, that is if you can actually walk into them. When your walk-in turns into a "step-over-and-around," it's time to call in the professionals. That's what this client did.
Your Stuff is Meant to Serve You

Not the other way around. Let's take that a little deeper to your systems: they should serve you as well. Inadequate systems/materials/bones give birth to disorder.
Assessing the Problem

Upon meeting the client and assessing the closet, we determined that her existing closet system was part of the problem. There were 4 free standing units, and shoe racks floating in the walkway. This tells me that either there's too much for this closet to hold, the closet system is inadequate, or a good mix of both problems. Updated storage plus purging needed to happen here.
A note on open shelving
Open shelving in a closet is great if it's done in such a way that meets a need. Open shelving that is deep, wide, and without purpose can become a cluttered catch all.
The Process

This client opted on a DIY install of a closet system I recommended. Everything came out, including the old system. We separated all removed items into categories: hanging clothing, folded clothing, shoes, bags, and miscellaneous. Together the client, Anne-Cecile, and I went through each article of clothing, pair of shoes, and all the bags and decisions were made. Most of the miscellaneous needed to be relocated to another place in the house (or purged). I had to leave to service another client, and Anne-Cecile stayed "in the trenches" until it was all done! She works wonders in the middle of chaos!
I'm happy to report, this client removed 10+ bags of clothing and several bags of shoes! With a job transition to working from home and not going into the office everyday, it was time to let go of much of her professional wardrobe. Spoiler alert: As you will read via her review, she doesn't miss ANYTHING!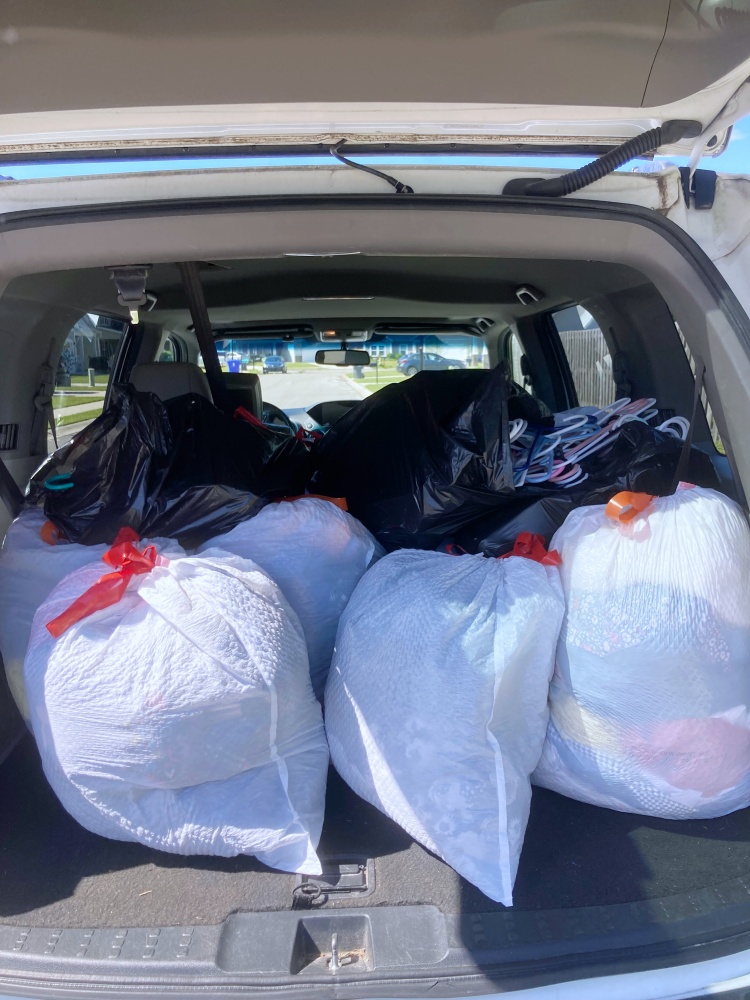 Starting Fresh is The Fun Part

After the grueling work of purging and decision making comes the reward of plugging things back into the new closet system.
Before the big reveal, let me share a few close ups with tips.
1. When storing clothing in drawers, "file" t-shirts, pants, and more so that you can see all your options without having to dig through the drawer.
2. This client loves her green bag, so she decided to place it on the top shelf as the first thing she sees when she walks into her closet.
3. The open shelving is left mostly empty so our client can decide what she needs that space for most.
4. For the flip flops, Anne-Cecile found a basket that easily slides under the drawers.
The Result Is Phenomenal!

Everything our client chose to keep fit beautifully into this "new" closet. This project left my client feeling empowered and in control of her space! This is the heart of my business. When you feel in control of your space, you can spend more time doing what you love with the people you love and less time serving your stuff.
Look at what she has to say about the experience:
Melissa did an amazing job of helping us choose the right organizational system for my walk in closet. From there they did an incredible job of helping me decide to keep or donate and I truly don't miss one piece of clothing I parted with! Never did I think anyone could organize all my "stuff" but she did it. Now I love my closet and am able to find everything easily. I don't just grab what I can see and throw it on anymore. My clothes are now used to create outfits and I have a better idea of what I need. I show everyone my beautifully organized closet now instead of feeling stressed every time I look at it. Melissa and her team are friendly, affordable and work with you to make the best use of your space. Highly recommend and will use them again!